Don't Stop Living - Jonny Blair - a lifestyle of travel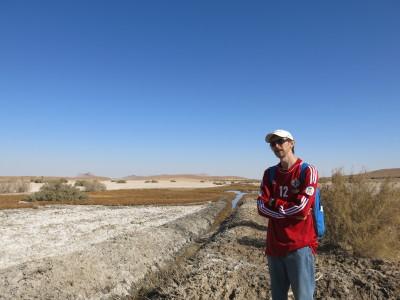 Touring the wilderness at Khalate Talkh
Iran is sublime and I have so many crazy fond memorable moments from our month backpacking there that I will probably never get the time to retell all the tales. This was another crazy place that we visited – Kalate Talkh.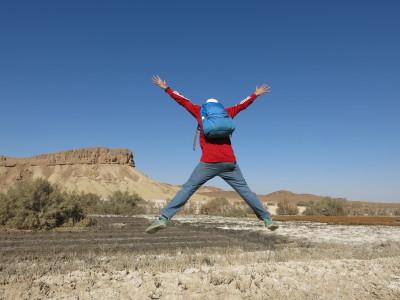 Backpacking in Iran: Kalate Talkh Desert Oasis
What is Khalate Talkh?
Khalate Talkh is a desert Oasis in the middle of nowhere, Iranian desert wilderness. The nearest village to it is the village of Khoor, where we stayed a few nights. Khoor is best reached by shared car or bus from Yazd or Esfahan. Ih ave yet to write about Khoor, but is was a cool experience there too, where a local family cooked for us.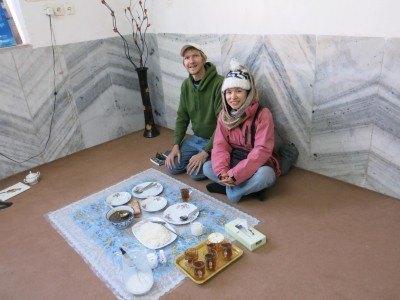 Dinner at our homestay in Khoor
We stayed at their place, also known as the Hotel Kabir and from here we explored a lot of the nearby areas and deserts as well as doing Camel Riding in Mesr.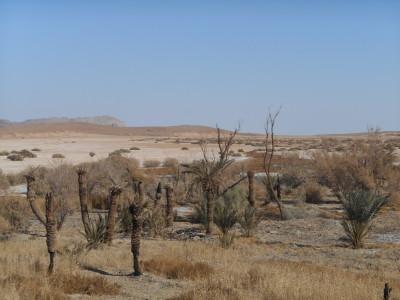 Khalate Talkh Desert Oasis in Iran
How to get to Khalate Talkh
The best way to get to Khalate Talkh is actually to hitch hike. There is no regular transport out here whatsoever and it is unlikely there ever will be. I don't even know if it is a touristy spot at all. We certainly didn't meet anyone else who came here.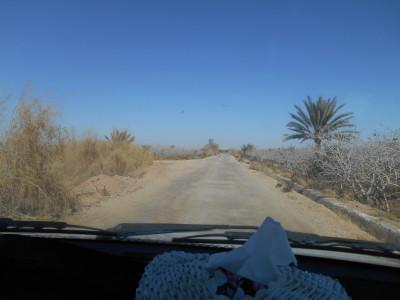 In our ride to Khalate Talkh
It's probably around 15 kilometres from the town of Khoor, though I admit I am not sure. We left our homestay and started walking, waiting to find someone to give us a ride out there. Eventually we found a guy called Hassan who took us all the way out here. So hitch-hiking is the best advice.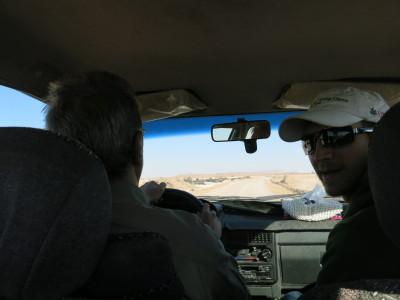 Hitch hiking to Khalate Talkh, Iran
On the ride there, Hassan tells us that there was once a bigger forest of palm trees here on route but the Iranian government burned them down and destroyed it – I'm not sure of the reason for this.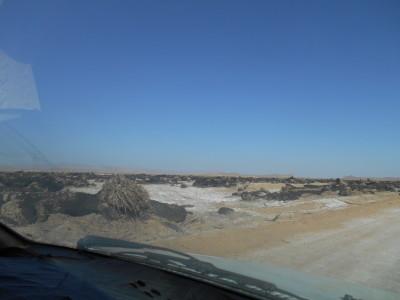 Palm trees on route were destroyed.
What is Khalate Talkh?
Officially it is a desert Oasis though when I compared to our trip to the Ein Gedi Nature Reserve, it is completely different to that. It's a bit like a marsh or swamp in the middle of the desert. It's a rare bit of water and vegetation here in a completely dry desert area. No information whatsoever exists online about Khalate Talkh.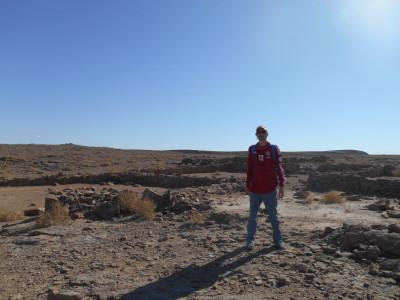 Khalate Talkh – Iranian wilderness
Things to see and do at Khalate Talkh
There is not an abundance of things to see and do here. No people, no shops – it's wilderness!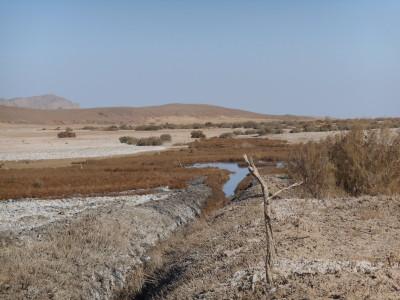 Khalate Talkh, Iran
1. The Buildings at Khalate Talkh
There is a main building at Khalate Talkh but no population of people live here. We tried to find out from our driver what the building was for and were unable to work it out. It could be an old place where people lived or it could be related to the water situation here. If you find out, please comment below and let me know!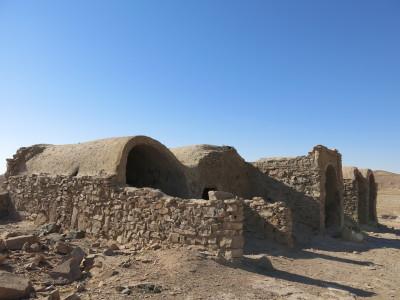 Downtown Khalate Talkh – top sights
There are a few other remains of walls and buildings beside it.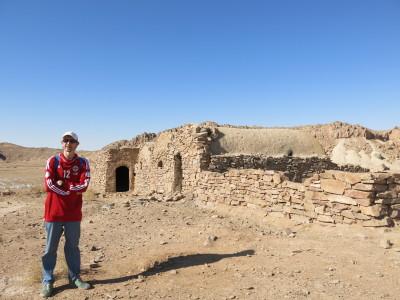 Remains of buildings at Khalate Talkh
2. The Marsh and Swamps at Khalate Talkh
In amongst all this completely dry desert there is water! It's a bit marshy and swampy – it's not a river and there is not much water here but it is a desert oasis.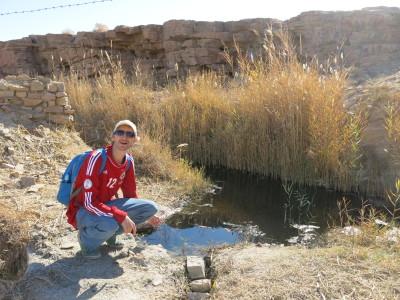 The swamp and desert Oasis at Khalate Talkh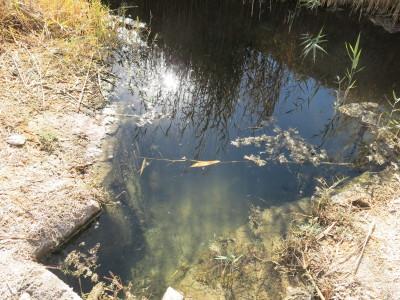 The swamp and desert Oasis at Khalate Talkh
3. Hiking near Khalate Talkh
Obviously the sun was beating down and we had been backpacking on end for about 3 months at this point so we didn't indulge in any hiking. There is a massive rock face in behind Khalate Talkh, something similar to Uluru Rock in Australia.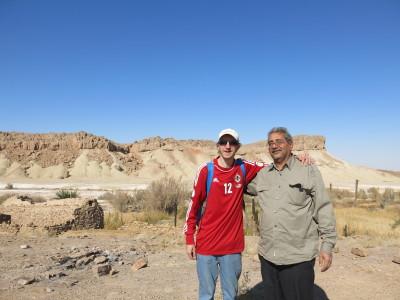 With Hassan our driver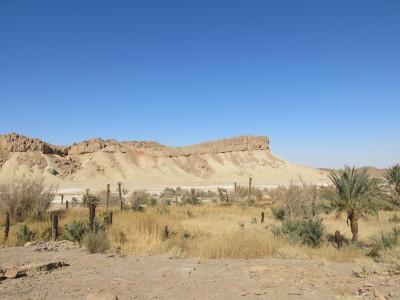 Hiking can be done on this beast if you're up for it!
4. Vegetation at Khalate Talkh
There are lots of trees and shrubs to admire here in the wilderness at Khalate Talkh. Perhaps one for people with an interest in this type of thing. I was happy enough just to see this place.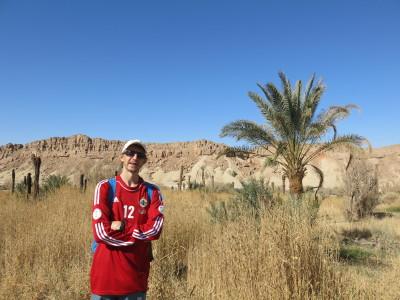 Admiring the vegetation at Khalate Talkh, Iran
Our trip to Khalate Talkh was done one morning – you don't need long to see this place – an hour should suffice. The hardest bit will be finding a driver in the wilderness to take you there! Thanks to Hassan for our lift there and back and the chance to see this unusual place.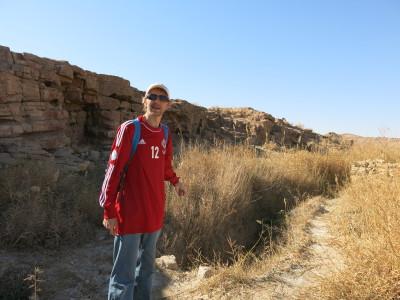 Touring the wilderness at Khalate Talkh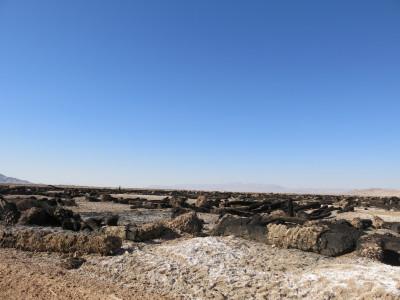 Touring the wilderness at Khalate Talkh
To really understand what this trip was all about, please check the videos below, this sort of thing is backpacking in a nutshell for me:

Original article: Backpacking in Iran: Visiting Kalate Talkh Desert Oasis
©2015 Don't Stop Living. All Rights Reserved.