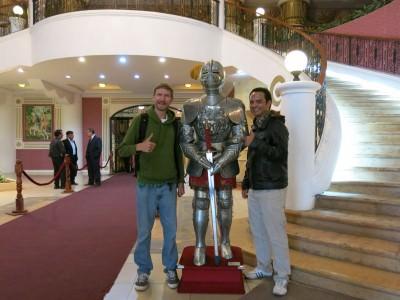 Backpacking in Guatemala – the city of Quetzaltenango!
"Hey Xela, stars about to fall so what do you say, Xela" – Noel Gallagher, lyrics altered slightly (Lyla)
Quetzaltenango (Xela) is a decent backpacking beast. Factually it is Guatemala's second biggest city. Though quite where these half a million odd locals actually are could baffle you. We arrived across the border from Ciudad Cuauhtemoc (Mexico) to La Mesilla and after a tuk tuk and double chicken bus we arrived in Quetzaltenango. We ended up spending around 12 days in Quetzaltenango also known as Xela and we based ourselves in the excellent Hostal 7 Orejas. Xela is famous for its Spanish schools – it's a cheap and easy place to learn the lingo.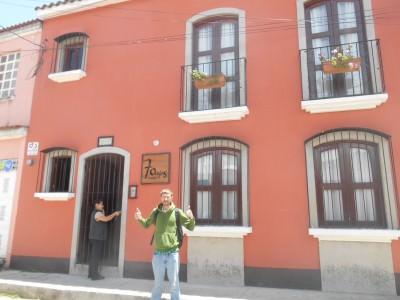 The best hostel in Xela! Hostal 7 Orejas.
We also took side trips and hikes out to Volcan Tajumulco and Volcan Santa Maria during our time in Xela. But these are my top 15 things to see and do in and around the city of Xela itself, aside from hiking and learning Spanish of course. I'd like to thank my local friend Giovanni for showing us some of these sights as without his help or indeed a local car for transport, it wouldn't have been possible to write this post for you. Giovanni got in touch with me after seeing my blog on my Facebook page! That's the wonderful world we live in today! Get your backpack ready for this "keensee" list.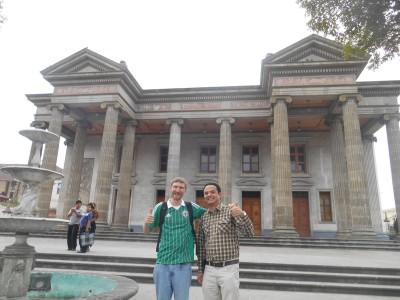 Giovanni and I at the Teatro Municipal in Quetzaltenango, Guatemala.
1. Cerro El Baul – Viewpoint and Forest
This was probably my highlight of our time in Xela. Cerro El Baul is basically a park and nature reserve at the top of a mountain overlooking Xela. It is here where you get the best views of the city (aside from the hiking we did). Giovanni drove us up there, up a big hill and there is an entrance fee of 5 Quetzals per car (about 70 US cents).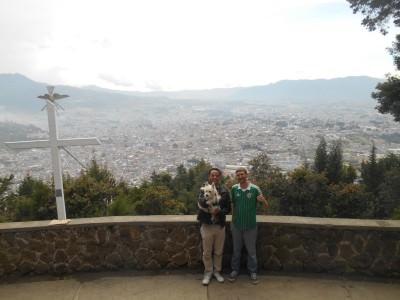 With Giovanni and his dog at the top of Cerro Baul admiring the views of Xela.
There's also a small forest at the top famous for dog walking, slides and barbecues.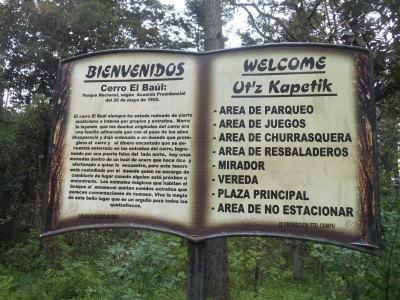 Cerro el Baul in Xela, Guatemala.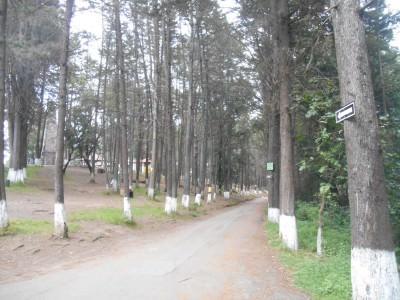 The park at Cerro el Baul in Xela, Guatemala.
2. Cerro El Baul – The Slides
On the way up to Cerro El Baul Giovanni tells us about some slides and I'm not thinking much of it wondering what the big deal is. Then we get to the forest part of Cerro El Baul and there are these cool kids slides. So as a 34 year I have to take the plunge and try it! Pretty enjoyable Saturday afternoon activity! There's a video of me on the slides at the bottom of this article.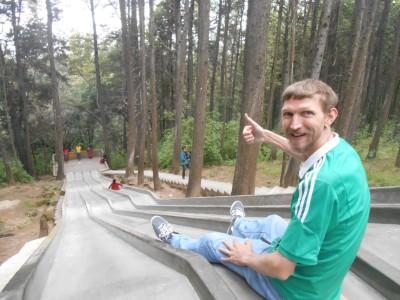 Great fun. Going down the slides at Cerro el Baul, Xela, Guatemala!
3. Panorama Restaurant
Keeping up with sights 1 and 2, the Panorama Restaurant also offers views and is the best place to have a beer and stare down at the city. From here you can tell it's Guatemala's second biggest city. It sprawls far and wide into the mountains and the restaurant serves up beer and food. I went for a Michelada as I was clearly missing them from Mexico. The restaurant is Swiss owned.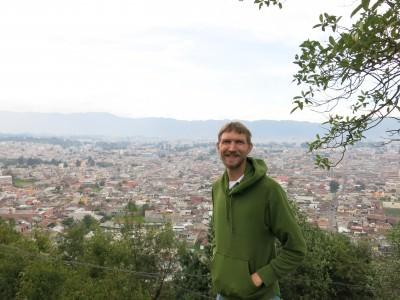 Enjoying the views from Panorama Restaurant.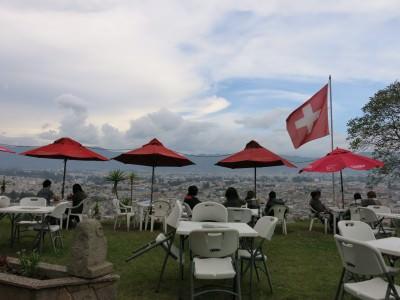 The Swiss owned Panorama restaurant in Xela.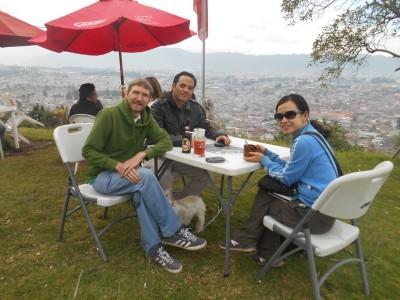 Drinks overlooking Quetzaltenango from Panorama Restaurant.
4. Parque Centro America
This is the main "square" or central park of the city. It's where the locals love to mingle. There are some stalls set up selling items like food, drink and souvenirs. There are some trees and monuments, of which the War Memorial is the most prominent.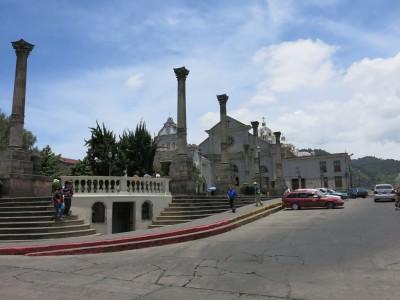 Parque Centro America in Quetzaltenango, Guatemala.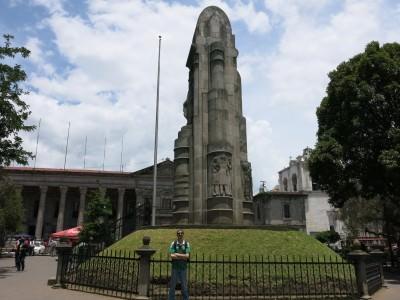 War Memorial at Parque Centro America in Quetzaltenango, Guatemala.
5. Iglesia del Espiritiu Santo
This is the main and most obvious church in Quetzaltenango and sits in the Central Park. Guatemala is strongly Catholic and these churches are often the centre pieces of the cities and towns here.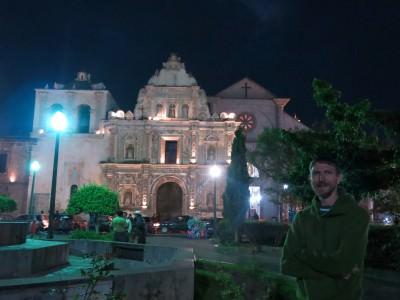 Iglesia del Espiritiu Santo at night.
6. Mercado la Democracia
This was my favourite market in Xela. It's a bit further out from the city centre, but is much more local and cheaper. We picked up a few bargains here.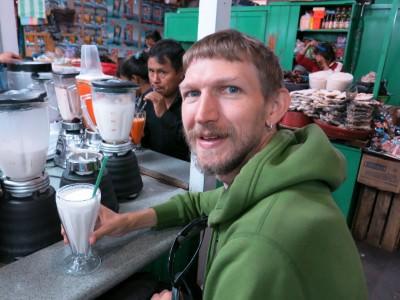 5 Quetzals for a delicious fruit smoothie in Mercado Democracia!
You can just sit and munch on tortillas over a beer on street corners. There's an indoor part and an outdoor part. We loved the 5 Quetzal fruit smoothies in the indoor part.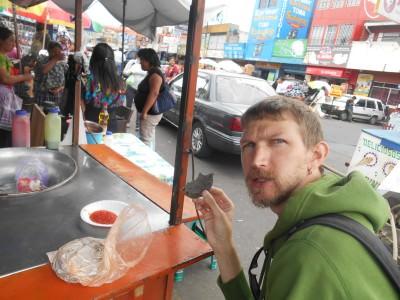 Having some blue tortillas in the market.
The Market is split into 9 parts, all squares each dedicated to various different things. You could spend a few hours walking round, munching food and drinking along the way.
6. Iglesia San Nicolas
I really like the St. Nicholas Church as it was a bit away from the city centre and not so many people lurking around. It's opposite the Parque Benito Juarez and just up from the Mercado la Democracia. It's grey and white.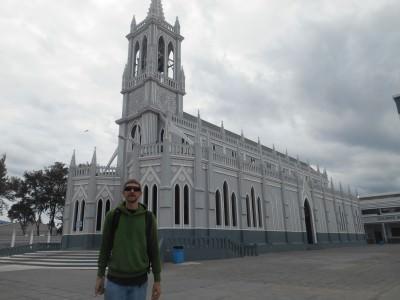 Iglesia San Nicolas.
7. Teatro Municipal
The old school Municipal Theatre is worth a look and if you get lucky on your trip, pop in and see a show.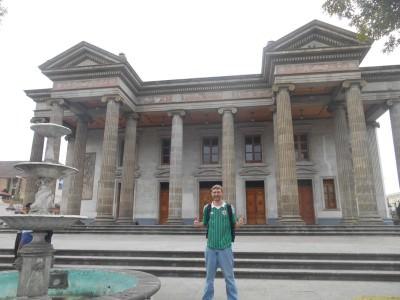 At the Teatro Municipal in Xela.
8. The 7 Corners/Siete Esquinas
This one won't make most people's backpacking top tips for Quetzaltenango as it's basically just 7 corners of streets in a small district of the town. We heard about it through Giovanni, as he lives on one of the streets that meets the 7 corners. It reminded me of the 6 road ends in my birth town of Newtownards, Northern Ireland. A quirky thing to check out and definitely not a major tourist attraction.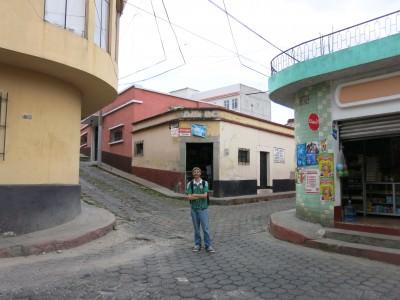 At the 7 corners in Xela (you can only see 3 of them here though!)
9. Quetzaltenango Conference Hall
This elaborate and modern conference hall is sure fire proof that the locals know how to party and do things in style. It's a really fancy building, with security and it's a bit of a drive from the city centre. However all the big graduations are here, some weddings, work functions etc. and this is the modern Xela after having your fix of colonial buildings in the city centre.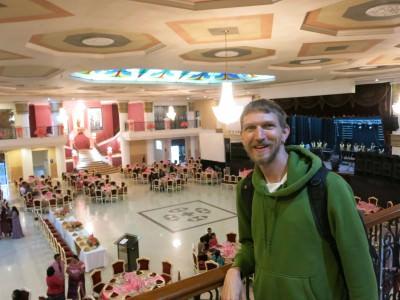 Checking out the elaborate conference hall in Quetzaltenango.
10. Temple de Minerva
This temple is a must see when in Xela just because it's so out of place and bizarre! It reminded me of a Greek Temple or even the Garni Temple in Armenia and it is situated on the edge of the city. Again we went there by car with Giovanni and it was worth it.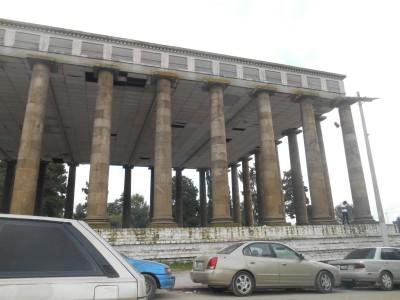 The Temple de Minerva in Xela.
11. Iglesia El Calvario
This striking yellow church was near our hostel and we wandered past it daily at the start. Though we never went inside, I still see it as one of my memories from Xela and one of my favourite buildings in the city.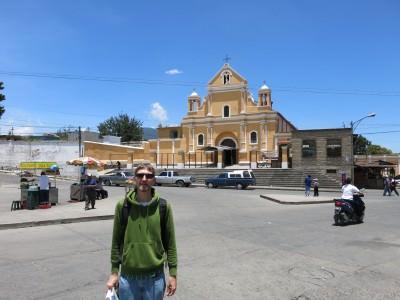 Outside the striking yellow Iglesia El Calvario.
12. Monumento a la Marimba
This monument sits on a roundabout and we passed by it on the way in and out of the city. It was made in the 1970s.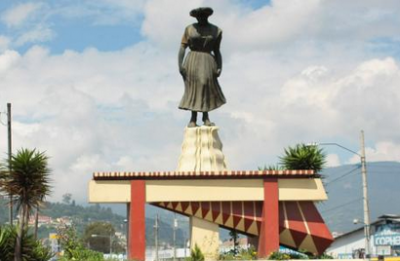 La Marimba Statue in Xela.
13. Tecan Uman Statue
Yet another cool monument that sits on a roundabout is the one of the legendary Tecan Uman. Uman was one of the last rulers of the Kiche Mayan people who lived in the highlands back in the day before Guatemala was an actual country.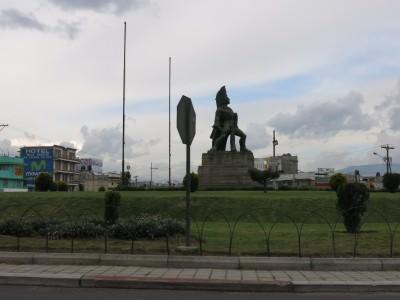 Tecun Uman Statue.
14. Xelapan
This is a string of local cafes and restaurants specialising in food only available in Xela! We headed there with Giovanni and loved it. You can get takeaway pan, local stuff called Sheca for 33 cents each – that's 3 bits of bread for 1 Quetzal, about 14 US cents.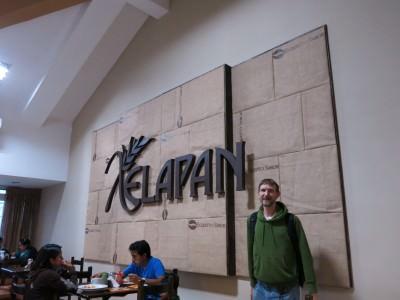 Xelapan Restaurant – a speciality in Xela!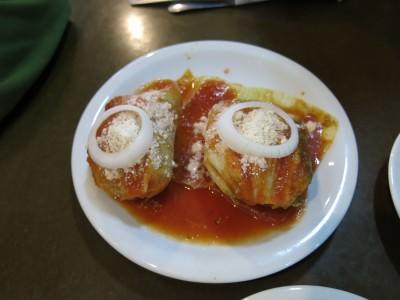 Local food in Xelapan.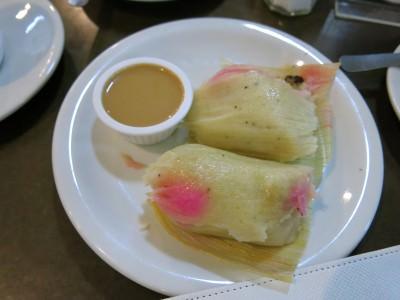 Dessert in Xelapan.
15. Pasaje Enriquez
This building which is like a passage linking the main square to a side street is named El Pasaje Enriquez . It was built in 1900 by architect Alberto Porta with artist Luis Liutti , decorator and designer of the graffiti that is in the sky the main entrance and front. There's a bar upstairs overlooking the square, a hostel, a tour agency and some restaurants in the Pasaje these days. Worth a look for the cool architecture.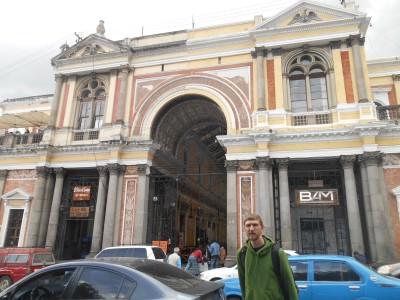 Out the front of Pasaje Enriquez.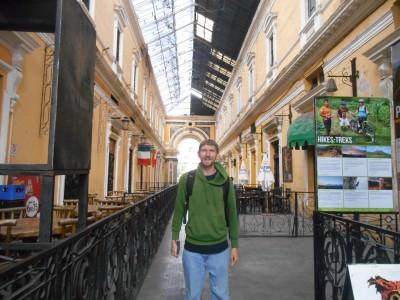 Inside Pasaje Enriquez.
And with that 15 you will get your fill but try and learn some Spanish and do some hiking and remember – you are backpacking in Guatemala where life slows down dramatically here. It's relaxing and a slow moving country, which is why checking out this 15 in Xela is worth it! I really miss Xela and its charm who knows if I'll be back there…
Here are some of my videos from Xela/Quetzaltenango while backpacking in Guatemala:

Join 13,000 Monthly Readers! If you enjoyed this article and LOVE travel and SAVING money, get e-mail updates from Don't Stop Living – a lifestyle of travel! (It's Free)

Jonny