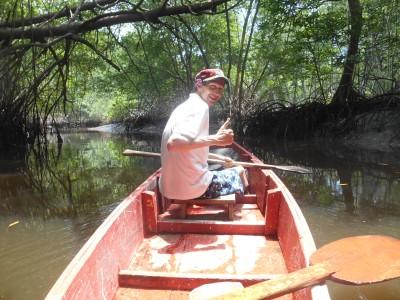 Backpacking in El Salvador: Boat Tour of Crocodile Creek at Mangrove Forest, Barra de Santiago
Yet another exciting post today on my journey backpacking in El Salvador. After finding a paradise right by the Pacific Ocean at Capricho Beach House, I booked myself on a boat tour around the protected waters of the Mangrove Forest. The area I was staying in is called Barra de Santiago and it is a peninsula on El Salvador's gorgeous Pacific Coast.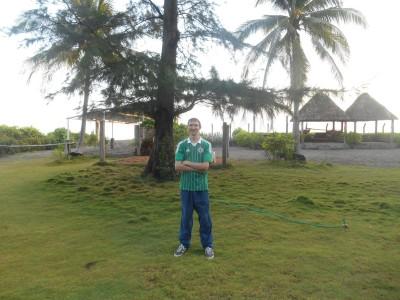 My paradise at Capricho Beach House.
Booking Your Crocodile Boat Tour
There are no obvious tour companies here in Barra de Santiago as it's still very much an undiscovered gem. Thankfully I've done the work for you to ensure you get it booked without any issues! After speaking to Rafael who runs Capricho, he introduced me to local tour guide and proud family man, Julio Cesar Aviles. Julio is not just an expert at local wildlife and tours, he works hard for his family (all of whom I met) and he's a surfing instructor!! Just check in with Julio and he'll sort you out with the Mangrove Tour. You don't need to book in advance – the night before is usually good enough. Get in touch with the guys at Capricho Beach House in advance though just to confirm your bed for the night and then contact my main man Julio who will organise the entire tour for you. Julio has also written some books on wildlife in El Salvador.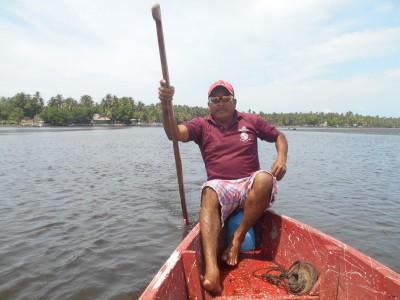 Julio runs the boat tours to the crocodile creek in the Mangrove Forest.
How much does the Mangrove Boat Tour Cost?
The cost varies depending on how many people are in your group, time of season and also how long a tour you want. It seemed I was the only backpacker in town so I had to pay a bit more because of that but speak to Julio and get the tour for around $20 US Dollars per head especially if there are a group of you.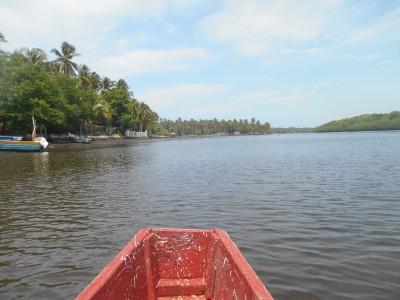 The price of the tour varies but it's worth it and won't break the bank!
Julio also told me that sometimes he charges $35 US for the tour depending on the length of tour and what is included, he's a fairly easy guy to negotiate with and can sort out a tour to suit your needs and budget, I'm sure of it. The price I paid included pick up and return (by motorbike) from Capricho Beach House as well as the full tour. The tour is conducted in Spanish so make sure your lingo is up to scratch – do a crash course in San Salvador or Xela (Guatemala) or buy Irish Polyglot Benny's book on learning a language fluently in 3 months.
10 am – Pick up and Motorbike Ride Through Barra de Santiago
After breakfast in Capricho Julio picks me up at 10am and off we go on his motorbike.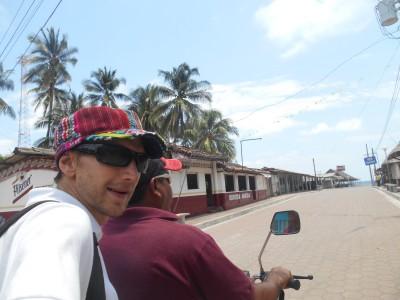 Quick ride on Julio's motorbike – pick up from Capricho to his family home.
A quick drive to his family home where I meet his wife, son and daughter. Then it's time to get in the boat.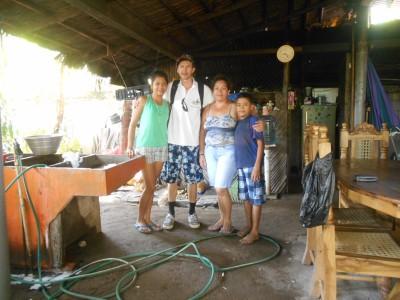 Meeting Julio's family.
10.30 am – Boat Tour to the Mangrove Forest
We're on the inner side of the peninsula now and it's a small rowing boat. Julio owns the boat – it's docked right on the edge of his house which overlooks the inner beach!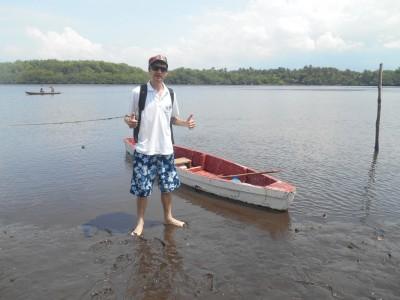 Boarding Julio's rowing boat.
We row across the water past happy morning fishermen and lingering birds. Then out of nowhere there is an entrance up a creek and river turn off into a jungle. On the way in Julio shouts to his mate who is a park ranger here and mans the gate. The area is protected.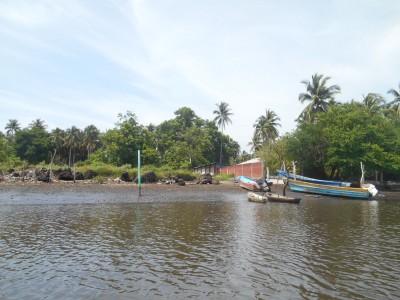 Touring the main basin of water before heading into the protected Mangrove Forest area.
These crocodiles are endangered and need to be looked after. Julio tells me there are 1400 crocodiles here. The question is where are they all? They are hiding. They don't come out of the water. They are actually scared of humans. Years of hunting and shooting by the local Mayan tribes have something to do with it.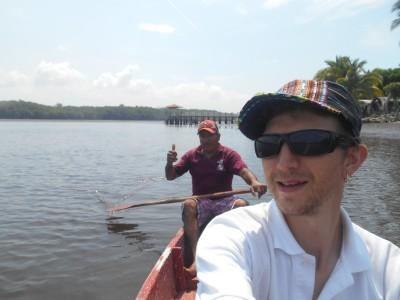 About to head into the Mangrove Forest area with Julio.
We don't have to wait too long as within minutes to our left a four metre long beast of a crocodile runs quickly and dives straight into the water in front of me. And it's gone. Staring into the water leaves no reminder. We are rowing through crocodile infested waters here. There are timid crocs all below us.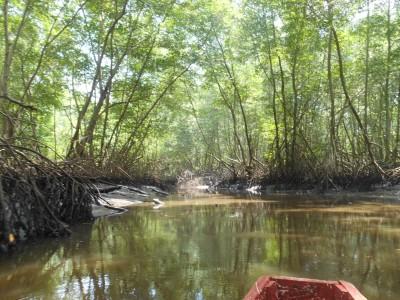 Rowing our boat through the waters of the Mangrove Forest.
Despite having my camera and video camera at the ready and on red alert all the time, I miss out on capturing the first crocodile, and the second, and the third, fourth and fifth!!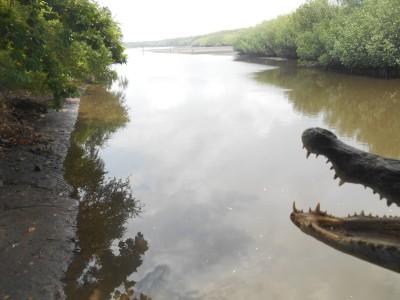 The crocodiles were just too fast for me!!
I'm busy looking and watching as well as rowing the boat so unless you have a magic eagle eye and a quick snapping camera finger, you'll see the crocodiles run fast into the water with your own eyes but you won't have proof to show your mates (or readers).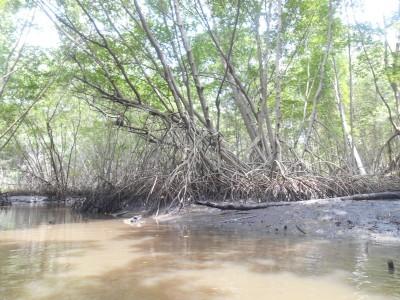 Crocodile infested waters of the Mangrove Forest in El Salvador.
As well as these massive crocodiles we saw a ton of wild birds, termites, crabs and reptiles. You can also also hear howler monkeys in the jungle. The river cruise through the jungle is magical in itself. Inspiring.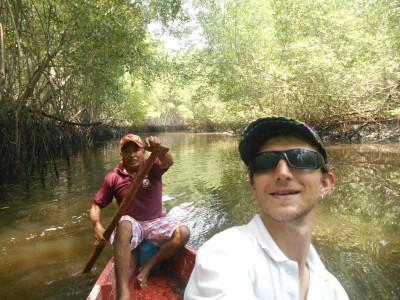 Magical jungle river tour with Julio.
You are alone with nature here and it reminded me of some of Michael Palin's BBC adventures that I watched with my Dad before I ever became a backpacker and traveller myself. We were the only boat we saw on the entire cruise through these calm waters. There were no other tourists that day other than me and it was simply amazing.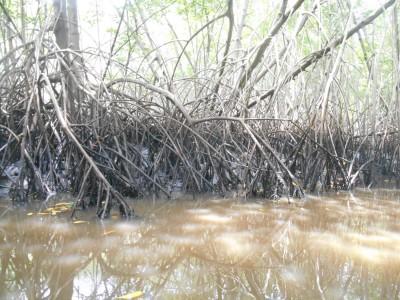 Crocodiles are here but they are hiding!
As the last crocodile dived into the water too fast for my camera I savoured the air, the sweet smelling sulphur all around, the Mangrove trees that give the forest its name and the thousands of crawling crabs on branches and roots of trees by the river. We make a turn and head back the same way. We were out on the boat for around 2 hours and it was just magical. There were a few more things to come before I headed back to Capricho to relax!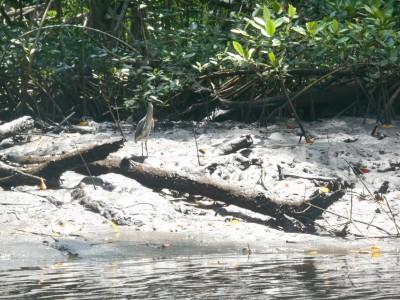 More wildlife watching – birds and crabs.
12.30 pm – Oficina Visit.
We visit the office where local Environment officer Antonio is based and he gives me a quick chat and overview of how and why they protest the forest and crocodiles here.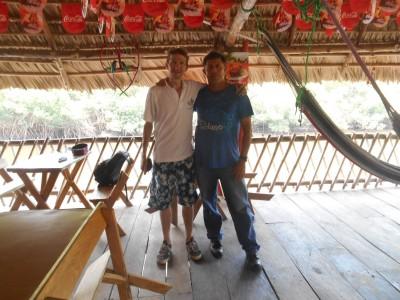 With Antonio in his office.
12.40 pm – To Barra de Santiago Beach for Lunch
We decide to have lunch at Rancho Yigo on the beach where a fresh orange juice is just 50 cents, a beer is $1 US and my chicken meal costs only $2.50. A bargain for $4 US with the Pacific waves crashing in.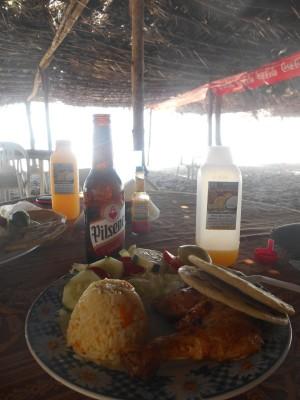 View of the Pacific Ocean from lunch at Rancho Yigo!
Lunch is not included on the tour and you can of course skip it and ask to go back to Capricho – but I wanted to at least see some of the village and watch the waves crash as I ate!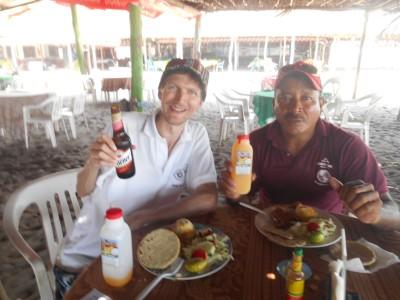 Lunch at Rancho Yigo, Barra de Santiago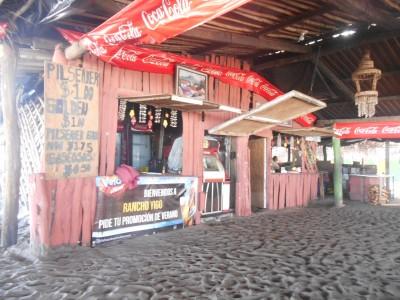 Rancho Yigo Restaurant
I loved it and I recommend it so so much. If you need any more tips of backpacking in El Salvador let me know. While based in Barra de Santiago I also did a surfing lesson with Julio later that same day!
Here are my videos from touring the Mangrove Forest at Barra de Santiago in El Salvador:
Join 13,000 Monthly Readers! If you enjoyed this article and LOVE travel and SAVING money, get e-mail updates from Don't Stop Living – a lifestyle of travel! (It's Free)

Jonny