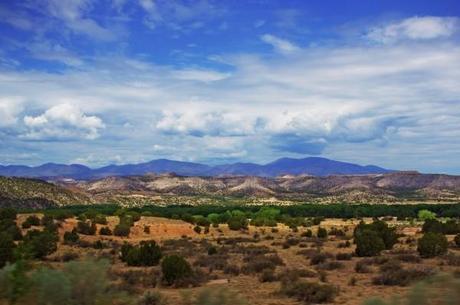 If you are reading this, then congratulations are in order because, in the virtual world at least, you have committed to covering several thousand more miles of America's roadways over the next few weeks. So tip your cowboy hat to your partner and get ready to make for the Deep South and eventually the East Coast. America is about to get a lot greener and a lot more diverse.
Leaving Arizona, Again
Whether you decided to hit Phoenix last time or you are still in Flagstaff, it's time to aim your wagon east and make for Roswell, New Mexico. Why? Because as everyone knows, it's where America keeps its aliens.
Legit or not, the absurdly prevalent conspiracy theory-related hotels, campgrounds, diners, "museums" and shops should not be missed by anybody who doesn't take themselves too seriously. (Though it could be a traumatic experience if you have reason to believe you have been abducted in the past). One day is enough to "experience" it though.
Out of Roswell, head south on Highway 285 to Carlsbad. The main attraction is the caverns, and even if you are not a keen spelunker they are pretty amazing, though touristy. Finally, it is time to cross into Texas for the quick drive down to Fort Stockton to join Interstate 10 going east.
Everything's Bigger In…
Locals are proud of their state's bigness (and in fact, this author spend most of his youth in Texas, so considers himself a bit of an expert on the state) and drop impressive facts like "the King Ranch is bigger than the entire state of Rhode Island" and "if Texas was still a country it would be the world's 14th largest economy" or "did you know Texas is nearly twice the size of Germany?". All are true, but the biggest things in Texas are actually just the distances between points of interest, particularly in the western half of the state, so select a good playlist and be thankful that the gas is cheap.
It should be noted too that Texas is a good place to pick up a pair of horns for the front of your ride (which makes you blend in with the locals, and is a great conversation starter), and give it a name if it hasn't earned one yet. When naming your road trip chariot don't be too cliché and choose anything like Bullet, Speedy or Slow Poke, and definitely avoid ex-girlfriend's or boyfriend's names since you will start to refer the car by its name and as a member of your road-trip family once the name is settled upon. As far as apparel goes, boots and a cowboy hat are always popular, but flip-flops, t-shirts, and jeans are equally accepted throughout Texas and the rest of the south (for practically any occasion).
A Few Painful Words About Mexico
At this point, because you are just 50 to 100 miles from the border, it would seem like the perfect opportunity for a side trip is to dash across the border into Mexico's frontera for a few days, or at least a chance to lunch on some tacos and take a look around. There is no human alive who is a bigger fan of Mexican food, culture, lifestyle and people than this writer, but please DON'T DO IT!
As heart breaking as it is to say (especially as someone who grew up not far from the border with Mexico and has fond memories of family trips into tiny border towns long before most of them even had international checkpoints) it must be made crystal clear that the border region of the Mexico is absolutely not safe for tourists. The risk to life and safety is simply not worth it.
Violent drug rings now control nearly the entire Mexico/USA border and countless innocent people, including tourists, are kidnapped and used as human collateral and frequently tortured and murdered by the terrorists to ensure their drug trade continues. This is a deeply saddening point for me personally, but I plead anyone wanting to visit Mexico please to understand that it is safest to enter by airplane at its cities much further inland. If you really want to see Mexico, there are daily flights from Phoenix and Houston to all major cities in Mexico and Central America.
Take the safe route and plan to spend a few days wherever you go. Just be warned, you will wish you had more time because there is so much to see south of the U.S. border.
Back to the Lone Star State
From Fort Stockton, head southeast for what feels like forever, and just when the desert, ranches, cattle and small towns are really starting to get unbearable, San Antonio and Austin (just about 100 miles north on Interstate 35) arrive to save the day. San Antonio is a cultural and historic center of Texas with plenty of influence leftover from when Texas was still part of Mexico and then a sovereign nation in the early 1800s. The Riverwalk is nice in the evenings and the Alamo is pretty interesting to tour for a few hours.
Note: Do not skip Austin! This economically booming, trendy, weird, gay-friendly, music mecca of hipster antiestablishmentism is also, ironically, the capital of an otherwise very conservative state. Plan to spend a couple of days here since, for music buffs, there are loads of local and big name acts always passing through the city who frequently play some very intimate venues in and around Sixth Street. Check out AustinTexas.org and ThrillCall for listings. For free stuff, there are usually plenty of options, including local live music, on Austin Culture Map.
Also, be sure to do some (slightly pricey) vintage clothing, tattoo and junk-tique shopping and, most importantly, plenty of people watching in the cool SOCO neighborhood. Also patron a few food trucks that the city is famous for. Plus, for the more cultured backpacker there dozens of museums to visit, and the Guardian's top-10 list is pretty spot-on.
When you are done enjoying liberal Texas, head out of town on Highway 290 East because it goes through the tiny town of Brenham, home of Blue Bell Creameries which claim to make "the best ice cream in the country." This is subjective, but you can take a break to tour the factory for US$6. Samples are free, plus the route gets you off the freeway to see some country back roads all the way to Conroe, where the scenery changes significantly and suddenly huge old oak trees appear and landscape grows greener.
Unless you have a very good reason, skip Houston all together because it is huge, ugly, hot (even in winter), traffic-y, crime-ridden and altogether pretty dull – New Orleans will be much more fun in a couple of days. Instead, press on through to Beaumont where you should stock up on some road trip snacks for the march (if you choose the southernmost route) across Louisiana.
Next time: Swamp people, Bayou Country, the Big Easy, and another decision…
Planning a trip soon? Check out our travel insurance page for more information!
Be Sociable, Share!