Looking for Best Baby Oil for Massage? We have a baby oil review today! Baby Massage is definitely very essential as it helps to soothe your baby & thus promote good sleep. In fact, a good Massage for baby has proven to improve weight gain, aid digestion, improve blood circulation, & ease teething pain. Also, baby Massage with oil helps to create a good bond with our little one! Hence choosing a right baby massage oil is a must to make your baby healthy and happy!
 Let's check Baby Dove Rich Moisture Baby Massage Oil Review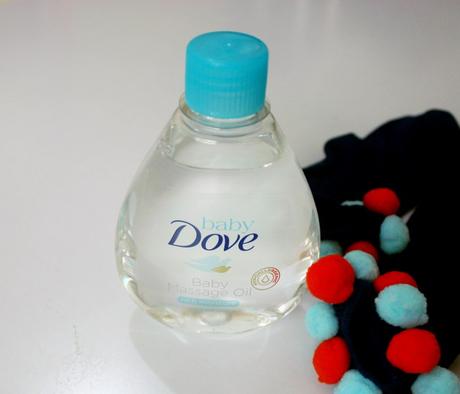 What Baby Dove Rich Moisture Baby Massage Oil claims?
·   Keeps baby's skin soft and moisturized all day long
·   Locks moisture and soothes dry skin
·   Light, non-greasy and fast absorbing
·   Deeply nourishes skin
·   Ideal for daily massage
·   Mild fragrance that does that irritate baby's delicate skin
·   Suitable for all skin types
Read: BABY DOVE RICH MOISTURE BABY LOTION REVIEW
Price of Baby Dove Rich Moisture Baby Massage Oil
Rs. 199 for 200ml
Buy it HERE
My views about Baby Dove Rich Moisture Baby Massage Oil
This Dove baby oil comes in a transparent plastic bottle with a blue cap. The packaging is sober a sturdy and thus easy to carry while you are traveling and spill proof.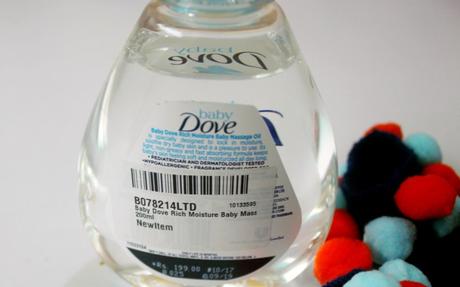 Read: My Baby's First Love for Massage Oil
The oil is so light and gets easily absorbed into the skin without the non-greasy look. It is good daily baby massage oil that has a mild fragrance. It doesn't irritate their soft and gentle sin and will suit all skin types. Apply and massage with this oil all over your little one's body for a nourished and healthy looking sin.  The skin so well and does not make me feel dry and leaves this amazing mild fragrance behind.
This is a good Baby Massage Oil with a calming mild fragrance. Its paraben and chemical free & helps to relax the baby.
Do leave your thoughts on Baby Dove Rich Moisture Baby Massage Oil Review!