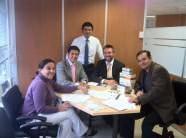 BROOKLYN, New York (December 5, 2011) – Runatarpuna Exportadora S.A., the Ecuadorian Subsidiary of Runa LLC – a social enterprise that produces a unique, energizing Amazonian tea – recently received a $500,000 equity investment from the Build Ecuador Fund (CreEcuador", a socially responsible investment fund created by Ecuador's Ministry of Production.)
Runa is an Amazonian beverage company that creates livelihoods for indigenous farmers in the Ecuadorian Amazon.  Runa sources a native Amazonian tree leaf called guayusa (pronounced "gwhy-you-sa") from indigenous farmers, who have drank it like it for thousands of years. Guayusa naturally has more caffeine than any tea product and more antioxidants on the ORAC scale than leading green tea products. Runa's guayusa is 100% USDA Organic and Fair Trade certified.
Runa was selected to receive this prestigious investment out of hundreds of possible candidates – primarily companies that support local Ecuadorian producers and have shown rapid growth. The start-up was initially chosen as one of 10 finalists out of a pool of 500, and went through a rigorous diligence process in 2010.  In the end, Runa was the first company to receive an investment. The Build Ecuador Fund will assume a minority shareholder position in Runatarpuna, with Runa LLC retaining the majority.
"We're honored that the government has recognized the positive impact we're having on hundred of indigenous farmers' lives, and the strength of our business and products. With the Ministry of Production we now have a partner who shares our commitment to growing Ecuador's green economy, and positioning guayusa as a new, flagship Ecuadorian export," says Tyler Gage, Runa's President and Co-Founder.
The Build Ecuador Fund represents a new frontier in developing countries' initiatives to provide strategic growth capital for socially responsible companies. While South American governments have been know to make equity investments in large companies, particularly in the oil and mining industries, taking equity stakes in a young, "green" company has never been done before in this way. The fund is part of President Rafael Correa's vision for a Citizen Revolution (La Revolución Ciudadana) – Ecuador's dual mission of building a robust economy that competes in global capital markets, while also providing socialist-type government programs to support its citizens.
The Build Ecuador Fund plans to cash out of its investment in Runa in roughly 6 years, in order to use its earnings to make additional investments in sustainable businesses. However, rather than selling shares to a private investor, the Fund's vision is to sell shares to Runa's employees and the farmers Runa supports. Runa will work to design programs for farmers and employees to buy shares back from the government, and thereby give farmers more direct investment in Runa's success.
About Runa
Runa was founded in 2008 when two Brown University students, Tyler Gage and Dan MacCombie, wrote a business plan for an Amazonian beverage company in an entrepreneurship class during their last semester. Gage, having spent summers and several semesters studying abroad in the Amazon, witnessed first-hand the struggles indigenous communities face to preserve their cultural traditions and earn income. He tried guayusa one early morning in the Amazon and immediately felt alert and awake in a way he had never experienced with other caffeinated products.
For a company that is less than 2 years old, Runa's results are hard to overlook. Runa now employs 35 people, supports more than 1,000 indigenous Kichwa farmers, and operates the world's only commercial production facility exclusively for guayusa in the world.
Originally published in a Runa press release.