Hello lovelies,
My today's review is from the Avon's Simply Pretty Line. I shall be reviewing a pressed powder called NATURAL.Avon's make up range is divided into two  - one is the Simply Pretty line and the other one is more towards the high end, stuff which is a bit pricey. I had picked up this powder a while back and have used it so I can comfortably say what I think of it now....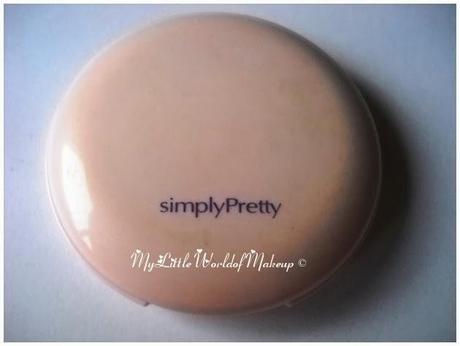 Ingredients: not mentioned except that it contains licorice extract. Avon does not test on animals and is a 100% vegetarian brand.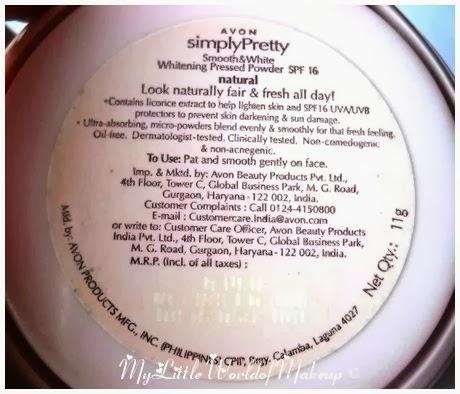 Price: Rs.179/-  but I got it on discount!!! currently available for Rs. 249/- in the current catalog.
Quantity: 11g then 10g currently.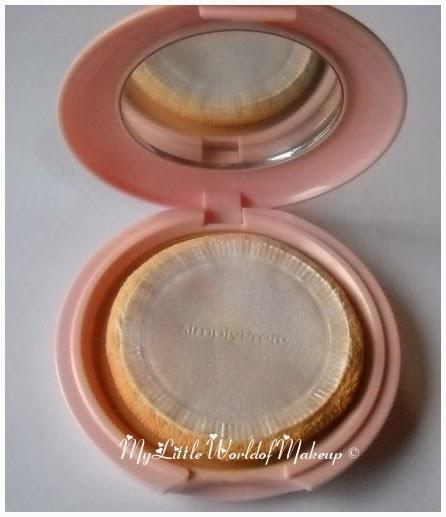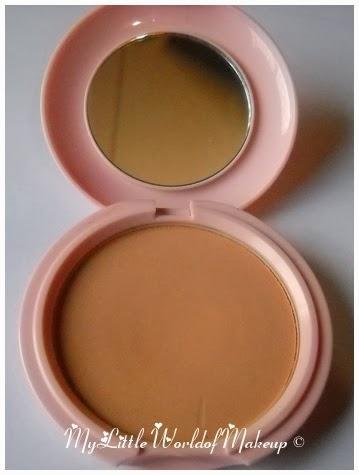 The pressed powder comes in a light pink simple plastic packaging . It does contain a decent mirror and a powder puff which I must say is of excellent quality.It does help in patting the powder on the face with ease. The lid shuts and opens well hence it is travel friendly.Overall packaging is good but a bit boring & dull in my opinion.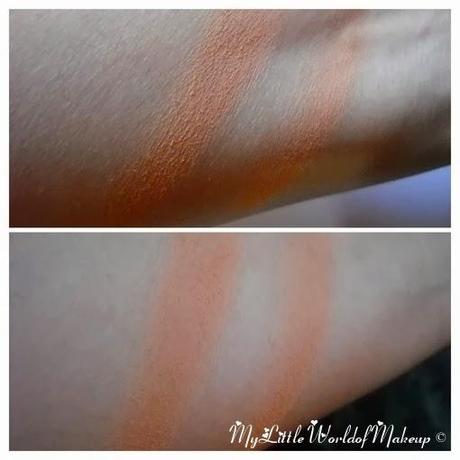 The pressed powder comes in 4  shades - Almond, Golden Beige, Natural and Soft Bisque and I chose Natural as I thought it would be the best for me considering the name . Now you know the catalog nonsense thing, you can never understand by their info and swatches as to what shade would suit what skin type so I got conned in getting this one  which is absolutely not my shade.I am of a lighter skin tone (sorry no idea of NC/NW and all that stuff :p)and this powder made my face look darker than my original skintone  :/ 
So anyhow I did not like the smell but its bearable though. The powder is nice and smooth and spreads evenly on the face giving a matte look. The powder is not transparent that is the best part so it can be used over any BB cream or moisturizer if you wish to give a nice finished look to the face when you are in mood to apply foundation. It lasted for 4 to 5 hours on me post which I did have to touch up as my T zone got oily. It has SPF 16 ( now SPF 14 ) which is the best part hence it can be best used when you are out of the house. It claims that it brightens the face well in my case it did not because its too dark for me but yes when I tried it on my mom it did show a difference so to an extent the claim is yes. Initially when I got it I did try using a couple of times only to realize it was not the right shade for me so passed it to my mom to use it :p It works like a bronzer for my skin tone though... ;)
The Good: 
Sturdy and simple packaging.
Texture is smooth & amazing.
Gives a decent coverage.
Contains SPF 16 (now 14)
Avon does not test on animals.
Fairly long lasting.
Travel friendly.
The not so Good: 
Available through an Avon representative only(however now  is available online on ebay too)
Smell  may not be liked by all.
Shade wasn't my true match.
Rating: 4/5 (-1 because it was not my shade)
This powder is really good and I recommend you must try whenever there is special offer. It does a decent job and hence  it won't disappoint many.I hope  my review was helpful to all those reading. Please feel free to comment as I read each and everyone of them and reply back too.Love,