What is HIFU?
Also referred to as Carcinoma of the Prostate, Prostate Cancer is a medical condition, in which malignant Cancer cells start growing non-stop in the Prostate gland tissues. This happens due to undesirable changes in the DNA of a usual Prostate cell. 
With the field of Oncology undergoing revolutionary progress, there is wide range of treatment options possible today; which include Chemotherapy, Laser Surgery, Brachytherapy, Robotic-assisted procedure, and others. However, one of the most rewarding treatment options is HIFU, that is High Intensity Focused Ultrasound. 
In HIFU, the Cancer experts-use high frequency ultrasound energy to heat up and destroy the Cancer cells. In this, a probe is inserted into the rectum to reach the Prostate and then a beam of ultrasound energy is sent. 
HIFU can be an appropriate from of treatment for a patient, if: 
The Cancer is limited in the prostate, where it is known as Localized Prostate Cancer

The Cancer has begun to spread out of the Prostate and invaded into the surrounding areas. This is called Locally Advanced Prostate Cancer 
Does HIFU only treat the Cancerous Cells?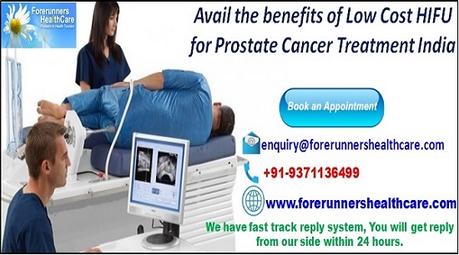 There are many welcome benefits of this treatment are very short span of hospital stay, no need for incisions, quite different to other forms of treatment, a patient can go for HIFU again if the Cancer relapses after the first HIFU treatment. Also, HIFU can be used in combination with other forms of treatment. 
HIFU not only treats the Cancer cells but destroys them by ensuring that they do not come back. This treatment has far lesser side-effects as compared to other forms of treatment for Prostate Cancer. 
How long does the HIFU procedure take?
The duration of the HIFU procedure varies as per the size of the Prostate Gland; the bigger ones take more time to be treated. Approximately, it takes about one to four hours. Also, after the initial session, there are surely immediate results, but the final results start showing in 2-3 months. 
However, if the Cancer has spread out of the Prostate gland, then HIFU may not be a suitable choice of treatment. Even, Cancer that has relapsed after Radiotherapy, HIFU can be a suitable option. This is also called as Recurrent Prostate Cancer and this implementation of HIFU is known as Salvage HIFU. 
Best hospitals in India
There are many hospitals in India – Apollo Hospitals, Primus Super Specialty Hospital, Wockhardt Hospital, BLK Super Specialty Hospital and many others – which offer HIFU for Prostate Cancer Treatment in India, which has drawn the attention of many Indian as well as international patients. These hospitals are home to excellent treatment facilities and the patients are assured of the best Cancer cure. The Cancer experts here are totally committed towards giving the best and understand that the pain and grief that the patients suffer. The doctors and surgeons here have extensive experience of treating many Cancer affected and thus over the years, these hospitals have become a very favored destination for HIFU. 
Irrespective of how intricate the procedure is or how advanced surgical technology is being used, the costs involved is always very low at the Indian hospitals, as compared to many developed countries such as UK, USA, UAE or Singapore. Similarly, patients from many corners of the world are enjoying the advantages of low cost of
HIFU Prostate Cancer treatment in India
. The cost of HIFU for Prostate Cancer in India is $7,500 whereas in USA and UK it is $25,000 and $20,000, respectively. 
Success Rate of HIFU Prostate Cancer in India 
More than 90 percent of the patients, who have undergone HIFU therapy have reported to have gained a lot of improvement and reports show that most of these patients do not need further treatment for Prostate Cancer. Those, facing a recurrence, are candidates for Cancer surgery, Hormone and Radiation Therapy.Being a non-invasive technique is an added benefit for HIFU, additionally, it's success rate is similar to Radical Prostatectomy, which is another leading form of treatment for Prostate Cancer. 
Conclusion
India with its enormously patient-friendly attributes, has been welcoming countless patients from all over the world. More specifically, patients coming here to avail HIFU for Prostate Cancer Treatment in India are really satisfied with the kind of services they are offered. Further, the presence of Forerunners Healthcare Consultants is making the lives of these patients much easier by providing them the most rewarding and well-thought-out medical tour packages, including extremely affordable cost of HIFU for Prostate Cancer in India.
To Get Consultation send your query to
:
[email protected]
We have fast track reply system, You will get reply from our side within 24 hours. 
For Immediate Consultation You can Call or Whats-app on :
+91-9371136499
VISIT: 
www.forerunnershealthcare.com/HIFU-prostate-cancer-treatment-India-low-cost-advantages.html