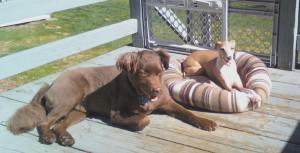 I have two dogs in my life, an Italian Greyhound named Ava and a Spaniel mix named Jackson. While Ava is the smaller and quieter of the two, she is also most definitely the hooligan. She is constantly trying to manipulate my husband and me with her big brown eyes and we come home quite often to bits of banana or bread on the ground that she has pulled off the counter for a midday snack.
But the main reason she is our biggest hooligan is her health issues. A couple years ago I noticed that she was losing her appetite and losing weight. And for a 10-pound dog, every half-pound lost was a huge concern. A few days later I tried picking her up and she screamed out in pain. I immediately took her to the vet, but they were at a loss as to what was wrong.
The symptoms just got worse until the poor girl weighed just over seven pounds and couldn't be touched or walk around much without being in pain.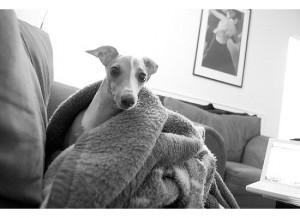 When our normal vet ran out of options, he sent us to a specialist in a neighboring state. Ava had to undergo several tests and a biopsy over the next couple of days. Finally, after months of no answers, we got a little bit of information – she had an auto-immune condition. They still didn't know which one, but it definitely narrowed down treatment options.
We started a treatment plan of high-dose steroids and luckily, saw positive results. While the dose has gone down, Ava is still on the steroids and will be for the rest of her life.
It was emotionally draining to see her in so much pain and going through so many medical interventions, but the one silver lining was that I didn't have to struggle with the financial toll. I had luckily invested in pet insurance soon after adopting her and while I did have to pay the thousands of dollars in veterinary costs up front, I was quickly reimbursed a large portion of that from my pet insurance provider.
Pet insurance allowed me to make all of my choices on Ava's treatment based on what was best for her – not how many dollars were in my bank account. And while truthfully I would have made the same decisions regardless, it saved me from drowning in debt once she started on the road to recovery.
Because that little hooligan of mine? She is the light of my life and I couldn't imagine not having her around. I'm pretty sure I would even miss the occasional banana peel or bread crust on the floor. She's just that special.
Heather Reynolds is a pet lover and internet journalist at Trupanion, North America's fastest growing pet insurance company. Trupanion offers 90% coverage of veterinary bills with no payout limits. Enrolled pets receive lifetime coverage for diagnostic tests, surgeries, and medications if they become sick or injured.