Atlanta Illustrator and Graphic Designer - Jay Montgomery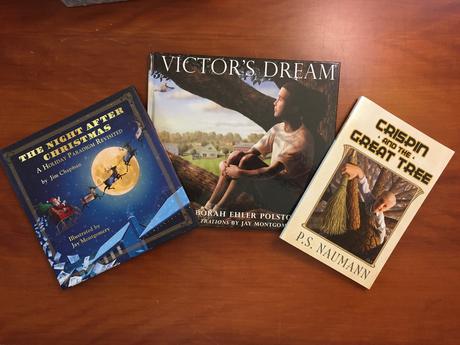 Children's book illustration in Atlanta, Georgia by Jay Montgomery
I have illustrated 3 full children's books and countless book covers over the years. These are the 3 children's books I've had the honor of illustrating. Left to right – "The Night After Christmas" by Jim Chapman, "Victor's Dream" by Deborah Polston and "Crispin and the Great Tree" by P.S. Naumann.
Over the years and more and more recently first-time authors contact me to illustrate their book. Most have no idea what goes into illustrating a 10-32 page children's book or the cost. It takes a ton of time and time is money. When most find out that the minimum small black and white illustration costs $250 each and goes up from there I feel I crush their dreams of getting a book published (usually not for any profit, but for fulfilling a goal of being published and other sentimental worthy reasons.) One of the many joys I have in illustrating for others is making their dreams come true. I hate crushing their dreams, but I just can't work for next to nothing. This is my livelihood and career. Now with a full-time job at Home Depot HQ as an Illustrator and Designer I can be pickier about what I take on. I hope they can find some art student to do it, but you get what you pay for.
Comment here or on my Instagram post about this:
#childrensbooks #author #atlantaillustrator #illustrator #illustration #bookart #childrensbook #childrensbookillustration #selfpublish #tradtionalpublishing #bookstagram #books #bookartist #coverdesign #coverart #bookcover #bookcoverdesign #publishedauthor #publishers #publishedbook #dreamcrusher #lifeofanillustrator
Something is wrong.
Instagram token error. Load More