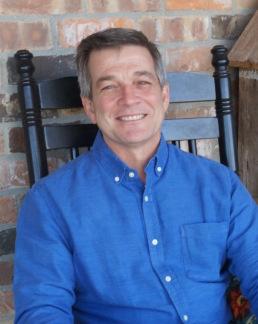 Below is our interview with James A. Toups of Louisiana, the Catholic entrepreneur, speaker, and author of the nonfiction book titled The Storm: A Time of Mercy, Choices and Hope, newly released by Hope and Life Press.
1. When did you first start writing?
Truly writing anything of substance? September 2015, when I started the book titled The Storm, although I have always written personal letters to my wife and my children. A personal letter deeply resonates with people. Expressing oneself through the written word in today's world seems to be a lost art - and I do not mean email, either. I am talking about a thought-out handwritten or typewritten letter. I usually type mine now; my handwriting is terrible. As a child, writing a letter to a family member or receiving one through the mail was always an occasion for excitement. I can remember running to check the mail just to see if any letters had come, especially around birthdays or holidays. I have stored some of those letters and postcards that had been written to me as a child. I should dig through the attic to find them, pull them out, and reread them. I am sure there are a few lost memories wrapped up in those letters. I also have a drawer in the house where I have kept letters and art given to me by my children. All these things are irreplaceable treasures.
I have also, on occasion, written articles or newsletters for local business publications. These articles are usually focused on improving the cultural component of a business. Small community banks and small businesses today are struggling under the weight of heavy regulation and a long stagnant economy. The articles I have written, and the mission of my own small business, is to help these small businesses grow and prosper. Financially, the lifeblood of our communities depends on the success of these business as the relationship is symbiotic.
2. What is the story behind your book The Storm: A Time of Mercy, Choices and Hope?
Sometimes, when God wants to move us in a different direction, He gives us opportunities to reflect and pray until it becomes obvious that we must go. He has done that for me on several occasions through personal storms and/or the people He has placed in my life. Last summer, He gave me one of those occasions and it is one of the stories in the book. I was knocked off my feet for a few weeks. While off my feet, God touched me in ways I had not yet been experienced. If people could just understand how much He loves us, the world would catch fire from the hope that springs from His infinite love. Most of us are generally so busy we do not take time to listen to Him, myself included.
Out of that time off to stop, pray, and listen sprang this book. It started as a series of short reflections. Then I began taking the reflections with me to prayer in adoration and they began to grow and jump off the page. God gave me an opportunity to see how truly blessed I am, despite myself. Reflecting before the person of Christ is a powerful thing. In November 2015, during adoration, I asked God for guidance. If He wanted the book released to the general public, He was going to have to help me out. I had no clue about what to do. I emailed three publishers - while I was still in adoration. The publisher of this book replied within five minutes. God is amazing. He gives us what we need, at the time we need it, if we are willing to go.
Inside the book is a series of 22 stories: stories of personal storms, redemption, and finding hope through Christ and His people. We all have personal storms; this struggle is part of our human condition. Sometimes, these storms bring us to our knees. The story behind the book is how God places people in our lives to help draw us closer to Himself. It is a story of evangelizing the world through little ways - a story of drawing strength and courage through God and His people. In the end, it is a story of love and submission to His will. A story of hope!
3. What motivated you to become an author?
I have always thought that I would write motivational business books. Quite frankly, God had a better idea. In a moment of praising God, I felt the profound need to write down my thoughts. Then, these thoughts expanded and expanded until they turned into a book - part of a purifying process for me. It was a way to see more clearly how God works in our lives and how he always gives us exactly what we need, to have hope. So many have helped me find faith along the way; so many! He wants each one of us to be genuine evangelizers in this world. I hope this book will motivate others to bring their faith to the forefront of their lives and help others in little ways.
I was also motivated by the belief that there are storms on the horizon: great societal storms that will require is to have great faith. Just look around - we see anger on the rise, fear, worry, and despair. I am motivated by the desire to help people find hope and not fall into despair. The world needs people of faith to be a shining light of hope.
4. What is the greatest joy for you in writing?
Painting a picture so real that it draws the reader into the book and evokes a deep, hopeful, emotional response. It is a tremendous joy to see a person read your book and have tears well up in their eyes, smile from ear to ear, or laugh out loud. The book in its entirety is praising God for His hand in our lives. That, in and of itself, brings me joy. Forever the Joy!
5. Do you remember the first story you ever wrote? What was it like for you?
Yes, I do remember; I was a freshman in high school at the time. It was a fun, yet difficult task. I was not sure how to put my thoughts on the page and did not have the gumption to write from the heart. It was a short story about a boy on a great adventure, traveling around the country, racing, and winning along the way. Not a surprising story for a 13-year-old boy. I remember getting a C on that story. I did not write too many stories after that.
6. Where did you grow up? How did that influence your writing?
I grew up in New Orleans, for the most part. My grandparents were in Mississippi and I also spent a lot of time with them. New Orleans and Mississippi are so different from each other. Growing up, I had the best of both worlds. New Orleans had an exciting atmosphere and fast pace, whereas Mississippi had the beaches and a slower pace with a sense of peace.
I wanted my writing to capture what both places were like in years past. A time when a boy's parents could let him run and play in the woods or walk along the beach, with little worry. On the one hand, New Orleans has always had a beautiful diversity that mixes Southern charm and a rich history of Creole, French, and Spanish culture. The residents are fun-loving, open, warm, and straightforward. New Orleans is unlike any city I have traveled to in America; it cannot help but influence your writing. The sights, sounds, and smells of the Big Easy evoke an emotional response. On the other hand, the Mississippi Gulf Coast, as a beach community, holds different people, sights, and aromas. A different set of memories that build up inside a person to create who they are.
7. How do you spend your time when you are not writing?
My first priority is now and always will be my family. Family dinner and gatherings are the highlights of our weeks - I guess I am your typical dad when it comes to that. I love barbecuing or doing seafood boils for my kids. It is priceless to see them enjoying it and just having fun together. In those rare times that I have extra time, I love to go fishing. I would like to go fishing more with my father, my sons, and my son-in-law. I am also blessed to have a successful business doing what I love. My clients, as a rule, are good people who work hard to have a positive impact on the communities they serve.
8. What do you read for pleasure?
I love to read and have always been an avid reader. There are three types of books I tend to read. For spiritual reading, I lean toward the writings of the great saints. Saint John of the Cross and Saint Therese are two of my favorites - I have a strong leaning toward Carmelite spirituality. For pure enjoyment, I lean toward historical fiction written as a grand adventure. However, I do not get much time to read for pleasure. Lastly, I enjoy reading business-related books that help build stronger positive cultures.
9. What are your plans for the future?
My wife and I talk often about the future. We shall continue to focus on building memories for our family and running our small business. I would like to continue to write books that bring hope into our world. I have a few in mind that I think people would like to read. Ultimately, we will place the future in God's hands.