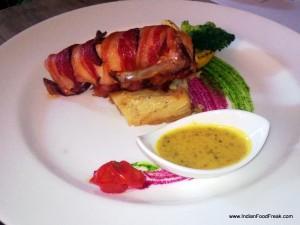 Australian High Commission, buoyed by the success of Masterchef Australia in India, has flown in two acclaimed Australian chefs, Mark Best (Sydney) and Ian Curley (Melbourne). Along with Executive Chef Vikram Khatri of Olive bar and kitchen they worked out a three course menu for which I am invited to Olive bar and kitchen for lunch on Friday, 27 September 2013. I arrive there at the appointed hour, looking forward to meeting the chefs and also satisfying my curiosity about what Australian food tastes like.
The first person I meet is Mark Best, Chef & Owner of Marque Restaurant at Sydney. Interestingly he started his life as an electrician in the gold mines of Western Australia. Mark first cooked at the Macleay Street Bistro (Sydney) in 1990 and there began his passion for French food. It wasn't until Mark travelled overseas in 1998 to cook at 'L'Arpége' in Paris, Alain Passard's three Michelin Star 'Gastro Temple', Raymond Blanc's and 'Le Manoir Aux Quatre Saisons' in Great Milton, UK, that he was inspired to open Marque. Marque has been in the in the Worlds 50 Best list three years running, and restaurant and chef of the year.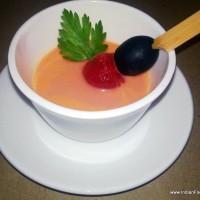 I ask the chef if I would get to taste Australian cuisine in this tasting. As per him, apart from the dessert course that he has prepared himself, the rest of the food is more European than Australian.  The tasting session starts with some Australian Jacob Creek Chardonnay with assorted breads. For starters we have the signature cheese soufflé with caramelized walnuts, roasted beetroots, chili jam, and balsamic prepared by Olive's Chef Vikram Khatri. The soufflé is pleasant and cheesy without being remarkable. Soon the lamb shank soup – slow braised Australian lamb shank soup prepared by the second visiting Australian Chef Ian Curley is served. Chef Curley is regarded as one of the busiest chefs in Melbourne, with three venues, three kitchens and multiple menus to oversee. The soup resembles our own yakhni in texture, though the taste is far blander.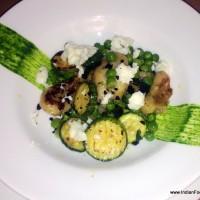 In the mains we are served sage gnocchi with zucchini, mint and buffalo mozzarella, again prepared by Chef Curley. The gnocchi here is very different from what I have had so far. The pasta is cooked much like little aloo tikkis, and all the vegetables make it a very tasty treat indeed. The second dish, bacon wrapped chicken accompanied by potato pave, grilled vegetable, mustard glaze has been made by Chef Khatri is disappointing because the chicken is too dry. Of course that does not stop me from unwrapping the bacon and munching it.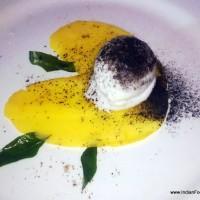 The finale is the interesting coconut sorbet with mango, Sichuan pepper, curry prepared by Chef Mark Best which is a lively confluence of Asian flavours with an Australian touch.
It is good to see the Australian High Commission taking initiatives like this to showcase the great culinary talent that the country has. I look forward to more of these, and perhaps getting a taste of Australian cuisine too.