Auravedic Pure Lightening Skin Polish Sandal Turmeric Claims:
Turmeric blended with red Sandal and Jojoba beads helps improve overall skin with age spots, hyper pigmentation, uneven skin tone & sun discoloration.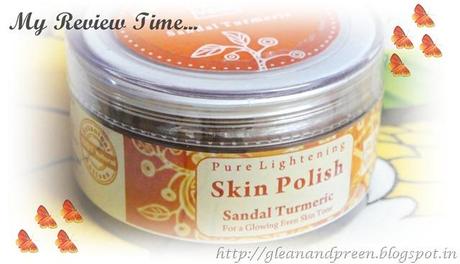 Price:
180
INR for 50gms
Shelf Life:
2 years  
My Expectations:
Since the winters have started, the chilling weather is keeping me away from face-packs and the consequence is dull skin. I wanted something that helps to cleanse and brighten my skin but with less use of water. As per the usage directions of Auravedic Skin Polish, it's enough to wipe it off without rinsing with water and since then my winter skin care routine has changed from weekly face-pack to skin polishing three times a week.   Want to know what this change in my skin care routine did to my skin? Read on….    
Look & Feel
Package: Comes in a plastic sturdy tub package with a screw lid. It also has a protective plastic shield inside to prevent the product from spilling out or leaking. Except for the fact that tub packages are unhygienic, it's quite a convenient and travel friendly pack.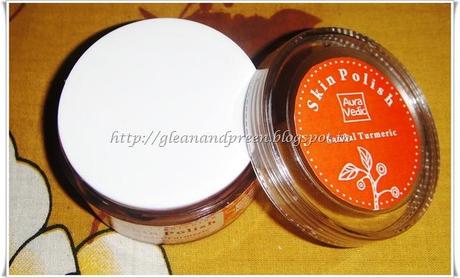 Fragrance: Has a strong Sandalwood fragrance which might be a little overpowering for sensitive noses. Also, the fragrance feels kind of artificial.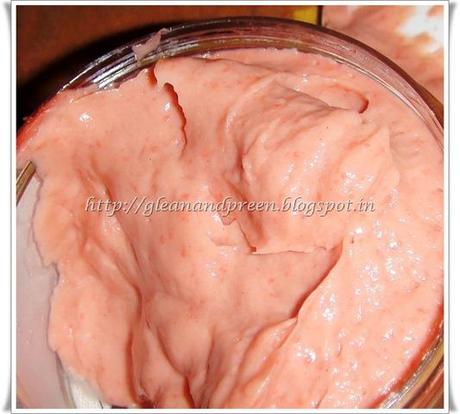 Texture:  It feels very creamy and smooth with tiny beads of jojoba. The color and the granules gives it the look of pink guava pulp. But, no it doesn't contain guava in it. The color is imparted due to the  presence of Red Sandalwood.
How I use: Before using the skin polisher I use Nature's Co White Pepper Cleansing Lotion and rinse it off with water. If I am using at night then due to the cold weather, I wipe it off with a wet tissue. If I want to use it in the mornings then after massaging the product into skin, I usually wait for 5 – 10 minutes before rinsing it off with water.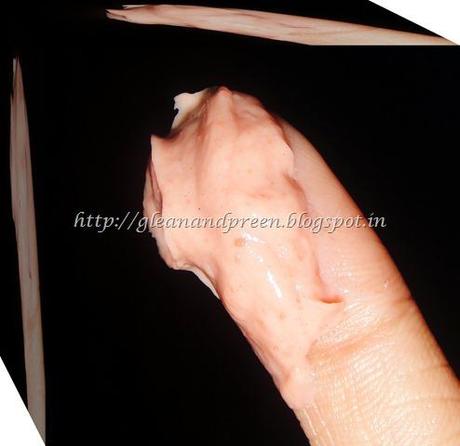 Skin Polisher Effects
Massaging? The creamy texture of the Skin Polisher allows easy massaging and it takes full 5 minutes to completely absorb into the skin. I am not sure if the jojoba beads get crushed while massaging, but after 5 minutes hardly 10% of the beads will only be left on the face.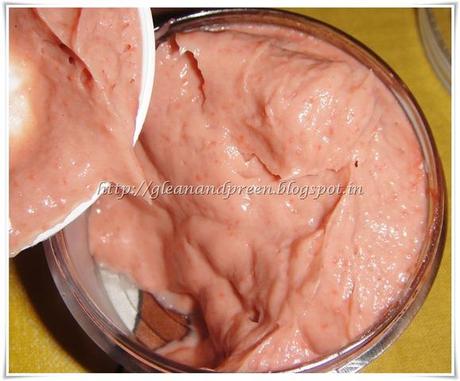 Exfoliation? The jojoba beads act as a scrub exfoliating away the impurities. The beads are of perfect size to cleanse skin without harshness. Hence I like using it almost thrice weekly.
Brightening? Once I wipe it off, I clearly notice a brightness in my face. It's more noticeable on days when the dullness of the skin is due to excessive exposure to Sun and pollution.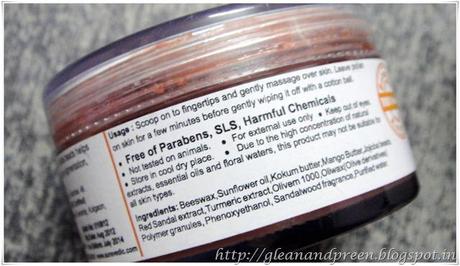 Moisturizing? Yes it's very much moisturizing and that too gives a non greasy moisturization. Perfect for my dry skin during winters.
Irritation? It does sting the dry areas of my nose but it hasn't caused any kind of redness or rashes. The burning sensation wears off in 2 minutes.
Herbal Purity? Doesn't contain parabens and SLS.
Cost Efficiency:
100 % Efficiency.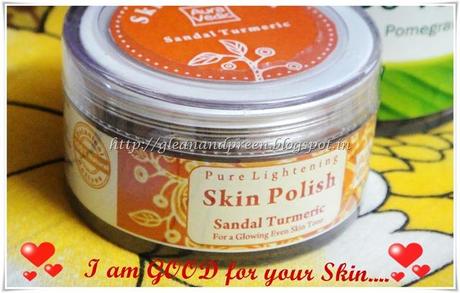 Final Note:
Auravedic Sandal Turmeric Skin Polish is my instant fix to dull skin because within 10 minutes it provides the combined benefits of Scrub and Mask. Totally recommended to everyone in search of a scrub cum mask.  
Dear Readers: Let me know your opinion about "Auravedic Pure Lightening Skin Polish - Sandal Turmeric" in the 'Will You Buy It' section and share your feedback about the review through comments.
Disclaimer: The product was sent by Brand PR for consideration, however this has not affected my opinion in any way. All the views presented are honest based on my personal experience.
Did you check out the Ongoing giveaway?
4 DAYS TO END
Win free VOV & Miss Claire Cosmetics, Bellissima Jewelry and Flipkart Shopping Vouchers
Click to Enter: http://gleanandpreen.blogspot.in/2012/11/sagaciously-beautiful-beautyholic-store.html