Title: The Partly Cloudy Patriot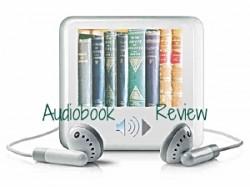 Author: Sarah Vowell
Narrator: Sarah Vowell, Conan O'Brien, Seth Green, Stephen Colbert, David Cross, Paul Begala, Michael Chabon, and Norman Lear
ISBN: 9780743548137
Audiobook Length: 5 hours, 16 minutes
Genre: Nonfiction
Origins: Mine. All mine.
Release Date: 1 January 2001
Synopsis:
"In The Partly Cloudy Patriot, Sarah Vowell travels through the American past and, in doing so, investigates the dusty, bumpy roads of her own life. In this insightful and funny collection of personal stories Vowell — widely hailed for her inimitable narratives on public radio's This American Life — ponders a number of curious questions: Why is she happiest when visiting the sites of bloody struggles like Salem or Gettysburg? Why do people always inappropriately compare themselves to Rosa Parks? Why is a bad life in sunny California so much worse than a bad life anywhere else? What is it about the Zen of foul shots? And, in the title piece, why must doubt and internal arguments haunt the sleepless nights of the true patriot?

Her essays confront a wide range of subjects, themes, icons, and historical moments: Ike, Teddy Roosevelt, and Bill Clinton; Canadian Mounties and German Filmmakers; Tom Cruise and Buffy the Vampire Slayer; twins and nerds; the Gettysburg Address, the State of the Union, and George W. Bush's inauguration.

The result is a teeming and engrossing audiobook, capturing Vowell's memorable wit and her keen social commentary."
Thoughts on the Novel: As with her other books, Sarah Vowell brings her fresh perspective to key historical figures and events. Unlike her other books, she does not focus on just one point in history but covers the gamut of it. She discusses the Salem Witch Trials to the 2000 presidential election and everything in-between. Written in 2001, it is rather amusing to hear some of her opinions on the more modern moments because some of the insights are a bit dated. I would love to see her revisit some of the themes and moments using the power of hindsight and an additional fifteen years of observation. However, no matter what she had to say back in 2001, she does it with a love of the country and an enthusiasm for the processes on which our country runs that is difficult to surpass.
One of the best things about Sarah's observations is that she takes no prisoners. She mocks everything and everyone, including herself. Yet, she does so with respect and love. She also knows how to temper her enthusiasm about a subject. For example, there are several essays about the cluster that was the 2000 presidential election; she is an unabashed Gore fan and has no problems telling everyone about it. However, she knows and understands why he struggled during the election, why the pundits mocked his earnestness, etc. and she even goes on to do some of her own mocking. Because of her admiration of Gore, she could have railed against the unfairness of that particular election. Instead, she presents the election and the aftermath fairly, with only a little of her bias showing.
If anything, Sarah makes it okay to talk about and care about all things political and all things historical. Not only that but she illustrates how important caring about such things really is. She makes some fascinating points about changes at national parks, commercialism at historical sites, presidential idiosyncrasies,  and more, and her enthusiasm is infectious. In this year of one of the strangest, most divisive elections we have ever had, a time when patriotism should run rampant as everyone gets a chance to exercise their constitutional right to vote, The Partly Cloudy Patriot is a great reminder of our proud, and not-so-proud, moments and people in history.
Through her essays in The Partly Cloudy Patriot, I now have a girl crush on Sarah. Scratch that. I want to find her and tell her that we should be best friends. It would be a match made in heaven. Her historical nerd cred is off the charts, which I adore, plus, she calls Buffy the Vampire Slayer one of the smartest, funniest and best shows on television. She then goes on to explain the show in detail. See? I may even love her a bit after that.
For those who have never experienced any of Sarah's works, The Partly Cloudy Patriot with its short essays on a very eclectic variety of subjects is a great place to start. Not everything she has to say is about historical events or people. She also touches on her childhood, her love of a certain arcade game, and more. Still, her love of the United States is palpable and refreshing in its directness. We all should be so enthusiastic about our collective past, present, and future.
Thoughts on the Audiobook: I cannot imagine anyone other than Sarah narrating her essays. They are so personal, and everything about her voice is so unique. To lose that personal touch – the small inflections, the wryness – would be to lose most of the humor and the intimacy of her anecdotes. To lose that will make this collection of essays rather dry indeed. Her use of celebrities to voice historical figures adds a layer of entertainment to the narration, as does They Might Be Giants with their catchy interludes and one-of-a-kind ditties. Together, they make for one of the most fun nonfiction auditory experiences you can get.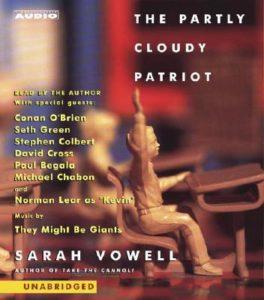 BOTTOM LINE: It confirms why I love Sarah Vowell's books.