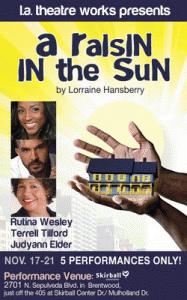 Last October, I attended a performance at the LA Theater Works of the aclaimed play "A Raisin in the Sun.  The performance included many great actresses and actors but the highlight for me was True Blood's Rutina Wesley in the part of Bennie. Read the Vault exclusive article about the play by clicking here.
Now, the audio from this wonderful radio play is available for purchase on 2 CDs.  The CD's provide the 2:20 hrs. long play and can be purchased by clicking on the link below.
A Raisin in the Sun is a seminal American drama and a heroic testament of hope. This new recording of Lorraine Hansberry's classic play, starring Rutina Wesley from the HBO hit series True Blood, chronicles a working class African American family struggling to maintain dignity in a harsh world. With her late husband s insurance money finally in hand, Mama Lena dreams of moving to a better home. However, her children have other plans: Walter Lee wants to buy a liquor store, and Beneatha wants to go to medical school. What happens when family dreams drastically diverge? A full-cast performance featuring: Judyann Elder, James Gleason, Noah Gray-Cabey, Corey Hawkins, Deidrie Henry, Terrell Tilford, Rutina Wesley and Mirron E. Willis.
source: A-Raisin-in-the-Sun-LA