OnePlus presents Alcheringa 2018, driven by Hero MotoCorp, sweetened by Brown Creams, educated by Bhadra IAS, powered By Vh1 and Colors Infinity, co-presented by The Assam Tribune and in association with G PLUS, Manikchand Jewellers & Doreka is by far the largest cultural festival of North-East India and since its inception has entered its 22nd edition. Alcheringa provides a national level platform for participants and enjoys a footfall of 80000 people and participation from over 400 colleges.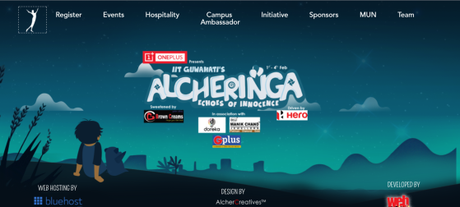 The theme for this edition of Alcheringa is 'Echoes of Innocence'. The idea of Echoes of Innocence is to take everyone to one of their favourite stages of life, Childhood. Echoes of Innocence is a small insight to each of ours's past, a short trip through our childhood; where there are no worries, we all feel safe, full of curiosity, filled with innocence and the feeling of absolute bliss.
This edition, Alcheringa is hosting an exhibition of the North-East to showcase the cultures of the eight states of the North-East through performances of traditional dance and music. There shall also be exhibitions of the handicrafts and hand-looms of various states during the duration of the festival. The North East Expo Stage will be graced by performances of Aphilo Kuwo - A dance form from Nagaland, Lebang Bhoomani Dance - A harvest dance form from Tripura and the Wari, Octaves Foundation presenting some Manipuri Folk Tales.
This year Alcheringa will be hosting 4 different professional nights of 4 completely different genres. Indian classical music maestros and brothers Ganesh - Kumaresh as pre-headliners and the Legendary Padma Shree Awardee, Ustaad Shahid Parvez Khan, pioneer of 'Hindustani Classical Music' will perform on the Opening Night of Saaz- The Classical Night on the 1st of February. Viacom presents Juggernaut will be headlined by a rising Alternative Rock band from Chennai, The F16's on 2nd February. Maruti Suzuki - Colours of Youth presents Crescendo headlined by the dynamic Bollywood duo Vishal - Shekhar on 3rd February. Lastly Blitzkrieg, the surprise night with an opening act from the Portuguese House Producer Diego Miranda and one of the most entertaining live acts ever by the Australian House Producers Mashd N Kucher to end the show this edition.
Apart from this as a part of our world carnival we have performers from three different countries. 1. Corvo Nuno Flores, Portuguese Violinist 2. Limor Ballas, Singer from Israel 3. Christian, Brock Guitarist from Denmark.
Other interesting attractions in this edition of Alcheringa include the IITG Model United Nations - that emulates actual councils of the United Nations. This year for the very first time we're gonna have a committee simulating the Lok Sabha. The North East Social Entrepreneurial Summit provides a platform for social entrepreneurs to share and discuss ideas that affect the North-Eastern states, and Parliamentary Debate - where participants become MPs and debate on respective concerns.
Attractions of Alcheringa - 2018 (IIT Guwahati Cultural Fest)