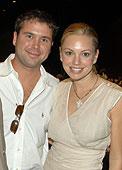 Chace Swatek and his sister,
actress Barret Swatek
Alabama lawyer Chace Swatek died while in the midst of a two-mile roundtrip walk to a drugstore, according to details released by the Pelham Police Department.
The cause of death remains undetermined, pending results of a toxicology report
that is expected to take six months to a year
. Swatek's body was
discovered on February 15
behind a stack of pipes on the shoulder of Shelby County 35, near the County Services Building in Pelham. Officials quickly said they saw no signs of foul play, and there have been no reports of a suicide note or evidence pointing to an accident.
Swatek, 35, was the youngest son of attorney William E. Swatek, who plays a central role in our
Legal Schnauzer
story and has a 30-year history of ethical violations with the Alabama State Bar. Swatek was the younger brother of Dax Swatek, a well-known Republican Party consultant with ties to Bill Canary and Karl Rove. We've seen no signs that Chace Swatek's death had anything to do with politics or his status as the son of an ethically challenged lawyer; it's what law-enforcement officials call an "unattended death," which can be mysterious by its very nature. But in a series of recent interviews with
Legal Schnauzer
, Pelham Police Cpt. Larry Palmer shined light on what an investigation has determined.
* Swatek was placed at the CVS Pharmacy store,
at 100 Huntley Parkway
, between 4 and 4:30 p.m. on February 14;
* Investigators found a CVS bag, containing several items and a receipt, near Swatek's body. That is what caused officers to trace him to the CVS store. Palmer said he could not identify the items that Swatek purchased because the investigation is ongoing.
* Palmer described Swatek's clothing as "casual," and said no vehicle belonging to Swatek was found in the area--and no one has come forward to report dropping him off at the CVS store. It appears he was on foot.
* Swatek was renting a house in the Mallard Pointe subdivision, which is just north of the CVS store, about one mile away.
* Swatek's body was found at 6 a.m. on February 15, which means he died at some point in roughly a 14-hour window. At the time Swatek's body was found, Palmer said, it appeared he had been dead for several hours.
Palmer said he could not give the exact address of Swatek's home, but it is in the 100 block of Mallard Pointe Circle. Our research indicates the house is at
154 Mallard Pointe Circle
, which is owned by Brent and Charlotte Callihan. Brent Callihan is a lawyer who occupied the office at 451 Canyon Park Drive (Suite A) in Pelham before Chace Swatek took it over. In 2010, Brent Callihan became
the police chief of Chatom, Alabama
, which is near Mobile. Shortly after that, it appears, he rented his house to Chace Swatek.
The investigation, Palmer says, points to the following timeline:
* Late on the afternoon of February 14, Chace Swatek decides to walk from his home in Mallard Pointe to the CVS store. It's only one mile to the store, and the weather is mild, but the route is not pedestrian friendly. Turning left out of his neighborhood, Swatek walks for about 3/10 of a mile on a section of Shelby County 35 that has almost no shoulder, and a relatively steep ditch on the left side;
* He veers to the left on another section of 35, and that appears to be an easy section to walk, with plenty of shoulder on both sides of the road. An All-State Insurance agency sits in a small building to the right, which is the first step in what appears to be a budding office-part development. For now, it's mostly a vacant lot. Swatek passes the Brookshire neighborhood and the County Services Building on the left before reaching Shelby County 52;
* The CVS is visible to the left from the intersection of 35 and 52, and at some point, Swatek crosses five lanes of traffic to reach the store on the other side, maybe 200 to 300 yards down 52;
* Swatek buys a few items, leaves the store with bag and hand, and begins the trip back home, along the same route;
* As he reaches the intersection of 52 and 35 and turns right back toward his house, Swatek goes behind a stack of pipes that have been placed in a wide section of the shoulder, directly across from a Shell station at 75 Highway 35 in Pelham. His body is found behind the pipes the next morning.
Why did Swatek go behind the pipes when it appears there was plenty of room to walk in front of them? What caused him to die while behind the pipes? That remains part of the mystery surrounding the investigation.
"Until tox gets back, to tell us if there was anything in his system, it's just an unknown," Palmer said. "We talked to the family, and he didn't have any medical problems that we learned about. But that doesn't always play out to be true in the end. We've had cases where people had heart attacks at young ages and didn't realize they had a heart problem until it was too late.
"I've been in this business for 30 years, and I never try to assume anything or speculate. Anything could have happened. We're looking for anything that might give us an idea of what happened. In this case, we found nothing. . . .
"Any time you have an unattended death, we always ask, 'Why?' We want to know what happened to that person. If it's unattended, those will drive you crazy. . . . We want to know, as quickly as we can from the medical examiner, what caused this."