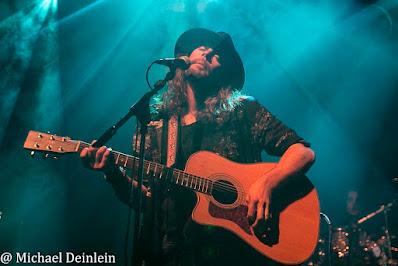 We at the Ripple Effect are proud to premiere the new lyric video for "Bottled Up" off of Mark Daly's Nothing To Lose EP and upcoming full length album Peace In The Panic. After you've watched the video you'll want to learn more about the artist. We've got you covered! Check out our interview with Mark below!
When I was a kid, growing up in a house with Cat Stevens, Neil Diamond, and Simon and Garfunkel, the first time I ever heard Kiss's "Detroit Rock City" was a moment of musical epiphany. It was just so vicious, aggressive, and mean. It changed the way I listened to music. I've had a few minor epiphany's since then when I come across a band that brings something new and revolutionary to your ears.
What have been your musical epiphany moments?
My Dad would play Led Zeppelin, Thin Lizzy, Pink Floyd and ELO in the car when I was a kid, and it blew my mind. I instantly got the bug for Rock music and haven't looked back since.
The moment for me was Led Zeppelin 'Whole Lotta Love' full blast in the car!
In my teenage years I used to obsess over Linkin Park, Staind, Nirvana, Biffy Clyro & more which got me into playing in bands.
Since I started playing music, I have had a wide range of magical moments, like taking a deep dive into the Aerosmith, Rod Stewart, Rolling Stones catalogs, and many more classic bands.
Talk to us about the songwriting process for you. What comes first, the idea? A riff? The lyrics? How does it all fall into place?
Usually, I can feel a song building up in me, and I know it just needs to come out, so I grab a guitar, and it feels like it just pours out of me. With most songs, I like to start with a few chords & add lyrics as I go, but I also carry a lyric journal, so occasionally, I would start with my lyrics & melody and build the music around that.
Who has influenced you the most?
It has to be Geoff Tate. Touring with him over the last few years has opened up my world to so much music & experiences.
Watching him perform and to get to learn from such a professional who has seen and done it all with Queensryche is incredible.
Where do you look for continuing inspiration? New ideas, new motivation?
I'm always listening to new music, and I think the fact I travel and see so many new places keeps the inspiration flowing all the time.
I really love finding new bands, and going to see live shows always gives me such amazing motivation.
We're all a product of our environment. Tell us about the band's hometown and how that reflects in the music.
I'm from Cork, Ireland, so it rains A LOT and overall has a cloudy and moody vibe, so I definitely think that contributes to a mood when writing a song.
I know my lyrics can come across as deep and sometimes dark, but I feel writing a song helps clear all of that from my head, and I'm a very happy person most of the time, haha.
Where'd the band name come from?
My releases go under my own name, 'Mark Daly,' but when the full band performs live on tour, it's 'Mark Daly & The Ravens' as it's a 5-piece band live, and I have always had a fascination with Ravens for some strange reason so always wanted to include that and bring it into my band name.
You have one chance; what movie will you write the soundtrack for?
It's got to be the next James Bond movie. That would be the ultimate goal to write a song for one of those movies, so if they ever come asking, I will consider saying yes, haha.
You now write for a music publication (The Ripple Effect?). You're going to write a 1,000 word essay on one song. Which would it be and why?
There are a million songs I could talk about for days, but I'll pick the song that is playing in my Air Pods right now that I love- Round here by Counting Crows. It's a song that, to me lyrically, is a masterpiece, and Counting Crows are a band that really got me into songwriting and inspired me so much.
Come on, share a couple of your great Spinal Tap, rock, and roll moments.
The last few years have been a blast on the road and touring with my band mates who are some of my closest friends is incredible, but we are also complete weirdos together haha.
We get along so well that every day on the road feels like it should be on a reality tv show. We recently performed at the Monsters of Rock Cruise, and I gotta say that was a badass Rock N Roll moment getting to hang out with so many incredible legendary bands.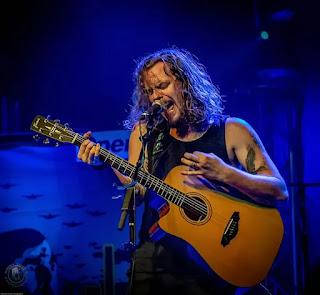 We have a music video coming out with all our crazy backstage antics on the road, which should give an insight into how much fun we have on the road
Tell us about playing live and the live experience for you and your fans.
I absolutely love playing Live! On this recent US tour, I felt such a connection with the audience, and it has been the most incredible tour I have ever done. The magic of getting completely lost in the music and giving absolutely everything I got to the performances has been so enjoyable & rewarding.
For me, it's authenticity and a genuine feeling in a song that hooks me. I love bands and artists that write honestly and from the heart. I know with pop music, they can have a big group of songwriters for artists sitting around a table using a songwriting formula to make a hit song, but that fake feeling is not for me, so I find it very difficult to listen to anything on the radio.
Tell us about the first song you ever wrote.
I was maybe 19 years old, living in Spain, and playing in a cover band. I got stood up on a date with a girl, and instead of going out for dinner with her, I ended up staying at the apartment and having some drinks with the lads in the band. I took out a notebook and started writing the lyrics to a song called 'Restless,' and the guitar player Nick wrote the music on the spot, and we had our first original song of many!
What piece of your music are you particularly proud of?
It will always be the song I wrote for my son Noah. I released a song called 'Your World' a few years ago, and we released in aid of Autism services in Ireland. It's the most personal song I have ever released straight from the heart.
Who today writes great songs? Who just kicks your ass? Why?
I love Blue October. I think Justin is an incredible songwriter and listening to their records blows my mind! I listen to so much new music that my answer would change day by day, but there are so many incredible bands out there. Another pick for me would be the Irish band Fontaines D.C, which is truly unique and unbelievable to see live!
Vinyl, CD, or digital? What's your format of choice?
I adore Vinyl! Just everything about it, and I have started a nice collection of records. I also enjoy using my Apple Music & Spotify as it's so great to be immediately able to have an artist's record & discover new music (I wish they would pay more haha)
Whiskey or beer? And defend your choice.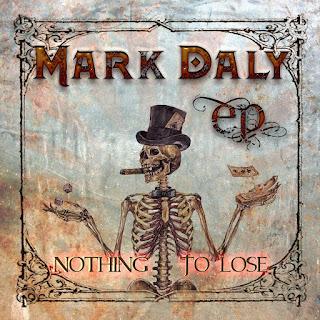 I have to say Whiskey. I've recently got into different types of whiskey and a Jameson Black Barrell is my absolute favourite!
Some friends on this recent tour have been bringing bottles to our dressing room, which is amazing, but I'm ready for a detox now, haha.
We at the Ripple Effect are constantly looking for new music. What's your hometown, and when we get there, what's the best record store to lose ourselves in?
Unfortunately, not very many record stores left in my hometown of Cork, Ireland, but there is a great place called Music Zone in Cork, a well-run and passionate music store that regularly puts on live performances by Irish artists in the store, which is fantastic!
We just released the 'Nothing to Lose' EP, and now we are preparing for another EP release with a brand-new music video we shot in Nashville.
The full album is also on the way & we just signed to a record label (One Opportunity Records) who are incredibly supportive and passionate, so we are working with a fantastic team of people on so many exciting plans for the future.
Any final comments or thoughts you'd like to share with our readers, the waveriders?
Just a thank you for reading this and I hope everyone gets to check out the EP and hopefully see a show soon when we are back on the road.