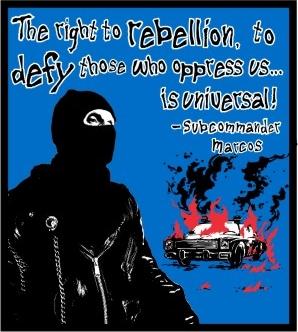 On the night of January 5th, around 10 pm two groups of individuals attacked a NISSAN dealership and the Ministry of Communications and Transport with stones and moltovs, causing damage to both the buildings and cars. Three individuals [Fallon Poisson, Amelie Pillierst (CA), and
Carlos López Martin (MX)] were detained shortly after the action.
The media and the state are attempting to link them and the attack with the CCF and the FAI. They have also claimed that the buildings were attacked with many bombs and explosives. The explosions heard that night were not bombs but the guns of the police, who guarded the buildings, shooting at comrades. With the poor aim of the cops, no comrades were hit.
Fallon and Amelie have a possible chance of deportation while it is certain that Carlos will be held captive in Mexico. With all of the lies and embelishments of the state and the media, the case has become federal. The charges are as follows: TERRORIST SABOTAGE, ORGANIZED CRIME, and PROPERTY DESTRUCTION. With the case going federal, their chances for bail have been revoked and their chance for deportation has decreased.
Thus far, they have only been allowed direct contact with lawyers and family who assure us they are not physically harmed despite threats and intense interrogation. Since their arrest, comrades have been concentrating outside of the prison and have been able to pass them food and clothes.
Update: The last update is that the Canadian consulate has visited the comrades and that the authorities of the capital are going to deport them to their country of origin, being that this is what the GDF (the government of Mexico City) has been doing with some comrades like Alfredo Bonano and Gustavo Rodríguez. That leaves Carlos López as the last person subject to investigation, so we invite solidarity in all its forms.
!FIRE TO THE PRISONS!
!DEATH TO THE JUDGES!
!FREEDOM FOR AMELIE, CARLOS, AND FALLON!
!ETERNAL REVOLT!
!SOLIDARITY EVERYWHERE!