Attack On Titan: The Roar of Awakening
In Cinemas 21st February

Dive back into the anime smash hit and rejoin humanity's last stand with an "Attack On Titan" event like no other. A big screen director's cut with all the shocking reveals and harrowing horrors of Season Two, there's no better way to jump back into the fray.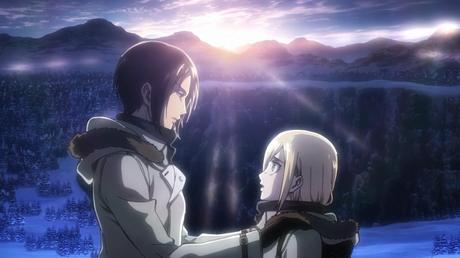 Synopsis:
The battle against the Female Titan ended in bittersweet victory, but the struggle for humanity's survival rages on. Eren Jaeger and the Scout Regiment are only just starting to unearth the mystery of the ferocious Titans when they are thrust into a terrifying battle once more. Facing horrifying new threats and colossal truths that will shake them to the core, does humanity stand a chance of survival when we don't even know who to trust?
We Like It Because:
After the shocking revelations at the end of "Attack On Titan" Season One, we couldn't wait to sink our teeth into the next chapter. What exceeded our expectations in 2013 were just the tip of the iceberg and just when we thought the fight couldn't get more personal, the colossal truths that unravel left us wondering who we really know and can trust, even on the brink of humanity's extinction.
New life is breathed into the acclaimed kinetic animation of WIT Studio ("Kabaneri of the Iron Fortress") in a theatrical director's cut that showcases every twist and turn of Season Two in a bite-sized package perfect for anyone wishing to relive this new chapter, or experience it for the first time.
Key Talent:
Director: Masashi Koizuka ("Attack On Titan" Assistant Director)
Assistant Director: Hiroyuki Tanaka ("Attack On Titan", "The Empire of Corpses")
Character Designer: Kyoji Asano ("Attack On Titan", "Psycho-Pass")
Art Director: Shunichi Yoshihara ("Jojo's Bizarre Adventure", "Kabaneri of the Iron Fortress")
Music: Hiroyuki Sawano ("Aldnoah.Zero", "Kill la Kill")
Production: WIT Studio ("Kabaneri of the Iron Fortress", "The Ancient Magus' Bride")
Stars:
Yūki Kaji ("My Hero Academia", "Tokyo Ghoul")
Yui Ishikawa ("A Silent Voice", "NieR Automata")
Marina Inoue ("My Hero Academia", "The Seven Deadly Sins")
Daisuke Ono ("Black Butler", "Durarara!!")
Romi Park ("Bleach", "Fullmetal Alchemist")
Shiori Mikami ("Flying Witch", "YuruYuri")
Advertisements
&b; &b;