ZEE5 new movie Atkan Chatkan which was released on September 5th is presented by A. R. Rahman and I watched it recently after I liked the trailer of the movie.
Being it Rahman's presentation and the musical journey performed by the child artists, how could anyone miss it? So read on to know why everyone should watch the movie with the entire family.
A Musical Journey from rags to riches
Atkan Chatkan is a musical journey from rags to riches which motivates and inspires everyone. I enjoy such types of movies as it makes us learn so many things.
The film's opening scene starts in London, where a young man with the backdrop of musical instruments and acclaimed awards receives a package that has a letter and a book named Atkan Chatkan.
 As he starts reading the book, the story takes you to the city of India- Jhansi, where a young boy Guddu is seen running errands and enjoying the cacophony of the sounds of different things.
Guddu lives with his sister and dad, a wasted tippler. He works at a chai stall to make ends meet and is passionate about music.
He dreams of going to the prestigious Tansen music academy. He has a supportive friend Madhav who sells books and always guide him.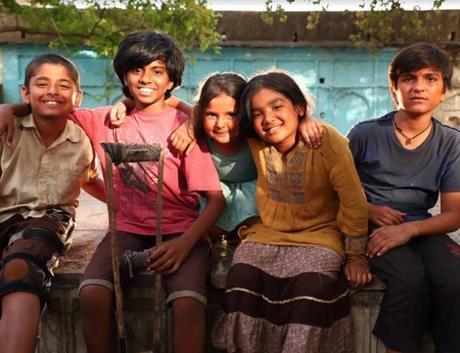 Image source: ZEE5.com
They meet two street kids- Chuttan and Meethi, who earn their living by dancing and singing. Soon Guddu forms a musical band with street friends and Madhav, so that they all can earn more and grow together.  They don't have money to buy traditional musical instruments, so they assemble to make instruments from pieces of scrap and junk.  Also, they name their band Atkan Chatkan with gusto.
As luck would have it; their music performance on the street is recognized by the Tansen music school principal. The principal offers them to perform at a national level by presenting his school and if they win, well their lives will change for good.
The principal hires a music teacher for them and they start practicing and learning the art of music.
However, things get intricate when the envious music school boys come up with a malicious plan and try their best to intervene. To add to this, Guddu's father who is against the music stops him to go and perform.
With so many obstacles, will kids be able to perform? How? Watch it to find out.
I enjoyed this movie because:
Stellar star cast– Lydian Nadhaswaram, a  musical prodigy who won the CBS show "The World's Best" & A. R. Rahman protege, has perfectly essayed the role of Guddu. Also, the other three kids have given excellent performance and are known for their achievements in the music and TV industry.
Power-packed performance by kids– The story is about kids and all the four young talents have given power-packed performance. It's because of them; the movie touches our soul and heart.
Music from scrap– When someone has talent and passion, nothing can stop them and this film is a perfect example of it. I liked the way the kids used different pieces of scrap and junk and transformed them into musical instruments.
No Melodrama, No cribbing– The film is based upon street kids, but there is no melodrama and cribbing unlike other movies of the same niche. This is the fact I liked the most because they were fervent and focused on changing their lives for the better.
Music lover– It was wonderful to watch the Guddu's curiosity to discover music from the cacophony of all sounds coming from different things and objects.
Inspiring and Phenomenal– Lastly the movie is inspiring for all age groups. A must watch for kids that can learn to inspire, be vehement about the things they love and never lose hope.
#DreamItLiveIt- The kid's positive outlook on life and belief in #DreamItLiveIt, will encourage you to live your dreams!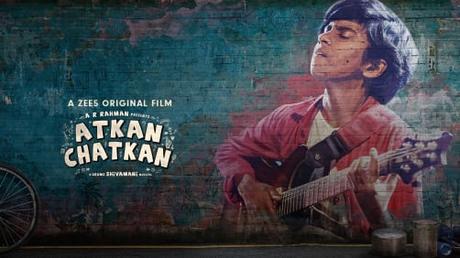 Image source: ZEE5.com
What I Didn't Like about this Movie:
Movie opening introduction: When the movie started with the introduction, a young man photo was showing throughout which was rambling to me and I had to check twice whether I was watching the right movie. Rather showing him, they should have shown the kids images that are the main highlight of the film.
Lost in Love: Guddu's friend Madhav is smitten by a girl which is absolutely fine, but what is not ok is that young boy suddenly gets lost seeing her in one scene which was not convincing. I understood that the director wanted to change the climax and therefore, he did this twist, but I didn't like it.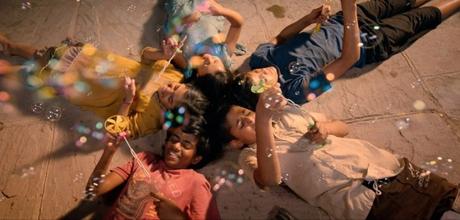 Image source: ZEE5.com
Final Thoughts
After a long time, a good movie has been made on and for kids which should be watched with the entire family.
#AtkanChatkanOnZEE5 is a simple yet powerful story that will inspire and motivate.  A must watch for kids and music lovers. The kids didn't lose their spirit and will make you think out of the box.
Sharing a quote said by a kid that I liked and makes so much sense. If you ever doubt yourself about the things you are passionate about, then remember these lines:
"क्या balloon को balloon की spelling आती है ? नहीं ना, फिर भी इसे उड़ना आता है"
Which means "Does balloon know the spelling of a balloon? No right, yet it knows how to fly.
In the end, your zest and zeal matter the most!
Rating:



✰✰
---
Looking for movie recommendations on ZEE5? Then check this out:
Watch Commando 3, Saandh Ki Aankh on ZEE5 if you are craving a good watch

Looking for a thriller series? Watch "Mafia" on ZEE5