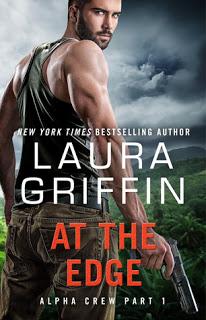 ABOUT THE BOOK:
Dive into Part One of this heart-pounding romantic suspense story, which continues in Edge of Surrender: Alpha Crew Part Two!
When Emma Wright's government plane goes down over the Philippine jungle, she's forced to survive alone until an ultra-elite SEAL team goes in after her. As the leader of Alpha Crew, Ryan Owen is no stranger to challenges, but he's never tackled anything quite like this sexy, smart, and resourceful woman. The mission is to get Emma home safely, but danger is everywhere, and Ryan's unexpected desire for Emma could be a deadly distraction.
Back home in California, Ryan's mission is over—but Emma's has just begun. She knows her plane crash was no accident, and she's determined to uncover the truth about what happened—even if her quest for answers puts her at risk. Torn between duty and desire, Ryan searches for a way win Emma's heart while protecting her from an invisible enemy who wants her dead.
The thrilling conclusion to this Alpha Crew romance is just weeks away!
READ A SAMPLE:
MY REVIEW: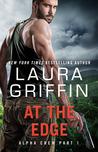 At the Edge by Laura Griffin
My rating: 4 of 5 stars
At the Edge by Laura Griffin is a 2016 Pocket Star publication. I was provided a copy of this book by the publisher, as an XOXpert, the official street team of XOXO After Dark.
A new series by Laura Griffin! Who can resist that temptation? This novella length story is the first book in the Alpha Crew series and is centered around Navy SEAL Ryan Owen and Emma Wright.
When a plane crashes in the Philippine jungle, Ryan and his team are commissioned to find the plane and rescue any survivors, which is how he meets Emma. Emma is the sole survivor of the crash, and while making their way back to the states the two forge a bond. But, the rescue mission is only the beginning. It seems Emma's search for answers about the crash has garnered her some unwanted attention, which means Ryan must protect her, even if it means he must put his growing attraction to her aside.
As always, Laura Griffin has written a scorching hot, action packed, romantic suspense story. Awesome storyline, non-stop suspense, political intrigue, and hot Navy SEALS. What more can you ask for? This story is one of two parts, so be warned, there is a 'to be continued' ending, but "Edge of Surrender" is also available now, so there is no wait time.
If this is any indication of how this series will play out, I can hardly wait for more!
GET YOUR COPY HERE:
https://www.amazon.com/At-Edge-Alpha-Crew-Part-ebook/dp/B010MH19K0
http://www.barnesandnoble.com/w/at-the-edge-laura-griffin/1123475615
EDGE OF SURRENDER: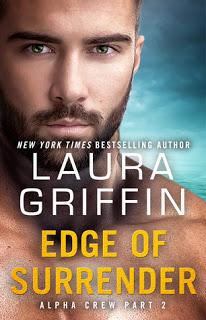 ABOUT THE BOOK: Ryan had one job: keep Emma safe at all costs. But after a night of passion, Emma takes off and Ryan soon realizes he's not the only one looking for her. Can he figure out who's after the beautiful government aide, and why, before she falls into the wrong hands… if she hasn't already?
Emma's fighting to get justice for her fallen comrades, but she can't do it alone. She needs Ryan's help, but that means trusting him--and dealing with the out-of-control desire blazing between them. Can there be any future for a marked woman and a man trained to kill? She hopes they live long enough to find out…
Don't get spoiled! Be sure to read At the Edge: Alpha Crew Part One before devouring this sizzling romance!
  READ A SAMPLE:  
MY REVIEW: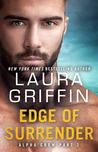 Edge of Surrender by Laura Griffin
My rating: 4 of 5 stars
Edge of Surrender by Laura Griffin is a 2016 Pocket Star publication. I was provided a copy of this book by the publisher, as an XOXpert, the official street team for XOXO After Dark.
This book picks up right where "At the Edge' left off. Emma gets herself in a tight spot and Ryan comes to the rescue. But, from that point on, the plot really tightens up as Emma and Ryan begin to piece together the reasons for the plane crash and who was responsible.
The action doesn't stop, with Ryan and Emma bonding emotionally and working together as a team to expose a shocking scheme while fighting for their lives. This couple is special and I liked how the author kept things real, testing Emma's commitment to Ryan and seeing her rise to the occasion.
This series is off to an outstanding start with a perfect balance between the romance and the suspense, great characters and an engaging, super tense plot, leaving me begging for more this one.
PS: Be sure to read "At the Edge" first.
4 stars
GET YOUR COPY HERE:
https://www.amazon.com/Edge-Surrender-Alpha-Crew-Part-ebook/dp/B014PUR378
http://www.barnesandnoble.com/w/edge-of-surrender-laura-griffin/1123475614
ABOUT THE AUTHOR: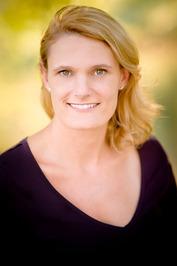 New York Times and USA Today bestselling author Laura Griffin started her career in journalism before venturing into the world of writing romantic suspense. Her books have won numerous awards, including two RITA Awards (for Scorched and Whisper of Warning) and a Daphne du Maurier Award (Untraceable). Laura currently lives in Austin where she is working on her next book.