Followers of Indian Cricket are well experienced to witnessing losses – yet today's performance hurts badly !  .. .. ..  What Umpire Pashchim Girish Pathak did in Vijay Hazare Trophy, John Ward who is known to him followed at International level.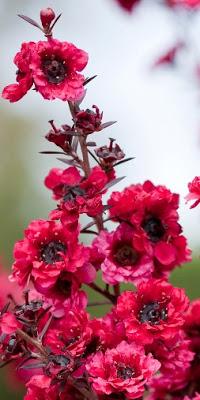 It is a prolific scrub-type tree and is often one of the first species to regenerate on cleared land.  Heard of 'Leptospermum scoparium', commonly called mānuka, New Zealand teatree,  a species of flowering plant in the myrtle family Myrtaceae, native to southeast Australia and New Zealand.  Australia's 18th consecutive win was achived at Manuka Oval, located in the suburb of Griffith, adjacent to Manuka, a business district of Canberra, Australia's capital.  The site of Canberra was selected for the location of the nation's capital in 1908 as a compromise between rivals Sydney and Melbourne, Australia's two largest cities.
Batsmen are dominating one-dayers like never before ~ Indians would not disagree.  At Perth, Rohit Sharma hit 171* followed by 124 at Brisbane; at Melbourne Virat Kohli made 117 and today at Canberra – Shikhar Dhawan made 126 and Kohli 106 -  Chasing a tall 349, Indians were 277/1 off 37.2 – a simple win beckoned, which Indians messed up losing wickets at 277; 278; 286; 294; 308; 311; 315 & 323 – snatching defeat from the jaws of victory.  All centuries made by Indians went in vain this Series. A very inept batting performance !
Today Australia batted first and India were chasing.  Kohli and Dhawan shared a 212-run partnership for the second wicket and required less than a run a ball before John Hastings claimed the wickets of Dhawan and MS Dhoni (0) with the score on 277. It triggered a flurry of ill-disciplined and reckless strokes from India as they threw away what would have been their first win of the series. Kane Richardson joined the party with 5-68, including the key wicket of Kohli, who spooned a catch to Smith at mid-on just after Dhawan's departure. Without injured headliners Mitchell Starc and James Pattinson and with Josh Hazlewood rested, Hastings and Richardson executed one of the great escapes in recent ODI memory.
At a time when batsmen were making merry, the Umpires searched for greater protection, with John Ward becoming the first umpire to wear a helmet in an international match.  His colleague, Englishman Richard Kettleborough, was taken off the field and replaced by Paul Wilson after being hit on his right leg by an Aaron Finch straight drive in Australia's innings against India. John David Ward from Melbourne made his debut in an ODI between Australia & England at Brisbane in Jan 2014.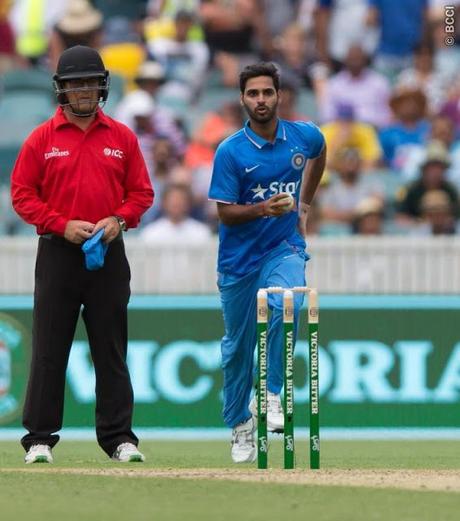 John Ward wearing helmet as Bhuvi runs in 

On Dec 1, it rained cats and dogs in Chennai, Tamil Nadu played Punjab in a Ranji trophy match at Dindigul.  Ward was hit on the head by a shot from Punjab's Barinder Sran - a part of the current Indian squad in Australia.  Ward fell down and remained motionless for a few minutes. The whole crowd gasped and stood numb in shock for a while, till Paschim Pathak, the square-leg umpire, and the players raced towards Ward.  Soon an ambulance was driven inside the boundary ropes too. It took some tense  minutes before the ambulance could start on its way to the nearest hospital, which is 30 kms away, but thankfully Ward was seen to be back on his feet by this time. Pathak a few days later wore an helmet in a league match of the Vijay Hazare Trophy.

If there is a fact on which there cannot be any criticism whatsoever of MS Dhoni, it has to be his inexorable defense of his teammates, who have consistently let him down in the past few years. For long, Dhoni has copped all criticism that has come Indian cricket team's way, but never has he taken the backseat and let his men take it. Dhoni has weathered all the storms, even though the undoing was not by him.  It is a sad reality that the team is doing very little for facilitate Dhoni leaving on a high. A dejected Dhoni announced shocking retirement from Test cricket, and the team is not backing him enough.

For the Indian fan – today another loss rankles !!!

With regards – S.Sampathkumar


20th Jan 2016 [photo credit : bcci.tv]