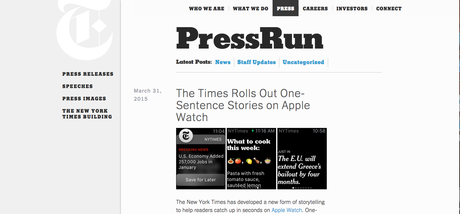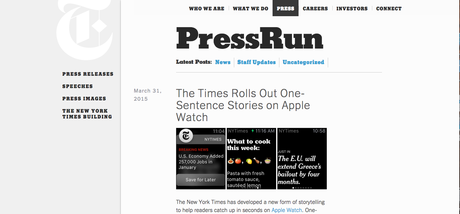 I keep saying it all the time, with the arrival of the smart watches, and particularly with the arrival of the Apple Watch this month, we are about to enter the era of At A Glance Journalism. The New York Times rings in that era with its One Sentence Headlines for the watch. The art of headline writing has never been more important.
Of related interest
http://garciamedia.com/blog/smart_watches_enter_at_a_glance_journalism
http://www.niemanlab.org/2014/09/wearables-could-make-the-glance-a-new-subatomic-unit-of-news/
While I am keeping my day job, I had fun doing this musical video to help the SND Foundation in its efforts to help aspiring visual journalists so that they will have access to training programs, scholarships and other support.
Tune in and hear my rendition of Cuban Pete, a song made popular in the 1950s by Desi Arnaz in his role as Ricky Ricardo in the iconic sitcom, I Love Lucy.
The Society for News Design Foundation, created in 1992, is the nonprofit education and research effort of SND. With support from donations and matching grants, the Foundation provides training grants for visual journalists, university-level scholarships, travel grants for students to the Annual Workshop & Exhibition, grants to the student designers of the year, and outreach to minority journalists and journalism students at universities with diverse enrollments. The Foundation also provides research grants for projects on the future of journalism developed in partnership with other journalism organizations.
Please make your contribution today here. No amount is too small.  I am sending you a Babalu  chant all the way to where you are, asking you to help a young visual journalist to get into the most wonderful profession of all.
Donate here: http://www.snd.org/foundation/
Of related interest:
Raising funds for the SND Foundation
http://www.garciamedia.com/blog/raising_funds_for_the_snd_foundation
Let's hear it for the mambo
http://garciamedia.com/blog/lets_hear_it_for_the
TheMarioBlog post # 1722
Please enable JavaScript to view the
comments powered by Disqus.
comments powered by

Disqus