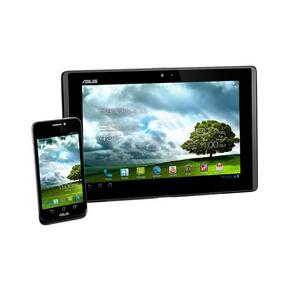 Asus Padfone
is a unique gadget, which offers three features at once, namely as a smartphone, tablet and laptop devices in a single unit. After a delayed launch preached as supply is limited Snapdragon S4 processor, this gadget is finally looks up and marketed in the
United State
s via Negri Electronics.
International version of the Asus Padfone is available for $ 859.50 dollars, or about 8 million dollars.
In the package, Asus includes Padfone Station, this cell phone accessory that converts into a tablet Android 4.0. 
Padfone Station in 6600 mAh battery which there can recharge his cell phone. There is also an audio jack, mini USB port, and HDMI micro slot. To strengthen the signal, Padfone Station also has an antenna that also serves to capture the GPS signal. Unfortunately, this price does not include the Asus Tablet Dock that could change the Asus Padfone a laptop with a physical QWERTY keyboard. Asus Padfone also quite capable. 
In addition to Super AMOLED 4.3 inch screen with a pixel density of 256ppi, which is also embedded in the Qualcomm Snapdragon S4 dual-core 1.5 GHz with Adreno 225 GPU. 
To support the performance is 1GB of RAM installed, plus an 8MP camera with LED flash and aperture f/2.2 can record video. There is also a front camera for video calling with VGA resolution. To store data, Asus provides 16GB of internal storage that can be expanded via microSD card slot.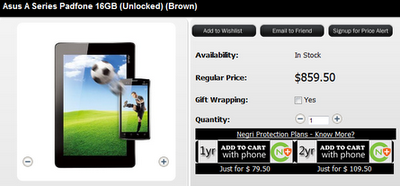 The price could be considered expensive for most people. 
But the price is relatively quite appropriate when compared to the price of a smartphone and a tablet, especially if the added accessories Tablet Dock to turn it into a laptop.
source