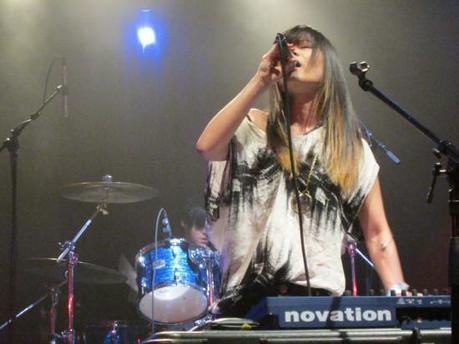 "I think it's okay to take it with beer… I don't really remember," Brenda Malvini remarked as she popped one of her birth control pills on stage at Highline Ballroom. Yes, this may seem like a strange thing for the lead singer of Brooklyn band North Highlands to do in the middle of a set, but this set was part of the 5th Annual Roe on the Rocks Benefit Concert for Planned Parenthood NYC  (it's all coming together now, isn't it?).
The evening on April 16th was hosted by comedienne Sara Benincasa, who seized the opportunity to make jokes about vaginas and feminists (they lose their luster pretty quickly). There was a raffle with prizes ranging from a $750 electric guitar to a gift certificate to Babeland, but ultimately the night revolved around the music. Though the benefit's title refers to 'rock' (as in music), the three bands that filled the evening's program all leaned more towards electronic and pop.
One half of the opening band, Little, Big (@littlecommabig), offered, "We'll rock as hard as we can. We're a little poppy… but we'll do what we can."  (Soon after, they played a cover of a Prince song.) Since there are only the two of them onstage (he is the Big, on electric bass; she is the Little on dissonant vocals, interpretive dance and the occasional tambourine), their music relied on synthetic drums and keys routed through an iPod affixed to her microphone.  It was a little like they were jamming to a video game in their living room.
North Highlands (@northhighlands) played the second set and were plagued by some technical difficulties, requiring them to adjust levels between each song. Brenda Malvini's vocals are sweet and gentle, almost bird-like, and the drums and bright electric guitar compliment and expand upon each other's rhythms in a compelling way. More could still be made of the contrast between the lullaby vocals and the bursts of heavier jamming, but they've got quite a nice pop rock thing going as it is.
The headliners, Asobi Seksu (@asobi_seksu), delivered relentless electro-pop, heavy on the reverb, like an ocean of sound swirling around the room. The sheer volume made the melodies obsolete and the lyrics indecipherable, but the seductive energy behind singer Yuki Chikudate's performance had the crowd grooving nonetheless.
Planned Parenthood knows how to stand their ground, and these bands proved that they can do the same loud and proud.