I am about to retire and would love to have advice about a capsule wardrobe to fit my new situation. I am a young 62 and pear shaped. I'm planning to focus on travel, enjoying grandchildren, blues festivals, yoga and walking. I like classic styles and love blues and greens.
Congratulations! That sounds like an amazing way to spend this new point in your life. And I love that you're considering a capsule wardrobe so you can focus on life instead of what to wear each day. Purchasing carefully, slowly, and while considering all you currently own can get you to the point of having a small quality wardrobe of hard-working pieces that have you ready for whatever comes your way.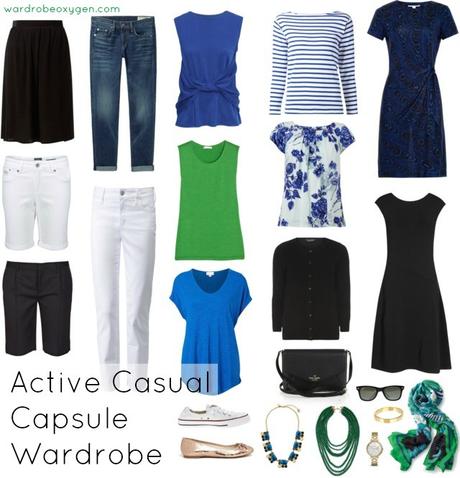 For this casual capsule wardrobe I didn't focus on yoga and walking as I figure you have gear for those activities; however I did try to create a collection that will move with you, be comfortable for long spans of time outdoors taking the grandchildren sightseeing or to the park, or sitting on a blanket in the grass enjoying live music.

As a pear-shaped woman, it can be hard to find bottoms that fit and flatter. For skirts, those with an a-line, a flare from the waist, or that are softly gathered will flatter your figure. A skirt at or below the knee not only balances your frame but provides modesty when chasing after little ones or sitting on the ground. While many women avoid shorts, they're so practical and so many lengths and styles are now available making it so any woman can find a cut that she likes. For a pear shape, a straight short that hits right at the top of the knee is best. Here I offered a stretchy denim style with a cuff, and a stretch twill Bermuda that can dress up or down nicely. A "boyfriend" jean is great for pear shapes because they're more relaxed in the hip and thigh area and the cuff makes them have just the right amount of taper and color contrast to not shorten the leg like traditional cropped pants. Many women choose dark bottoms to minimize their hips and rear, but a pair of opaque white jeans can be quite chic and flattering (and it also makes primary and jewel tones look so luxe). It's not ridiculous to pay to have jeans tailored (if you purchase them from Nordstrom they will tailor them on-site); go up a size for a comfortable fit in the hips and thighs and have the waist and hem adjusted for a custom fit. A straight jean is on trend yet will still be stylish next year; such a cut also balances hips nicely.

For tops, I kept things simple but incorporated elements to balance your curves. Boatnecks, cap sleeves, and gathered necklines add interest and also balance the bottom half of your figure. Choosing tops that highlight the slimmest part of your torso are also great; look for empire waists, built-in belts (or add one at the waist or at the ribs over an untucked top), and details like ruching and knots that define. Notice I kept prints to a minimum and those prints quite classic - prints can look dated very quickly. Sticking to solids and classic simple prints will keep your wardrobe from looking passé or frumpy. Breton stripes are a classic and look chic on women of all ages; while florals can be seen as mumsy this simple white and blue print in a stretch silk or synthetic will look quite modern, especially when paired unexpectedly with boyfriend jeans or shorts. A graphic print in your favorite color can easily be switched out for the floral.

With dresses, I incorporated the same concepts from the skirts and tops. Fit and flare styles, cap sleeves, details to emphasize the waist, and skirts that hit at the knee or lower. Do know that models are often taller than average; a dress that looks thigh-high on a website may be knee-length on you. Consider the measurements offered as well as the photo (and customer reviews, if available) before judging a dress or skirt.

While a shoe with a bit of a heel will balance a pear figure, I believe in function over fashion and a flat shoe will do you better with your new lifestyle. Choosing shoes that match your bottoms or are low contrast to your legs will be the best choice; a metallic flat is a great way to dress up casual pieces but they're also a great way to get away without wearing heels to a wedding or other social event.


Accessories are what take a capsule wardrobe from ordinary to extraordinary. Statement necklaces are a great way to draw attention to your face, add personality and also a youthful touch to your outfit. A silk scarf can look matronly, but in a bold print it adds personality and class to simple knits.

As for bags, choosing a crossbody means you have your hands free to hold on to your grandchildren, take a photo, or grab a pair of drinks for you and another at that next blues festival. I can't stress the importance of accessories enough, especially with a pared-down wardrobe of staples. Accessories show your personality, show that you are young at heart, and that you are aware of current trends and care about style. Don't be afraid of a sparkly necklace, a metallic slip-on sneaker, or a statement watch or bag from a popular brand.

A pair of black plastic sunglasses are a classic; I recommend purchasing a classic yet popular brand and a style that is pretty classic to show you are aware of the trends but wearing them in the way that is best for you. While I featured the classic Ray-Ban Wayfarer in the collage, other styles are equally chic; I chose a few that caught my eye and have them in the widget above. With sunglasses and bags, I recommend buying the best quality and brand you can afford. These are accessories you likely will wear every day; quality will last and also elevate your basic wardrobe staples.