This simple salad is great for summer, potlucks, and BBQs.  It can be eaten as a side dish or an entree.  The addition of some chicken or shrimp would also make it a heartier dish.  The girls gave this one an 8 out of 10, although one of them said it would only be an 8 if I took out the cashews ;) We hope you enjoy it as much as we did.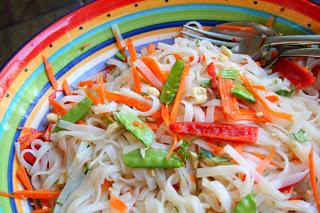 Ingredients
1/4 cup rice vinegar
1 tablespoon fish sauce
1 tablespoon sesame oil
7-8 drops stevia
1/4 teaspoon sea salt
1/4 teaspoon ginger
1/4 teaspoon garlic powder
1/4 cup chopped fresh basil
2 tablespoons chopped parsley
1/2 cup snow peas
1 diced sweet bell pepper
1 thickly shredded carrot
1/4 cup pan roasted cashews
1 package (454 g) rice noodles
Directions
In a large bowl combine all ingredients except rice noddles.
Cook noodles according to package directions and then add to bowl.
Stir to fully coat.
Allow to sit for 10 minutes to absorb flavours and serve.