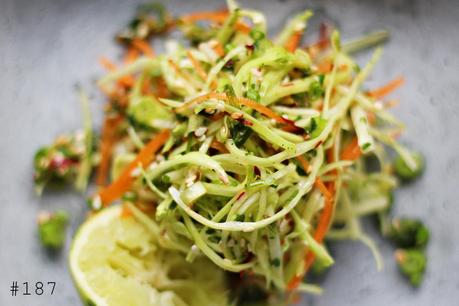 Asian coleslaw is a great fresh, crunchy and sometimes spicy variety of coleslaw that also can be served like a small appetizer or tapas even if you usually serve it as a side dish. In comparison to regular coleslaw this is very different, much fresher in both texture and flavor.
I use white cabbage as my base for the salad and then add what I might have at home, this time this was carrots, spring onion and a bunch of herbs but you can use celery, apples, beets, pears, papaya and a bunch of other vegetables.
Same goes for the dressing, in this recipe I used sesame oil, olive oil, lime juice and chili but you can use soy sauce, lemon, vinegar, sriracha, oyster sauce and make the salad equally good but different for every time you serve it. Only downside from regular coleslaw is that this one won´t keep for very long, I usually serve it the same day, you can save it one or maybe two days but it won´t be as good as on the first day. If you still want to prepare you can make the dressing and cut the vegetables a day ahead and dress the coleslaw a few hours before dinner time.
Asian coleslaw with cabbage, carrots, lime and sesame seeds
white cabbage
carrots
spring onion
lime
sesame seeds, roasted
sesame oil
olive oil
dried chili, strips or flakes
cilantro
chives
salt, pepper
The veggies
Wash the cabbage and slice thin, remove any big stems before, add to a big bowl and sprinkle with salt, leave for one hour. This make the cabbage softer and it will loose some of it´s water. Discard the water from the cabbage. Peel carrots and cut to thin strips, slice the spring onion and roughly chop the cilantro and chives. Combine all the vegetables in the bowl.
The dressing

With dressing you´ll need some measurements, for this dressing use 3 parts olive oil, 2 parts lime juice and one part sesame oil.

Combine olive oil and sesame oil,  wash limes and grate the skin into the oil, then squeeze and add the lime juice. Add the chili, sesame seeds and season with salt and pepper.
Final steps and plating

Combine the dressing with the vegetables and check the taste, adjust if necessary. Serve on small plates with a lime on the side or as a side. Good luck!