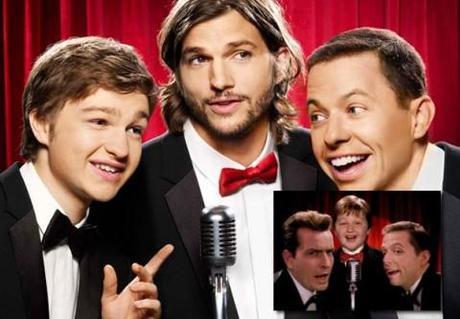 Ashton Kutcher, without Demi Moore. Photocredit: http://www.popcrunch.com/ashton-kutchers-new-two-and-a-half-men-promo/
It was a bit of a gamble, getting absurdly attractive Ashton Kutcher to fill Charlie Sheen's considerably large, and no doubt tiger-skinned, shoes on Two and a Half Men, but evidently, he's more than succeeded.
Kutcher has announced, according to Associated Press, that he wants to carry on with the drama – and the network, CBS, wants him to do so too: The series' viewing figure are up 20 percent more than Sheen's final season. Taking Kutcher, who plays a bearded, heartbroken internet zillionaire, said AP, was "a grand experiment that has worked out better than CBS or the producers could have dreamed." Love may be back in the air, too, for the toyboy – according to Entertainment News, he's been spotted still wearing his wedding ring.
Meanwhile, Charlie Sheen is still Charlie Sheen – sort of. Sheen, who left the show ungraciously, calling its producer an creator, Chuck Lorre, a "turd" and a "contaminated little maggot," recently claimed that his "wild-man days" are over. The 46-year-old actor has said that he isn't "crazy anymore. That was an episode. I'm a different person that I was yesterday." Whether or not that bodes well for his new show, Anger Management, remains to be seen.
"Let's just say I have a mellower plan," said Charlie Sheen, quoted on NZCity.

Beards! Alex Strachan in the National Post said that what "caught everybody's eye" was the fact that Kutcher was now clean-shaven, as opposed to his beardy character. When the second new episode airs, fans will be able to find out exactly why his character loses his locks. 
Promotion! Holy Moly was very cynical about Sheen's recent sobriety: "Of course no-one wishes Charlie a swifter recovery than Charlie Sheen himself, who incidentally has a new TV programme coming out. Did you know that? What a co-inkydink!|"
Winning? Perez Hilton was hoping that Charlie Sheen would stay crazy, saying it will be "less entertaining" if he's mellow. We can but live in hope.
The Sheen we'll miss: The Winning