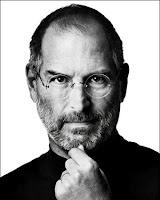 Steve Jobs is probably one of the most well-known pioneers of technology. If you own an iPhone, an iPad or an iPod then you have Steve Jobs (and his partner Steve Wozniak) to thank for it. In fact, if you are a lover of Pixar films, you also have him to thank for that too, because (and I honestly didn't know this), Steve Jobs actually helped co-found Pixar Animation, and became part of Disney's Board of Directors. So, yes, in his sadly short life (he died last year), Steve Jobs did a great deal for the world many of us live in.
So, it is really of no surprise that there are plans to create a biopic of his life. In fact, it makes sense, because people are interested in him, you just need to view the sales of his Biography to see how much respect and interest we all have.
The problem is, as with casting any role of a real person, who on Earth should play him? In this case, it will be the well-known actor Ashton Kutcher, and I can't lie, I'm not convinced about the choice. Okay, so Kutcher may look a little like a younger Jobs, but is appearance (which can be altered as we all know!) enough to warrant someone to be cast in a role? Personally, I'm not a fan of Kutcher, I'm not a hater either and I have no real opinion of his abilities, but I can't help thinking that he won't play the role well. Perhaps it's Kutcher's career history, I'm not really sure, but I do hope that this will be a case of being proven wrong, because no matter whether you loved or hated his work, there is no denying that Steve Jobs was a great man. And personally, I think that he should have been played by an unknown talent.
In typical Hollywood style, we'll just have to wait and see how this one pans out.