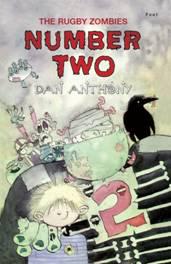 Rugby Zombies 2
Following his sensational win against Aberscary RFC, things should be going better for

a

rwel. But at the start of the sequel to

The Rugby Zombies

, it's quite the reverse.  Two shocking performances, one for the school team and the other for the Aberscary firsts, leave Arwel totally humiliated and his dad, Mr Rugby, out in the wilderness.  The committee has passed a vote of no confidence in Dad and, in the meantime, the rugby zombies have gone wild and are creating havoc across Wales! When Arwel finally catches up with them, the zombie hooker, Number Two, is missing and is being held captive by his former boss in a coal mine. Although Dad manages to arrange an international match for the Zombies - as all avid rugby fans will know – you can't play rugby without the hooker!
Can Arwel, and friends, Beth, Martin and Glen, manage to tame the wild zombies, rescue Number Two, restore Mr Rugby's reputation and win a match against a team made up of international players…?
This eagerly awaited sequel to the popular bestselling first novel,

The Rugby Zombies

, is sure to be enjoyed by children over nine years old but this humorous, witty story will also appeal to the young-at-heart.
The author, Dan Anthony from Penarth, Cardiff, has written widely for children, working as a scriptwriter on CBBC's

Story of Tracy Beaker

and S4C's

The Baaas

. His first novel for children,

The Rugby Zombies,

was published by

Pont Books

last year. A very talented and energetic young author, Dan also holds creative writing workshops for children in schools.  
The Rugby Zombies - Number Two
is available from all good bookshops and online
For more information, please visit www.pontbooks.co.uk