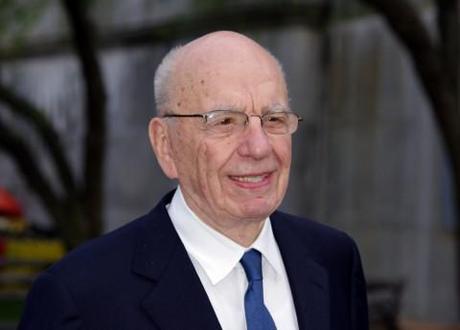 Rupert Murdoch. Photo credit: David_Shankbone
As shares in Rupert Murdoch's News Corporation continue to nosedive, financial commentators are wondering how long the 80-year-old media mogul can hang on at the helm, especially as shareholders become increasingly twitchy over the ramifications of the phone hacking scandal.
On Australian markets, shares in News Corp have dropped by 7.6% to a two-year low, reported the BBC on Monday morning. News Corp's headquarters are in New York, but its shares are listed in both the US and Australia. News Corp's stock has now lost almost a fifth of its value since the start of July, with the share price of its common stock in New York falling from $18.50 to $16.09.
News Corp has taken a severe battering in the past fortnight. Phone hacking allegations have forced Murdoch to pull out of his bid for BSkyB, shutter The News of the World and accept the resignation of News International Chief Execuitve Rebekah Brooks, who Murdoch reportedly considers to be his 'fifth daughter.'
Shareholders challenge Murdoch's nepotism. "Senior management could now find themselves in a double-bind, seen as either culpable for covering the scandal up, or incompetent for not tackling it much earlier," commented Laurence Knight at BBC News, who noted that "there are now moves afoot to curtail the Murdoch family's control over their firm. A group of News Corp shareholders are suing News Corp executives, accusing them of nepotism for overpaying when they bought Shine Group, a British TV production firm, from Rupert Murdoch's daughter Elisabeth. The American investors have expanded their lawsuit in light of the NoW scandal, to accuse News Corp's board of providing 'no effective review or oversight' and permitting a 'culture run amok.' According to stock analyst Alan Gould, many outside shareholders – who collectively own 62% of News Corp – would like to see more power transferred from the family to News Corp's president Chase Carey."
"You're now looking at [about] $10bn wiped off the value since the peak," said Stephen Mayne, director of the Australian Shareholders' Association. "The shareholder pressure, particularly today's tumultuous fall on Australian markets after the amazing developments over the weekend, is clearly showing that this is a gathering storm."
The Murdoch discount. Ominously for Murdoch, Bloomberg reported that News Corp would be worth 50 percent more without him: "By valuing each of News Corp.'s businesses separately, the New York-based media conglomerate would be worth $62 billion to $79 billion, estimates from Barclays Plc and Gabelli & Co. show, indicating News Corp. trades at an almost 50 percent discount to its units. Murdoch, 80, is facing increasing scrutiny over his management of News Corp. after the phone-hacking revelations …  deepened a slump that's left shareholders with a 16 percent loss in the past five years even as its rivals gained."  Bloomberg reported that "some people close to the Murdoch family and News Corp.'s directors said last week they thought it would make sense for Murdoch to relinquish his job as chief executive officer and stay on as chairman. 'Rupert should go because it's in the best interest of everybody,' said Terry Smith, chief executive officer of London-based inter-dealer broker Tullett Prebon Plc. (TLPR)  'The phone-hacking scandal is symptomatic of his business judgment. When a large number of your staff have been involved in criminal activities, normal CEOs of public companies who have to answer to outside shareholders and capital providers are less inclined to sweep it under the carpet,' he said."
Murdoch's attachment to newspapers, which has contributed to a 28 percent decline in operating income at News Corp.'s newspapers and information services unit in the past five years, has cost News Corp.'s shareholders billions of dollars, noted Bloomberg. The company's market value has shrunk by $31 billion since it offered to pay a 70 percent premium for New York-based Dow Jones & Co., publisher of The Wall Street Journal, in May 2007.
Get more on phone hacking

Phone hacking storm gathers pace: Rebekah Brooks arrested, Paul Stephenson resigns
Brooks (finally) resigns
Hackgate scandal spreads to US
News Corp pulls plug on BSkyB deal
Axed News of the World staffers hit Brooks with parting shot via final edition crossword
Hugh Grant turns the tables on The News of the World