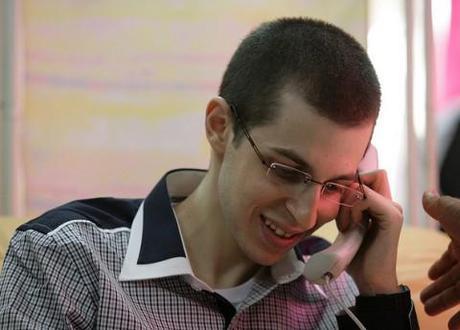 First picture of Gilad Shalit after his release. Photo credit: Israel Defence Forces, http://flic.kr/p/awVgMd
Gilad Shalit has arrived back in Israel as part of the prisoner swap deal agreed between Hamas and Israel last week. At the same time, Palestinian inmates were moved into Egypt from Israel, with some en route to Gaza and others bound for countries such as Syria and Turkey.

Symbolic. Writing for The Spectator's Coffee House blog, Clarissa Tan pointed out that Shalit has become a symbolic figure in Israel since his capture by Palestinian militants in 2006. "He was wanted back so badly that Israel has agreed to release 1,027 Palestinian prisoners, among them hardcore terrorists," wrote Tan, explaining that almost 80 percent of Israelis were in favour of the prisoner exchange.
Anger. However, Ori Lewis reported for Reuters that an Israeli man defaced a memorial to assassinated Israeli Prime Minister Yitzhak Rabin, in an apparent protest against the swap. "Police named the man as Shvuel Schijveschuurder, whose parents and three siblings were killed in the bombing of a Jerusalem pizzeria a decade ago," wrote Lewis. Ahlam Tamimi, who received a life sentence for her role in the attack, was due to be released as part of the prisoner exchange.
Bad for Fatah. At The Daily Beast Dan Ephron suggested that Palestinian President Mahmoud Abbas has lost political currency due to the deal, as he and his Fatah Party were not involved. Ephron also argued that the release of Palestinian prisoners could prove a security headache for the president: "With the rivalry between Hamas and Fatah surging in the West Bank, the insertion of more Hamas militants into the area could have at least some effect on the balance of power", he said.
Bad for Israel? In a Daily Telegraph blog, Daniel Knowles agreed that the deal may well strengthen Fatah at the expense of Hamas, and said Israel should be troubled by this scenario, given that Abbas's party has renounced violence. However, Knowles also put forward the idea that the ascendance of Hamas may be part of a wider strategy by Israeli Prime Minister Binjamin Netanyahu to block the peace process: "For decades, Israel has had the (legitimate) excuse that it was not worth negotiating peace in the West Bank because the Palestinian leadership couldn't be trusted to stick to the terms. Could the release of Gilad Shalit be a deliberate attempt to try and make sure that stays the case?"
"I hope this deal will help the conclusion of peace between Israel and Palestine and that cooperation between the two sides will be consolidated," said Gilad Shalit on Egyptian television, in his first interview after being released.
Hope for peace. By contrast, Ronald Zweig remained optimistic on CNN that the prisoner swap may signal hope for the peace process in the region: "The release of these prisoners removes a major obstacle from any future peace settlement between Israel and the Palestinians", he wrote.
Fatah undermined. Meanwhile, a Haaretz editorial focused on a plan approved by Netanyahu to create a new Jewish neighbourhood, Givat Hamatos, in Jerusalem. The editorial argued that this plan, along with the Shalit prisoner swap, would seriously undermine Fatah, to Israel's detriment: "The prime minister must instruct the relevant ministries, without delay, to halt the Givat Hamatos plan and avoid taking steps that undermine the status of our Palestinian partner and Israel's international status."