Joseph Siegelman
Leave it to Alabama to produce the strangest race in perhaps the most bizarre midterm- election cycle in American history.
Senate, House, and governor's races around the country certainly will receive more attention than the race for Alabama attorney general, between Republican "incumbent" Steve Marshall and Democratic challenger Joseph Siegelman (son of former governor Don Siegelman, who spent six years in federal prison because GOP thugs orchestrated a political prosecution against him.)
Marshall already carries the baggage of
being appointed to office by former "Luv Guv" Robert Bentley
, who
resigned from office amid a sex-tinged scandal
that
our reporting brought to public attention
.
As voters head to the polls today, the Alabama AG's race is making headlines because of
a USA Today report about a $735,000 donation to the Marshall campaign
from the Republican Attorneys General Association (RAGA),
apparently in violation of state campaign-finance laws
.
Joseph Siegelman has raised the possibility that Marshall, if he wins today's general election, could be removed from office for engaging in criminal acts. Perhaps that would be fitting, given the national political environment in the age of Trump. From
a recent al.com report on the Siegelman-Marshall race
:
Siegelman hammered the point that Marshall could be the latest state official booted from office -- preceded by former Gov. Robert Bentley, Speaker of the House Mike Hubbard and Chief Justice Roy Moore -- if elected to a full term next month.


Marshall took office in February 2017 after being appointed by Bentley following Bentley's appointment of Luther Strange to the U.S. Senate.
"We are on the verge of potentially losing our attorney general," Siegelman said. "And I don't know how our state recovers from that."
Asked by AL.com following the press conference to expand on that assertion,

Siegelman said, "The law is clear. If the violation takes place, then it's criminal if done intentionally. I am not attorney general. I'm in no position to act on a violation. The ethics commission is. The district attorney in Montgomery County is. If they want to take up this issue, they can.




"Under the law, if my opponent took this money knowing it was illegal or should have known it was illegal, then he can be prosecuted. If that happens, he would be removed from office and we would lose our attorney general."
A similar scenario could be unfolding on the national stage. Multiple news outlets are reporting that Special Counsel
Robert Mueller is expected to roar back into the news
following today's midterms. From
a report on that subject at New York Magazine
?
Apart from filing a report to Congress and addressing [Roger] Stone's fate, Mueller may have some other postelection surprises up his sleeve. The week before Christmas, Michael Flynn, Trump's first and shortest-serving national security adviser, will go before a federal judge to be sentenced for lying to the FBI about the extent of his dealings with Sergey Kislyak, the Russian ambassador.

When Flynn pleaded guilty last December, the special counsel included a clause in his plea agreement promising to ask the court for leniency at sentencing. The catch: In the course of his cooperation, Flynn must provide "substantial assistance in the investigation or prosecution of another person who has committed an offense."

If Flynn truly sang for federal prosecutors, Mueller's holiday gift to the president may just be another indictment of a person close to him.
Consider the possible implications of the infamous
Trump Tower meeting
. Multiple legal experts have stated the meeting could constitute criminal acts -- violation of campaign-finance laws, conspiracy to defraud the United States -- at the highest levels of the Trump campaign. From
a report at USA Today
:
"Don't be fooled by word games," Victoria Nourse, a professor at Georgetown Law, told us via email. "There is no legal term 'collusion.' The legal term for collusion is the crime of conspiracy. If you agree to kill someone and take a step toward that (hired the killer, or encouraged the killer, met with the killer) you are guilty of conspiracy to commit murder.

"So, if you agree to defraud the U.S. or disrupt the elections (even if it's not with the Russians) and you take a step forward (any step….meetings, payments etc.), that's conspiracy," Nourse said.
Nourse's comment was for an article published in August. Let's jump ahead to today's elections and consider what we might know, say, eight months from now. Perhaps we will have learned Trump became president largely because his team violated campaign-finance laws and, in fact, engaged in a conspiracy to defraud the government. Perhaps we will have learned Trump himself was right in the middle of it.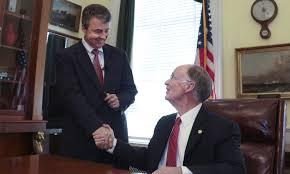 Steve Marshall and Robert Bentley
Consider just a few alarming questions that might raise:
* Has Trump ever been president, as a matter of law?
* If not, what happens with all of the actions he has taken, all the appointments (many of them for life) he has made?
* What about all of the campaign rallies Trump has conducted across the country in weeks leading up to today's elections? Were those the acts of an impostor, the product of fraud, a sham on the public? If Trump unlawfully affected the election outcomes, one way or another, would that invalidate the results? Would that mean Trump has tainted two elections (2016 and 2018)?