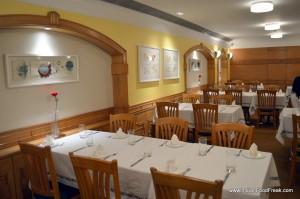 Today was one of those days when I had one of my best Italian meal in Delhi that too when I went without any expectations. Artusi has just opened in M block GK market and along with my lovely friend, Priya, I went to check it out.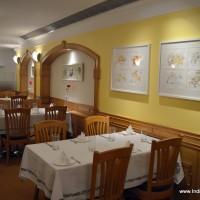 Named after an Italian banker cum businessman (Pollegrino Artusi) who wrote a famous Italian cookbook, The Art of Eating Well, this 44-seater impresses with the selection of Italian Oprah music, sound level and subtle interiors. However, given the small set-up it will become noisy once it sees full cover.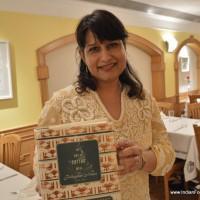 We met the passionate owner, Gurprinder Balcon, who is an Indian married to an Italian and has traveled widely before setting their base in India and pledges to bring authentic flavours from Emilia Romagnia region of Italy. This is her first hospitality venture but her willingness to become the best is clearly visible from her eyes and attitude. I know one thing for sure, however spirited the owner may be, without a good chef they do not stand a chance in the ever competitive F&B industry. So we want to quickly move on to the meal rather than meeting the chef.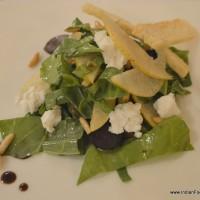 The menu is extensive – a full 20+pages description of dishes which may sound Greek to an average Indian. However a few minutes perusing the pages can easily help one decide on few dishes unless someone wants to order a 5-course set menu at Rs2290/ 1890. The Ferro (Rs 480) is a spinach, goat cheese and toasted pine nut salad. Finished with only balsamic vinegar, the nuttiness of pines and sweetness of raisins makes it a delight to eat. One of those salads that I can eat at every meal and never get tired.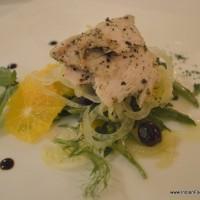 Pollo Tiepiedo (Rs 510) is a warm chicken breast set in fennel salad. Carving chicken such nicely is an art and the chef has done it well. The complimenting flavours of oranges and olives makes the salad reach new height. My only wish, olives should be deseeded.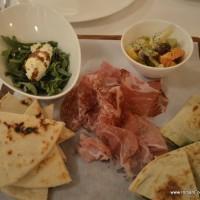 The cold cuts at Artusi are something that will see much more of me in future. Piadine and Crescione (Rs 680) are served along with imported cured meats. Piadine is kind of a roti made with white flour, while Crescione is a spinach filled Piadine. These are served along with salame, mortadella, and Proscciotto Parma. I could eat each thing on its own, but then when in Italian restaurant, eat like how an Italian would. I must say we both were enjoying all our dishes while sipping on Pino Grigio.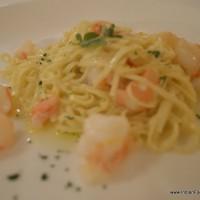 A small sampler of Tortelli filled with pumpkins and potatoes in creamy Gorgonzola cheese sauce is so addictive that it sees my calorie-conscious fitness trainer friend licking fork till it looked like plate is just back from the wash.  Our gourmet journey is far from getting over. Tagliono Gamberi e limone (870) is a thin homemade noodles served with fresh prawns in lemon and herb butter sauce. This dish is true reflection of how very basic and simple things can win hearts.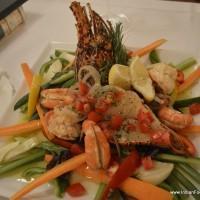 We are already full by this time but we have already ordered for a steamed lobster and prawns, and an Angus steak. So while steak is still under process, we cancel the dish and move on to the platter of a kg of lobster and jumbo prawns (Rs 1760) served with tomato cancasse and pinzimonio salad. This dish is sufficient for two and we wished we had ordered it any earlier. The freshest prawns and lobster (as much as one can get in Delhi) with dash of olive oil would have been the perfect accompaniment to our wine.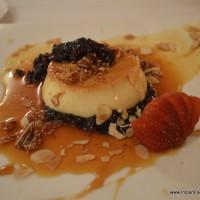 We ended the meal with Panna Cotta (780) and Cream Pistacchio Cafe (690). The Panna Cotta has mind blowing flavours of figs and Crema Pistachio has smooth custard cream with coffee gelatine. Both the desserts blow us away.
This is amongst my most memorable meal and we just could not go away without a big hug to the pleasantly appealing Italian chef, Romina Lugaresi. She is new to India and will take some time to learn the swear words normally used in kitchen. If the quality is maintained with passage of time, we have a new star to watch out for.
Ratings (out of 5):
Food: 4.5 | Ambience: 3.5 | Service: 4.0 | Overall: 4.0
Meal for two: Rs. 4000 | Alcohol: Yes | Credit Card: Yes | Timings: 8AM-12 Midnight
Address: Artusi, M-24, M Block, Greater Kailash-II (GK-II), New Delhi-48 | Telephone: 011-490-66666