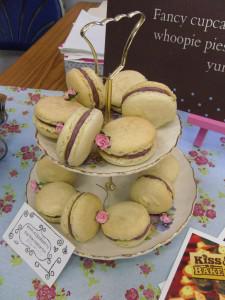 For today's interview please welcom Sarah from Kiss & Bake Up.
1. Firstly, please introduce yourself and tell us a little about where you are based, for example in which country and part of that country? Hi all! My name is Sarah, and I live with my fiance Darren, our cat Artemis and our dog Madeline in the heart of Devon, England where I run the bakery.
I'm lucky to live right in a fantastic and popular foodie hub, beautiful food surrounds us with a wealth of farmers markets and appreciation for quality handmade food. There are often food festivals around the area, some are known nationally and even internationally. This instantly ups the appreciation of locally handmade food with local ingredients, just like my produce!
2.   Please tell us a little about the nature of your craft/crafts and business. 'Kiss & Bake Up' was a brain child thought up between many friends over a pub dinner one evening, encouraging me to grab hold of a skill and make it not just my own, but my life. This was back very early in 2010.
Since taking the plunge, the bakery has evolved amazing lengths as I discovered my specialisations, style and directions to take KABU. The business has now settled and we take great pride in presenting our customers with beautiful hand baked and decorated Dessert Tables, which can incorporate any theme I am given and are fabulous and impressive alternative to the currently very popular Candy Buffet.
I also run a 'Cake Away', which is a service I offer not just for bespoke design cupcakes and cake pops, but we run special menus several times a week, from which people can select any amount of goodies and have them delivered the same day or following day. Mostly however, we run regular markets, attend various Craft and Summer fairs, some sports events and other functions; my passion is shop front selling, I want to show people how proud I am of my produce, I want to tell people that yes, everything is fresh, everything is handmade by me, everything was baked with love, care and ethics, and I want people to be swept up with a rush of senses when they eat my food, I want them to associate the flavours and the style with happiness, and I want to be the one to introduce them to it.
In an ideal world I would run the bakery from a shop, a proper bake house, I have its every element in my mind, like blueprints ready for that day. And it will happen, one day. Until then, markets and similar are just perfect.
3.   What first interested you in your craft? As a child I was blessed with a mother thay encouraged excitement and imagination, every day was an adventure, and something worth smiling about, whether it be books, trips to the zoo, feeding the ducks, singing together, spotting birds on dog walks, anything.
We baked a lot, my mother has one photo of me in particular as a toddler in a highchair, and I have an enormous grin on my face and am completely covered in what I think was chocolate cake! I started very early! I have memories of her making the most fantastic birthday cakes for myself and other family members, and I recall visits to a friends house when I was slightly older, and being in awe when her mother 'just whipped up' a batch of muffins to have a cup of tea with us and my mother, as if it were something completely natural and normal, and as flowing as just putting the kettle on.
I decided fairly early on that I wanted to be that kind of mother, the same as my own mum and my friend's mum. At that point I never anticipated baking becoming the core of my life though! And I never attempted baking after my childhood until my late teens and early 20s having moved out into my flat. At weekends after a night out, when most people would all trundle back to someone's house and make bacon sandwiches, I would end up with an assortment of various friends, mostly made up of metallers, whom would all volunteer to help wash up while I put together the most basic batch of cookies using whatever I had to hand, out of one of my growing number of cookbooks from which I never followed accurately, and would throw in as much food colouring as we could, just for kicks.
Only a few years later, I would start reading my cookbooks properly, actually start using the correct flour, measuring and sifting, learnt the difference between bicarbonate of soda and baking powder, and started exploring the Internet, where I found many food blogs. That's when it happened! The snap! The appreciation of the science and beauty behind baking. Cooking was just about making things taste right, but baking is actual alchemy!
I would start almost weekly attempting bakes I had never tried, sometimes never heard of, most of them were more of the side of error, than of trial! But I wanted far more, so more I made! It's amazing how you get the hang of things if you're stubborn enough.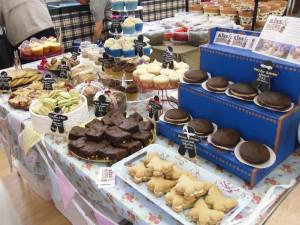 4.   Did you have any formal training or have you learnt by yourself as you have gone along? Not an ounce of formal training at all. When your primary reading material is cookbooks, for the sake of entertaining, then also food blogs, and the food channel of TV, and I mean, completely surrounding yourself in a very obsessive nature, there are things you start to absorb, and try, and try again, and you get the hang of it.
You get a warped sense of commitment with food, as you do with any craft. You just try again. Then you have a eureka moment, and several months later you're a pro!
5.   How did the idea for your business/website come about? As previously mentioned, if you find enough excuses to bake, which I did (seriously, the first mention of someone coming over and cookies went in the oven, or a function, or a thank you, or a gift, or even an exchange for helping clear the garden or paint a room in the house) the more people begin to associate you with your craft.
I can honestly say, I didn't see it happening. I just jumped selfishly at opportunities to crack out a cookbook and spent an afternoon baking. But then, in a funny kind of way, if all of those people say 'You know, you should go into business! These are really good!' enough, you stop just taking it as a generous compliment and start fantasising. One day I made the decision to take a bash at it, after some wonderful close friends and my beloved Darren all agreed they would support me all the way, in any way they could, and filled me with such encouragement, that I just said, 'well, lets have a go!'
Within a month, it had gotten around friends and family that I was now thinking seriously about how to start up, I started posting photos of what I was making and had made in the past on facebook, and people started coming out of the woodwork asking me to do cakes for them, and I became known in Darren's paintball community for turning up to organised games with a small selection which quickly grew into a large stall. And from there, I turned business woman, and we've grown to what KABU is now, and to who I am now.
6.   How long now have you been established? A year! Its been exciting, stressful, heartbreaking, whirlwind and incredibly empowering all in those months, but its been wonderful, and we've developed so far, it feels as if it's been years!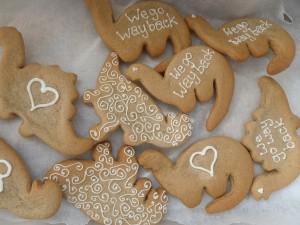 7.   How do you find inspiration and where do you locate your materials? I try to use as many local ingredients as I can. I have a wonderful supplier of beautiful local happy free range eggs from a farm right around the corner from me, plus homemade jams made by my grandmother, all sorts of local loveliness.
Inspiration can be found everywhere. In everything. The internet really is a source of ideas and techniques, but it's always worth attempting something new, or uncommon. I have learnt recently through sulky chats of frustration with friends and fellow bakers that no matter how much I try to like working with fondant for more than my beloved modelling, which I would do day in and day out, I just really don't like covering cupcakes and cakes in it! So, I don't! There are hundreds of cakers out there who do, so people are more than welcome to approach one of them to do their cake of that description. I know that I can make the most amazing piped buttercream cakes, and if someone wants one of those, then I'm your girl!
I would rather people approached me to do their orders because they like what I do. Stick to your strengths, life is too short to try exceeding at something that's not natural to you. Just continue trying when you can, if you want to! But don't consider your other skills second to those.
8.   Do you undertake your business/website on a full-time basis or are you also working elsewhere whilst you get it up and running? I run the Kiss & Bake Up full time, I balance it with a medical condition that effects my muscles and joints, which is like undertaking a business along side another!
9.   Tell us a little about your typical day and what is involved in running the business/website. I wouldn't get by with my work without schedules, lists and a great deal of coffee. Sundays and Mondays tend to be days revolving around book keeping, emails, ordering goods online for use in the bakery, such as various decorative parts, cases, towers, cake pop parts, etc, then inventory checks, cleaning, and scheduling the weeks activities, making sure I have time to achieve everything I need to, at the right parts of the week to reflect when orders need to be done by, when produce needs to be made freshly, etc.
Then on Tuesday morning, up at 7am, kettle goes on, I sort out the dog with her breakfast and other attentions, and away I go! Every week is different, involving various bookings with different baked things, decorated or packaged differently for various uses, everything has a fresh flair! I always keep the facebook page and twitter going, and I update people with exactly what's happening or in the oven throughout the day when I can.
I like people being involved, imagining the smell of fresh brownies as they come out of the oven, it's all part of the spirit I want to promote with KABU. As we approach the weekend when there is usually a market or a larger booking, the day starts earlier at 6am, ensuring that the mass of fresh produce is through the mixer, then oven, then cooling rack and in my hands ready for decorating, and boxed ready for whereever they may go!
There is an enormous buzz with setting up weddings and birthdays, the atmosphere is excited and full of happiness, and the cake or baked element is such a key part of such an event, you have a huge responsibility to make those people smile, and for them to fall in love with what you deliver. That is what the job is all about!
A fair or market starts extremely early, we're on location with all the produce to our regular market for 6am, and set up beautifully ready to charm smiles onto peoples faces as they see the table. 7 hours later, We'll arrive home with all the kit, clear up, Darren will make me a cup of tea, while I upload photos of the weeks produce, write reports for the blog and arrange the evenings Cake Away deliveries, then we'll crash together on the sofa with the animals and watch trash on TV, ready to start again the next morning.
10.   What advice would you give to others who are considering running a craft based business/website? Being the boss is both empowering and terrifying. I never had me down for running my own business, and I still wonder to myself often 'you plank, what have you gotten yourself into.' There is so much to juggle, much more than you can ever anticipate. Not just the physical production of your goods, and then the selling, but the background deal with finances, laws, registrations, taxes, insurance, etc. Particularly with kitchen and food based craft, when you have the additional constant gaze of trading standards and environmental health on your back.
Your business will be your baby, you want to love it and make it the best you can make it, and you want nothing more than its health to strive, but go into it fully prepared to commit. Business changes a person, it did for me. I find it hard to cut off from work in the evenings, Darren and the animals can sometimes go days without really seeing me if I have a lot going on, and sometimes the effort and love just doesn't seem to give back, but when it does, there is no greater feeling.
I don't know how I would do this without financial and loving support of my family and partner, and I dread to think how I will handle it when children arrive (I'm supposed to be planning my own wedding this year, which has taken a major backseat – not the way I like it, but you end up prioritising, even if you never thought you would.) I do not mean to scare, but only to prepare. Dedicating your life to a business is like a marriage, or at least it is for me. You commit entirely, and go through thick and thin, but it its a wonderful relationship to be proud of!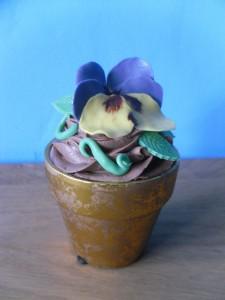 11.   How do you sell your wares – through craft fairs etc or through your own website and or Etsy or other shops. Please let us have the links to these? We sell via our craft fairs, markets, delivery Cake Away service, bespoke cupcake design and Dessert Tables service and our cake pop mail order too of course! We also will have our goods in shops and eateries in our area soon as we branch into supplying! We do all of this with the aid of facebook, twitter, a blog and our website!
12.   Finally, if people want to learn more about your business/website do you have a Facebook page or Twitter profile where they can learn more? Come and visit what I do every day at www.kissandbakeup.net, www.facebook.com/kissandbakeup , www.twitter.com/#!/KABUBakery and www.kissandbakeup.blogspot.com!