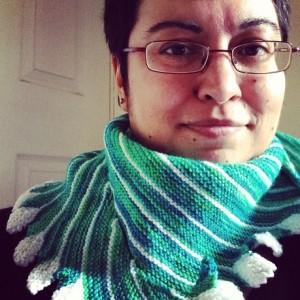 For today's interview please welcome Nadia from Abso-Knitting-Lutely as we talk all things knitting.
1. Firstly, please introduce yourself and tell us a little about where you are based, for example in which country and part of that country? I am Nadia from Abso-knitting-lutely! I live in the beautiful city of Bath in Somerset, UK, where I moved to from Germany a few years ago. I feel perfectly at home here and love being in the southwest of the country. We have wonderful scenery here, slightly milder temperatures than the rest of the UK, and quite a few sheep.

2. Please tell us a little about the nature of your craft/design based business. As the name indicates, Abso-knitting-lutely is all about essentials for knitters. I mainly make hand-sculpted stitch markers that I create from polymer clay. I never use moulds because I think that's cheating, really, and I only have very few tools to help me form each little marker. I also make row counter bracelets for knitters and crocheters, a limited number of knitting needles, and knitting patterns. I am currently phasing out my hand-dyed yarns, so make sure you get one of the very last skeins while you still can!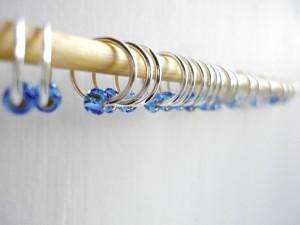 3. How did the idea for your business come about? Actually, I resisted for a long time. I just didn't like the idea of setting up my own business because everyone I knew who had tried going the same route failed fairly quickly regardless of the type of business. I still don't like the financial unreliability of working for yourself, but it is great not to have to answer to anyone but yourself and to be able to do things the way you know they should be done. In my case, there came a time when so many people asked to buy my stitch markers and yarn that I decided it was the sensible thing to just set up a shop to make transactions easier for everyone. Since I had just been made redundant at the height of the recession, the timing was perfect.
4. How long now have you been established? I officially started trading in August 2012. It is astonishing how much I have learned about marketing strategies, SEO, setting up websites, and taxes in such a short time. I should really put that on my CV one day.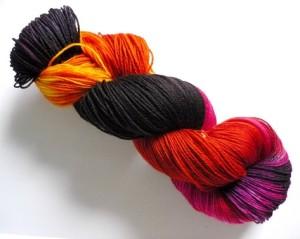 5. How do you decide what to make, and how do you come up with your great ideas? Inspiration can come from many places. Often, I think about what kinds of food can be turned into miniatures that look great, but I also get ideas from photos or drawings. I come up with a lot of ideas if I actually sit down and brainstorm: I'll pick a category such as fruit, for example, and jot down which types I can imagine making well. This is how my apple, peach, strawberry and pear markers came about, just to name a few. Most recently I brainstormed for Christmas and came up with snowmen, robins, wreaths and candy canes.
6. Do you undertake your business on a full-time basis or do you have other work/family commitments? My business is a part-time business even though it does take up more time than that more often than not. However, I like to work just enough to still have time for my hobbies and other commitments. At some point I intend to find another part-time or even full-time job, but it won't interfere with my own business and, most of all, my customer service.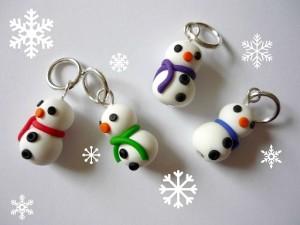 7. Tell us a little about your typical day and what is involved in running the business? On a normal day, I check my emails and shop as soon as I am up. Once all enquiries have been answered and orders are packed, I'll have a late breakfast/early lunch after which I do all my marketing for the rest of the day, mixed in with some crafting. Marketing takes up most of my time because it involves promoting individual items or the shop as a whole in different places, both on and offline, catching up with people on social media sites, and so on. But it's fun!
8. What advice would you give to others who are considering running a craft based business? If you are uncomfortable with something, don't do it. Go at your own pace and do your thing. Be prepared, but also learn as you go. Only you will know where you want to go with your business and how fast or slowly you feel things should happen. And getting down to brass tacks: make sure you register your business and know what you have to do so you're on the safe side of the law, always.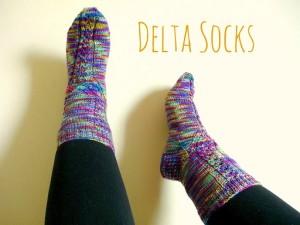 9. As this is Art of Crafts I have to ask, do you enjoy any crafts yourself in your spare time? If so, please tell us more. Oh yes! I always say I have far too many hobbies such as making jewellery, a bit of sewing, and some drawing and painting. Trust me, if I had the space, I would have added a few more by now. Most of all, however, I love to knit, which I taught myself in 2007 using online tutorials. I practised knit and purl stitches on a hat first and then went straight on to a pair of socks with lace pattern! I still love knitting socks to this day. With time knitting led to a love of spinning my own yarn. It was inevitable, really, that I eventually ended up dyeing my own yarn as well. Once the wool gets you, there's no escaping! One day I hope to own a drum carder, so I can prepare and blend my own fibre, though I am not entirely sure I ever want to deal with prepping a whole fleece! That would be a bit too much for me.
10. Finally, if people want to learn more about your business, do you have a web address, Facebook page or Twitter profile where they can find out more ?
Yes, you can find me in lots of places. Your best bet is my blog because there's a lot of variety in my posts: abso-knitting-lutely-nadia.blogspot.co.uk
You can also find me here:
Etsy Store: etsy.com/uk/shop/AbsoKnittingLutely
Facebook: facebook.com/Absoknittinglutely
Twitter: @KnittyNadia
Google+: Abso-knitting-lutely