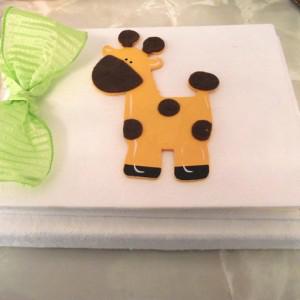 For today's interview please welcome Kelly from
Crafty Cow Designs
.
1.   Firstly, please introduce yourself and tell us a little about where you are based, for example in which country and part of that country? Hello my name Kelly Guy, 23 years old living near Winchester in Hampshire, UK.
2.   Please tell us a little about the nature of your craft/crafts and business. I create personalised guest books, photo albums, scrapbooks and journals. Handcrafted to the highest quality, using textured mulberry books containing 28 acid free pages. Each book comes in a mulberry presentation box and are 15 x 21cm. The perfect addition to many occasions: weddings, christenings, birthdays etc. Perfect to use as a memory/scrapbook, also now stocking gardener's journals and recipe books. Each book/album can be made to complement your colour scheme and theme and personalised with your choice of wording. I am more then happy to create custom orders to make the books extra personal.
3.   What first interested you in your craft? I love stationery and can spend ages choosing notebooks, diaries etc. I have always wanted my own business to earn some extra money towards a house deposit.  I could spend lots of money on stationery and designing my books stops me from buying quite so much!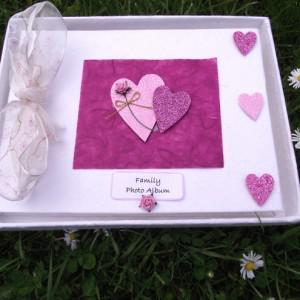 4.   Did you have any formal training or have you learnt by yourself as you have gone along? I haven't done any training, I just enjoy playing around with designs until I like what I see and hopefully others do too!
5.   How did the idea for your business/website come about? I saw the beautiful handmade mulberry books and was inspired to try it for myself. I initially made three designs and really enjoyed creating them and liked the way they turned out. I put the designs first on Ebay, had a few views and watchers but no luck selling; there are lots of well established guest book shops on there. I knew about Folksy from a friend who had brought some soap from someone on there. I had a look around and read all the information and then over the next few days had a think about business names. My goddaughter and her family call me cow cow changed from Kel Kel, I had seen a few other Crafty animal names and thought that Crafty Cow sounded fun and catchy! I then added Designs to make me more unique.
6.   How long now have you been established? Crafty Cow Designs is very new, I only started crafting at the beginning of March, I have had a few sales and interest so slowly becoming more established!
7.   How do you find inspiration and where do you locate your materials? I generally get inspiration from looking around craft shops and  finding embellishments and creating around these or having a play with patterned paper to create my own unique designs. My favourite at the moment is making my paper/wire butterflies, which I saw in a craft shop and then went home and experimented to make my own versions. I love looking around craft shops online and bricks/mortar shops. I do shop in Hobby Craft, but I do prefer to support smaller local shops, my favourite being Bella Crafts in Fair Oak, who have a lovely range of crafts and workshops/classes and they stock a couple of my wedding guest books too!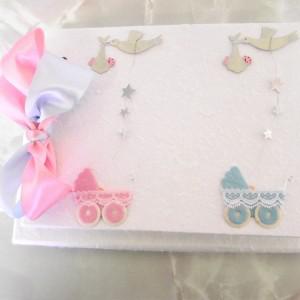 8.   Do you undertake your business/website on a full-time basis or are you also working elsewhere whilst you get it up and running? I have two part time jobs, one as a playworker/duty manager at a breakfast/after school club and the other working for a family who have 3 boys, 3 horses and a wholesale business. I do a bit of everything but mostly working in the business at the moment. I am hoping by the time I have children Crafty Cow Designs will be able to help pay the bills.
9.   Tell us a little about your typical day and what is involved in running the business/website? My day starts with my alarm going off at 6.00am I then have breakfast and a look on my facebook business page, Folksy and Google analytics. Then it's off to put my horse, Baron, out in the field then onto work for 7.30 at Breakfast Club this finishes at 9.00 and off I go to my next job until 2ish! Sometimes I will have time for a quick check on business things before I dash off to after school club, which is 3-6pm. I sort out Baron's stable etc and get him back in then it's home! I will sometimes make new designs in the evenings but it's mostly facebook/twitter and Folksy forum promotion. Most of my creating happens at the weekends.
10.   What advice would you give to others who are considering running a craft based business/website? To give it a go, because you never know if you don't try and most importantly have fun while you do it. Give places like Folksy a try first with no joining fee, 20p a listing and great advice from other sellers, it's a great place to start.
11.   How do you sell your wares – through craft fairs etc or through your own website and or Etsy or other shops. Please let us have the links to these? I have a Folksy shop this can be found at www.craftycowdesigns.folksy.com I have just booked my first craft fair which is held in Winchester high street on the 3rd Sunday of every month. Mine is booked for 19th June, really excited but very nervous and hoping this is going to be a success and turn into a regular thing.
12.   Finally, if people want to learn more about your business/website do you have a Facebook page or Twitter profile where they can learn more? I am on facebook and can be found by searching crafty cow designs or typing in the browser www.facebook.com/craftycowdesigns1. You can see pictures of sold guest books as well as all latest designs. I am still figuring out how Twitter works but you can follow me by searching @craftycowdesign.