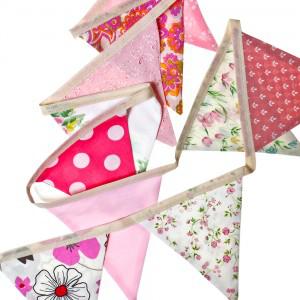 For today's interview please welcome Karen from Just Bunting.
1.   Firstly, please introduce yourself and tell us a little about where you are based, for example in which country and part of that country? My name is Karen Davey and I run a business called Just Bunting. I am based the far south west of the UK, in Cornwall.
2.   Please tell us a little about the nature of your craft/design based business. I make bunting from a range of recycled, vintage and new fabrics, which is available for both sale and hire.
3.   How did the idea for your business come about? The idea for the business originated out of the amount of fabric which I seemed to be recycling every week through the local council. I had a large supply of children's duvet covers and it seemed such a shame not to put them to some use, so I decided to look into upcycling them into bunting. I've always wanted my own business, and the dissertation for my Open University degree about 'Young People Achieving Aspirations' was the catalyst I needed to make the leap into business ownership.
4.   How long now have you been established? I set up Just Bunting in April 2011, having given up my part time employment with a national children's charity to work from home and be around more for my own children.
5.   How do you decide what to make, and how do you come up with your great ideas? Living close to the coast and the moors, I take inspiration from the environment around me. I love putting together fabrics and seeing if they work well together, I am always on the look out for interesting fabrics at car boot fairs and in vintage shops, for example, if I find an interesting piece of fabric, I try to co-ordinate, or contrast, with other fabrics. I have amassed a huge range of different colours and am now desperate for more storage space!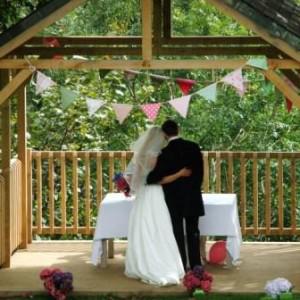 6.   Do you undertake your business on a full-time basis or do you have other work/family commitments? I work full time (and more) in my business, I have a very small part time job with a local primary school and have two children at home, currently aged eleven and thirteen. I am also a parent governor at my children's secondary school.
7.   Tell us a little about your typical day and what is involved in running the business? My typical day would probably consist of checking emails / messages that have come in overnight and then pack the children off to school at 8am. I try to spend the first hour or so concentrating on my marketing and social media networking. I would then make up any outstanding orders, personalised orders and often prepare new examples for craft fairs and events. Late morning, I check emails / messages again and perhaps send a few tweets about hire bunting, weddings or any new designs that are available.
Afternoons are spent making up more bunting, tidying my workroom, doing accounts, marketing plans or just taking some time out to think about the business future! My children arrive home from school at 2.45pm, so I try to be around for them for the rest of the afternoon. Following the evening meal, I can often be found on my laptop doing social media marketing activities, writing my blog and generally finding out more about running a business.
I try to spend half a day per week working on my accounts, ensuring that all my expenses are recorded accurately and are kept up to date.
8.   What advice would you give to others who are considering running a craft based business?  Two things, ensure your book keeping is kept up to date, and don't let the business take over your life / home! Both of which I am very bad at!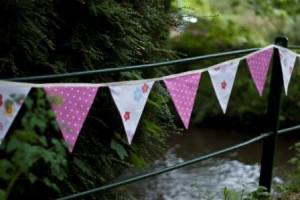 9.   As this is Art of Crafts I have to ask, do you enjoy any crafts yourself in your spare time? If so, please tell us more. I have just attended a freehand machine embroidery class, so I am trying to put this into practice to make applique pictures.
10.   Finally, if people want to learn more about your business/website do you have a web address, Facebook page or Twitter profile where they can find out more ?
http://www.facebook.com/JustBunting
Twitter: @justbunting