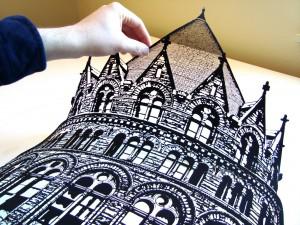 For today's interview please welcome Joe from Papercuts by Joe.
1.   Firstly, please introduce yourself and tell us a little about where you are based, for example in which country and part of that country? My name is Joe Bagley, and I live and work in the US in an urban neighborhood of Boston, MA.
I make all of my pieces in studio in my apartment where I live with my wife, Jen.
2.   Please tell us a little about the nature of your craft/design based business. It is both incredibly free and incredibly terrifying. I have absolute control over all aspects of what I make, how I run my business, and how my work is presented, but that also means I am responsible, 100%, for my success or lack thereof.  This is also my sole source of income, so beyond the pressure of running a business, there is the very real risk of a bad decision leading to a financial disaster for my wife and I.
3.   How did the idea for your business come about? I've been a papercutter since I was 10, but it was only the combination of hearing about Etsy from friends and my first anniversary (paper anniversary) that got the business going. My wife actually had the idea of me marketing my work for couples celebrating their paper anniversary and creating custom designs for them.  Over time and with success, I was able to move away from custom work to my own designs.  When I started, I was also working full time, but after losing my job, I decided to focus on the paper business since I truly enjoyed it and I could see that the more time I devoted to it, the greater return I saw.
4.   How long now have you been established? I opened my shop almost exactly four years ago.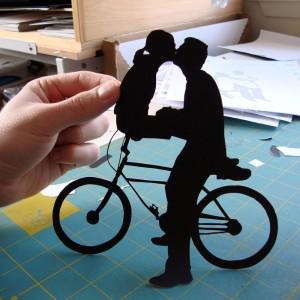 5.   How do you decide what to make, and how do you come up with your great ideas? At first, I was making designs based on ancient art. I then started making really detailed designs based on architecture. Those sold quickly, so I knew I was on to something.  Soon after focusing on custom designs, they became so popular I was unable to make any other type of design and I literally had a list of ideas I would make once I had free time.  Once I stopped custom pieces, I started working on branch designs and continuing the architecture pieces. I think my best ideas come from finding great textures and incorporating as much detail in my designs. I know if I'm dreading cutting a piece, or know it will take a very long time to finish, I'm on to something good.
6.   Do you undertake your business on a full-time basis or do you have other work/family commitments? I have been full-time since August 2008.  During that time I have had another full-time job as an archaeologist so I cut in the evenings and the weekends. I had very little free time.  I am currently pursuing a Masters in Archaeology here in Boston and working full time as an artist. I intend to pursue both as careers, and I don't care much if that seems ridiculous. I'm an artist/archaeologist, how much more ridiculous can it get?  Why not do both?  I would certainly feel like I'm missing something in my life if I stopped one.
7.   Tell us a little about your typical day and what is involved in running the business? A typical day starts with cutting and shipping pieces that have sold on Etsy. I usually spend the middle of the day working on some business-related tasks like interviews, designing, blogging, taking photos.  The afternoons are my cutting time, and I usually get 4-5 hours of solid work on a large museum/gallery design done each day.  That's about as long as I can go before my eyes start to get too tired to concentrate.
8.   What advice would you give to others who are considering running a craft based business? Do it.  We were literally broke when I started, so I can tell you you don't need to have a ton of money. If you are working in gold…maybe you should save up first, but with paper, not so much. I re-invested some of the money made from sales back into the business including better shipping supplies, work equipment, stockpiling blades and paper, and eventually it became a source of regular income.  I do have two things going for me: I have a very inexpensive medium, so my overhead is low, but my time investment is great.  Second, I love what I do and I seem to enjoy the business aspects of the job.  If you don't like marketing, talking about your customer, their needs, planning your moves long in advance, or reading business books, don't bother. You really need to treat it like a business, a fun, exciting, rewarding, and gratifying business.
9.   As this is Art of Crafts I have to ask, do you enjoy any crafts yourself in your spare time? If so, please tell us more. All of them. Seriously. I grew up in a daycare that my mom ran out of our house and she was always doing crafts. I was unafraid to try anything, so I can crochet and cross stitch.  Currently, my biggest hobby is flintknapping, making stone tools (arrowheads, spears) with authentic materials.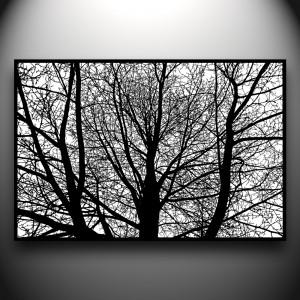 10.   Finally, if people want to learn more about your business/website do you have a web address, Facebook page or Twitter profile where they can find out more ?
I have a website: papercutsbyjoe.com
Facebook: Facebook.com/papercutsbyjoe
and Etsy page: Etsy.com/papercutsbyjoe
Thanks!