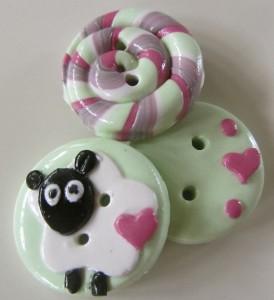 For today's interview please welcome Hannah from Fastenation Studio.
1. Firstly, please introduce yourself and tell us a little about where you are based, for example in which country and part of that country? Hello, I'm Hannah, owner of Fastenation Studio. I am based in the United States & Virginia is my home. However, I do travel around quite a bit so the online nature of my business is very helpful in that I can be based anywhere.
2. Please tell us a little about the nature of your craft/design based business. In my studio I design & make polymer clay buttons, one of a kind shawl pins, & also hair accessories embellished with my handcrafted buttons.
Buttons are the focus of my business & I make all different shapes, sizes, designs, & colours. I also love to do custom orders to help you get just what you're looking for.
I'm constantly adding products to my shop www.fastenationstudio.com/shop & will continue to add more variety as I have the time to design different items.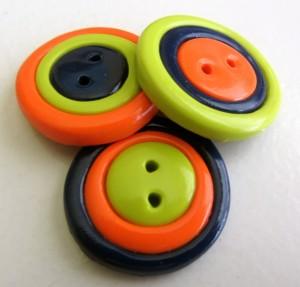 3. How did the idea for your business come about? My Mommy was the one who inspired me to start my business & is a constant encouragement to me in my work. My mom & I are also avid knitters so I knew that we would both benefit from being able to "fasten" our own projects with my buttons & they would be exactly what we wanted.
4. How long now have you been established? I am a newbie, I started up my website in the end of April, & have been growing since then.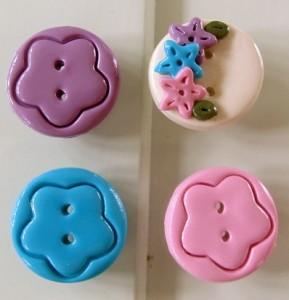 5. How do you decide what to make, and how do you come up with your great ideas? Some of my ideas come from customers when they custom order, more come from my Mom, lots come from trying to match hair bows etc. & then some just seem to come together on their own, I always get excited when I come up with a unique design that I really like.
6. Do you undertake your business on a full-time basis or do you have other work/family commitments? My business is my cottage industry. My family is definitely more important than business so I put them first but a lot of time & effort goes into my business as well.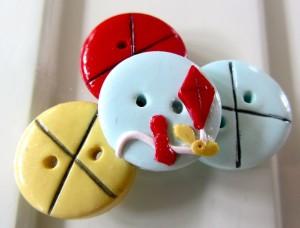 7. Tell us a little about your typical day and what is involved in running the business? I wouldn't say I really have any typical days as they all vary. As far as business work goes, I normally do whatever I can whenever I can during the day & normally design & make products in the afternoon or evening depending on our schedule. The most important thing in running the business except of course making the products is advertising & keeping the website up to date
8. What advice would you give to others who are considering running a craft based business? Right now I wouldn't say I'm in the place to give tips as I've just started myself. But… determining the cost of your goods & the time involved, to determine the price of your product(s) correctly is a major part in the success of your business. Overpricing & underpricing alike will hurt your business.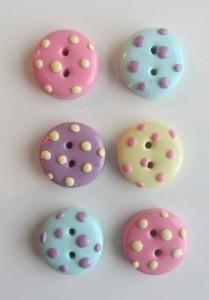 9. As this is Art of Crafts I have to ask, do you enjoy any crafts yourself in your spare time? If so, please tell us more. I do. I love to draw, knit, & of course work with clay.
10. Finally, if people want to learn more about your business/website do you have a web address, Facebook page or Twitter profile where they can find out more ? 
My shop website www.fastenationstudio.com is the place where you'll find out more about myself, my business, & my goods. My blog www.fastenationstudio.com/blog/ is where you will see shop updates, tips for working with clay, giveaways, sales & coupons, and also occasional stories about our life. Come subscribe to stay in touch. The direct link to my shop is www.fastenationstudio.com/shop/.
You can follow me on Pinterest, I'm hannahdew2.
I'm also on Ravelry as knitsnnotes & have a group Fastenation Studio.