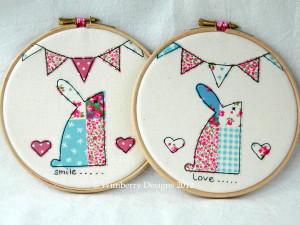 For today's interview, please welcome Gaynor Marshall from Wimberry Designs.
1. Firstly, please introduce yourself and tell us a little about where you are based, for example in which country and part of that country? My name is Gaynor Marshall and I live in Cheshire, which is in the North West of England. I live with my husband, my youngest son and our Doberman, Juno. I'm very lucky to be able to work from home in my little studio.
2. Please tell us a little about the nature of your craft/design based business. I suppose the first thing to explain is the reason I chose "Wimberry" as the name for my business.
As I am returning to my first loves of textile design and sewing, I wanted my business name to reflect the inner me. The little girl with the big dreams, who has finally managed to "find" herself in this big, wide, world. A little nod to a carefree childhood where everyday was an adventure and home was the safest place you could be.
My mom was a wonderful baker, as well as being the person who taught me to sew, and every summer she would make delicious wimberry pies! I would come home from school to the scent of fresh baking and see the golden pies, still warm, waiting….mmmm!! They had a short season, so every bite was savoured and enjoyed.
To me, "Wimberry Designs" embodies the memories of my childhood. Unique, handmade creations, filled with love to be enjoyed and treasured.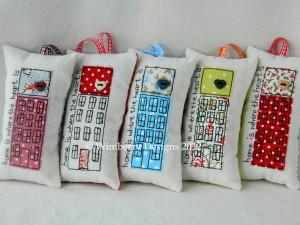 3. How did the idea for your business come about? Having been surrounded by a family of very talented and creative people, I have turned my hand to most creative pastimes including; soft furnishings, dressmaking, general needlecraft, screen printing, knitting, painting and drawing.
I studied Art & Design at college, where I developed a love for textiles and printing. After having my children I returned to education and completed a number of Soft Furnishing courses, gaining professional accreditation with City & Guilds, Level 3 Advanced Soft Furnishings, before turning my attention to teaching the subject for a number of years alongside running my own company specialising in handmade window treatments.
My passion has always been designing, and I began to turn my attention to designing small gifts and keepsakes. Unfortunately, EU legislation now requires that almost all goods, especially anything that could be regarded as a toy, have to be CE tested and labelled accordingly. For me personally I felt this was very restrictive and this has meant re-evaluating where I want to take my company. However, this has allowed me to explore other avenues for my designs. I am currently experimenting with various printing techniques and options and feel that my work has almost come full circle.
4. How long now have you been established? Wimberry Designs was officially launched in November 2011.
5. How do you decide what to make, and how do you come up with your great ideas? I'm constantly inspired by the world around me. Whether that is nature, animals, childhood memories, colour, pattern, texture or words and phrases. I keep lists of ideas in the back of my sketch book so that I can refer to them for inspiration and I tend to doodle, a lot! In fact, I started a little sketch book on the 1st January so that I can do a "Doodle a Day" for 2013 and see what I achieve at the end of the year.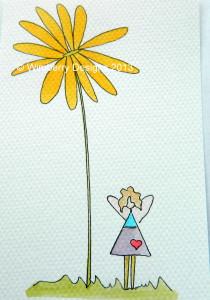 6. Do you undertake your business on a full-time basis or do you have other work/family commitments? I am fortunate to be able to give my business my full attention, although, because I work from home I do get easily distracted by everything and have been found procrastinating on the dreaded Facebook on more than one occasion!!
7. Tell us a little about your typical day and what is involved in running the business? Each morning I check my emails for any orders that may have come in overnight, and deal with any admin that requires attention. After dragging myself away from the computer, I then turn my attention to designing; this can be sketching ideas, playing with compositions, sewing or product development.
In between all of this I still have to find time for housework, washing, cooking, gardening and walking the dog!
8. What advice would you give to others who are considering running a craft based business? If you love what you do and have the determination to turn your craft idea into a business, I would say go for it! It takes a lot of hard work and you will discover that the hours are long and sales can be few and far between when you start out, but if you believe in what you do, stick with it. Social media is a fantastic tool when used wisely. Schedule time to use Facebook and Twitter (must remember this) and use this time to network; make contacts and chat with like minded people and eventually your name and more importantly your products will become known.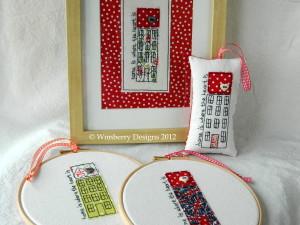 9. As this is Art of Crafts I have to ask, do you enjoy any crafts yourself in your spare time? If so, please tell us more. I have tried most things over the years but currently, I run craft workshops for my local Stroke Support Group. It can be quite challenging as the members have a broad range of abilities, but we have tackled all sorts from papercrafts and decoupage to bird feeders, decorative boxes and stamping. Great fun and it keeps me on my toes!
10. Finally, if people want to learn more about your business/website do you have a web address, Facebook page or Twitter profile where they can find out more ?
My web address is: www.wimberrydesigns.co.uk
My Facebook page is: https://www.facebook.com/WimberryDesigns
My Twitter profile is: https://twitter.com/WimberryDesigns