New to little Indiana? Subscribe for free to my RSS feed. Thanks for stopping by!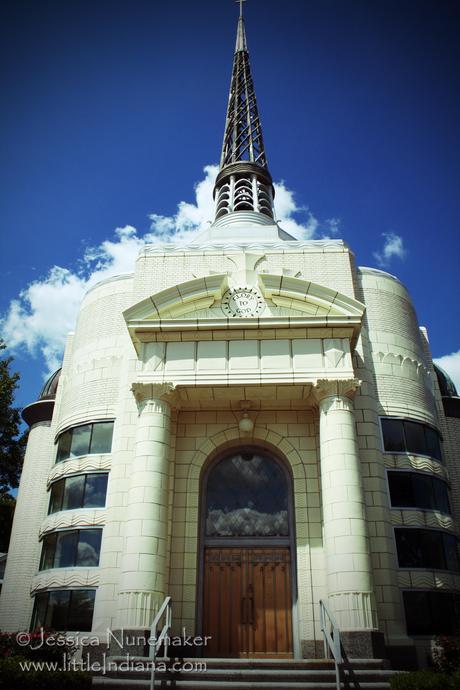 Versailles, Indiana: Tyson Methodist Church
little Indiana and family have seen amazing things in our travels–and the Tyson United Methodist Church in Versailles, Indiana is so on the list.
Art Deco, this United Methodist Church holds its own in the category of "most unique" in small Indiana town architecture.
Tyson Methodist Church
We couldn't have picked a better day for toodling around Ripley County. Blue skies and sun formed the perfect backdrop to this elegant Indiana church.
It is just amazing. Down to every last detail, I would find it hard to believe that there are others out there like this–or in such immaculate shape.
Built in 1937 by James "Uncle Jim" Tyson, the church was constructed using concrete, steel, stone, terra cotta, brick, and even glazed and glass brick.
For those of you biblically well-versed, the sound of hammers banging was strangely absent in the construction of the Tyson Church–just as in the building of Israel's Tabernacle. No nails were used–it is absent of wood except in the furnishings.
A Boy's Best Friend is His Mother
While I love to taunt hubby with that famous quote from Hitchcock's Psycho, this amazing church was dedicated to Jim's mother.
Inside the sanctuary, we've heard that the ceiling is the same blue as a cloudless sky and dotted with stars to mimic the constellations. The same constellations seen on the night his mother died.
Not just a neat historical stop, this church is an ever-lasting  tribute and is still in service to the community today.
Indiana Architecture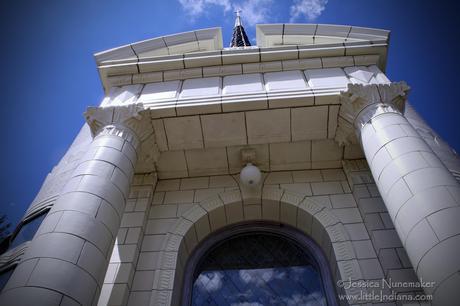 Tyson Temple Church in Versailles, Indiana
Imports abound: terra cota from Italy, the gold leaf on the choir loft dome and the silver leaf on the pillars are from Germany. No detail was overlooked. Yet–the pews from Ripley County prove that there's no place like home.
It is a building of curves and roundness and downright beauty. Don't believe me? Just look up. That's an inverted cone, open work cast aluminum spire–the spire was one of only two in the country at the time of its construction.
Unfortunately, we could not get in the day we made our visit. Here's hoping for next time. You will want to plan ahead for this one!
See Tyson Temple United Methodist Church images and other pictures in Indiana on my Flickr photostream.
Tyson Methodist Church
324 West Tyson Street
Versailles, Indiana 47042
812.689.6976

View Larger Map
little Indiana: Where to Stay, Play, and Eat in Small Towns in Indiana. Discovering Indiana's best small towns! Now get little Indiana on your Kindle.
Targeted. Relevant. Affordable! little Indiana advertising.