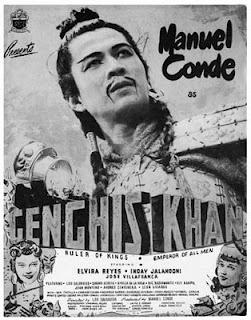 Director and comic Jun Urbano, also known as the wisecracking pop figure "Mr. Shooli," is the special guest of "Art 2 Art" when it pays tribute to his father, the late National Artist for Film Manuel Conde.
The episode airs on March 25, Sunday, 3:30 to 4 p.m., on DZRH (666 khz on the AM band) and on RHTV (Cablelink Channel 9). It can also be viewed online via DZRH live streaming.
Urbano relates to "Art 2 Art" host Lisa Macuja memories of his dad as a father and family man and as a filmmaker. Urbano shares anecdotes behind the making of what many consider as Conde's masterpiece, "Genghis Khan". This was the very first Filipino film that earned honors in an international film festival, shown in Venice in 1952.
Manuel Urbano in real life, Conde was a famous actor, director and producer. He appeared in over 40 films and later established Manuel Conde Pictures through which he produced and directed movies now regarded as Filipino classics such as the Juan Tamad series shown between 1948 to 1963. His movie credits also include "Vende Cristo", "Prinsipe Paris", "Krus na Kawayan", "Siete Infantes de Lara" and "Molave".
The tribute episode to Manuel Conde is part of "Art 2 Art's" tribute series on National Artists aired every last Sunday of the month.
Produced by the Manila Broadcasting Company, "Art 2 Art" recently received the award as Best Educational Radio Program from the Gawad Tanglaw, the second consecutive year it was won the honor.
For inquiries, please e-mail [email protected] On Facebook, check out the account Ballerina ng Bayan for updates on "Art 2 Art" episodes and Ballet Manila performances.