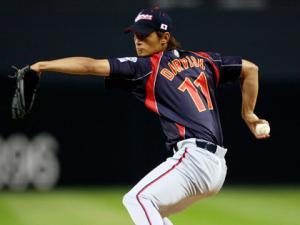 Photo: Jeff Butari/Getty Images
- Adam Parker
It's official.
The Texas Rangers have won the Yu Darvish sweepstakes after dropping a whopping $51.7 million on his Japanese club, the Nippon Ham Fighters, just for the right to negotiate a deal with Darvish, who reportedly wants a five-year deal worth approximately $15 million per season.
Did you think the Rangers were dead in the water in the AL West after what the rival Angels came away with during the Winter Meetings?
I mean think about it. While Texas remained idle during MLB's Winter Meetings and watched their AL West rival, the Angels, plunder MLB's free agency pool of Albert Pujols and C.J. Wilson, wasn't our initial thought something like, "Oh, the Rangers are in trouble now,"?
I sure did, and boy was I wrong.
But now, after winning the rights to talk to Darvish, who everybody says is a front-of-the-rotation starter and the best thing since sliced bread, maybe Nolan Ryan and company knew what they were doing all along.
After all, Mark Buerhle isn't an ace, and after his abysmal playoffs last year, C.J. Wilson isn't in that category either.
But why not go after other pitching options around the league that were available for trade like the Cubs' Matt Garza, Tampa Bay's James Shields, or Oakland's Gio Gonzalez?
I'll tell you why.
Because that would require the Rangers to dip into their highly-touted farm system to bring in any of the three, something they would prefer not to do.
Yes, this seems like the perfect fit for both parties. The Rangers are always going to have a great offense with the way the ball carries down in Arlington, but pitching wins championships, and Darvish, who has previously been called "the ace of the world", should help the Rangers do just that.
Be sure to follow Beard And Stache on Twitter 
@BeardAndStache
, 
and also Adam 
@Adam_Parker43
, Like our Facebook page 
HERE
!