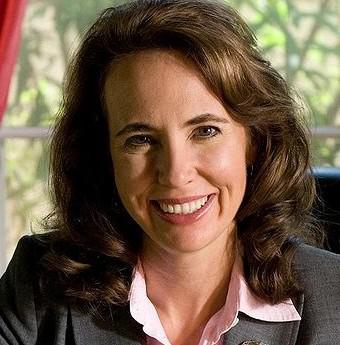 Congresswoman Gabrielle Giffords. Photo credit: The US Congress
A year on from the shocking Tucson shootings, when Jared Lee Loughner shot dead six people and wounded 13 others, including Congresswoman Gabrielle Giffords, the US press is mulling what, if anything, has been learned from the tragedy.
In a moving January 8 appearance at the University of Arizona, Giffords led the Pledge of Allegiance – offering an emotional culmination to a day of remembrance. The crowd cheered her there, even chanting her name: "Gabby, Gabby!"
Time to end the blame game. Robert Soave of The Daily Caller lamented that, since the shootings, there have been attempts to somehow suggest that "the collective anger of people who were mad about government spending, mad about Barack Obama, mad about immigrants — motivated Loughner's attack." Soave insisted that Loughner was a "brooding psychopath" and said, "I don't see any connection between them (the Tea Party) and Loughner, who neither associated with them nor shared their views." With this in mind, Soave insisted that, "it's more than a little incendiary … to draw imaginary lines of causation between the mood of the nation and the actions of an apolitical psychopath. Loughner believed he was living in a dream world akin to 'The Matrix' and that people were brainwashed by grammar. He held a personal grudge against Giffords because she failed to answer a nonsensical question he had asked her at an event some years before. To say that he was substantially motivated by anything other than his own mental instability just doesn't hold up to the facts. Alas that some people need to imagine vast and sinister forces engineering every tragedy. Sometimes, the real villain is hiding in plain sight."
Arizona: Still crazy. At The Daily Beast, Tom Zoellner lamented that, "in antigovernment Arizona, even the shooting of a representative can't change politics much." Zoellner noted that "the wild-west state seems to be lacking its typical rhetorical vitriol", but maintained that deep problems persist. He appreciated that, in Arizona's "wacky" politics, "the bitterness of the language may have come down several notches", but insisted that the "bigger dysfunctions remain untouched – and have even worsened. The legislature found time to designate an official 'state firearm', the Colt Single Action Army Revolver. But it did not find any money to keep about 135,000 poor residents on the state's Medicaid program, including more than 5,000 people classified as 'seriously mentally ill' — a population in which Jared Lee Loughner would surely have been classified, had anybody sought treatment for him." Turning to the state's "liberal" gun laws, Zoellner regretted that, "thirty-shot magazines, such as that used to mow down a crowd at the Safeway, are still legal."
Have we forgotten already?. E.J. Montini of the Arizona Republic said Giffords "doesn't remember anything about the day she was shot. And neither do we. Not really. There was never any chance we'd be polite and respectful after the shooting rampage that nearly took Giffords' life, wounded 12 others and killed six. We talked about being more civil. And we were – for a little while. But we knew it wouldn't last." Montini expected American politics to stay nasty and, perhaps, get nastier: "A Supreme Court ruling has allowed for the creation of so-called super-PACs in which anonymous big-money donors can spend as much as they want and trash whomever they want. They don't produce friendly ads."
Giffords' slow recovery. At The Los Angeles Times, Amy Hubbard wondered what's next for Giffords. She noted that she must decide by May 30 whether she'll run for reelection. "Her previous life plans – a possible run for U.S. Senate or Arizona governor and, perhaps, motherhood – were derailed in the tragedy", sighed Hubbard, who noted that Giffords was animated throughout Sunday's hourlong candlelight vigil and was able to remember, on her first trip back to the scene of the crime, the parking spot she used a year ago.