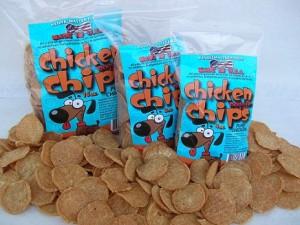 There are sometimes multiple recalls for dog treats made with chicken. In most cases, these treats include chicken raised in China. Many companies use this source of chicken for their treats, so it's not surprising that the recalls often target several brands. Once the news and social media buzz diminish, many consumers go back to buying low-quality chicken treats for their beloved pets.
Many deaths have been linked to chicken raised in China, so it's hard to understand why people would feed their pet these low-quality treats. Besides the time shortly after a series of recalls, many pet owners don't think about the potential risks involved with ingredients made in China. These low-quality treats may be easier to find in chain pet stores, grocery stores, and wholesale stores, making it convenient for pet owners to grab a bag anywhere.
Quite a few companies are using creative packaging to make the "Made in China" label difficult to see. They will put "Made in the USA" in a larger font, and will add the fact that the ingredients are from China in a less conspicuous location and in a smaller font.
Good-quality dog treats made with chicken raised in the USA do exist. Primal makes Chicken Shredders, a dog treat with just one ingredient: 100% chicken breast from the USA.  Bravo Bonus Bites Dry-Roasted Chicken Breast Treats are made with antibiotic-free poultry for a healthy, all-natural, grain-free dog treat. Both of these companies also have other types of treats with meat made in the USA, including turkey, lamb, venison, and buffalo.
I try to support local business whenever possible. Recently, I came across a dog treat that uses chickens from a farm in Florida.  Chicken Chips are made with 100% USDA Grade A all-natural, human-grade quality chicken. (These treats are also just 2 calories per chip.)
Remember to read the label carefully on all pet products and avoid chicken from China. Your pet deserves nothing but the best!
David Neuwirth is the owner of Harlo's Healthy Pets and a volunteer with several local animal rescue groups. David started Harlo's Healthy Pets to help educate others about healthy pet food and treat options.
Tags: chicken from China, chicken treats, dog treats, food ingredients, made in the USA, pet treats