Yes, you read that headline correctly. July is officially "Guided By Voices Month" down in Dayton. A proclamation by Dayton's mayor explains that Guided By Voices is one of the "most influential bands to come out of Dayton" and, as such, has given them an entire month of recognition.
Not too shabby. The band also has a new video out, this one for "Keep It In Motion." You can see the official proclamation below: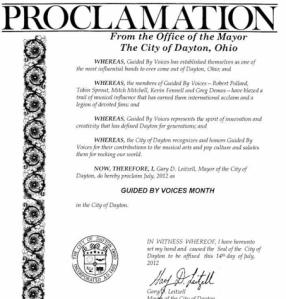 Are you going to be celebrating throughout the rest of July? And in Julys to come?