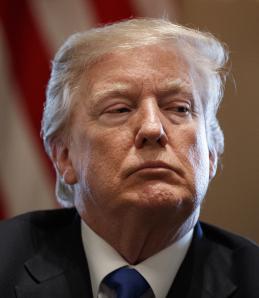 (Photo of Donald Trump was found at deadline.com.)
Sources say Trump is apoplectic over the search warrants served against his lawyer, Michael Cohen. And he should be. If anyone knows "where the bodies are buried", it's Cohen -- and he kept documents and tapes (presumably to cover himself). Those documents and tapes could well be the final death knell of the Trump administration.
Adam Davidson believes we are now "in the end stages of the Trump Presidency". Here is just a part of the excellent op-ed he wrote for The New Yorker.
This is the week we know, with increasing certainty, that we are entering the last phase of the Trump Presidency. This doesn't feel like a prophecy; it feels like a simple statement of the apparent truth. I know dozens of reporters and other investigators who have studied Donald Trump and his business and political ties. Some have been skeptical of the idea that President Trump himself knowingly colluded with Russian officials. It seems not at all Trumpian to participate in a complex plan with a long-term, uncertain payoff. Collusion is an imprecise word, but it does seem close to certain that his son Donald, Jr., and several people who worked for him colluded with people close to the Kremlin; it is up to prosecutors and then the courts to figure out if this was illegal or merely deceitful. We may have a hard time finding out what President Trump himself knew and approved.

However, I am unaware of anybody who has taken a serious look at Trump's business who doesn't believe that there is a high likelihood of rampant criminality. . . .

The narrative that will become widely understood is that Donald Trump did not sit atop a global empire. He was not an intuitive genius and tough guy who created billions of dollars of wealth through fearlessness. He had a small, sad global operation, mostly run by his two oldest children and Michael Cohen, a lousy lawyer who barely keeps up the pretenses of lawyering and who now faces an avalanche of charges, from taxicab-backed bank fraud to money laundering and campaign-finance violations. . . .

There are important legal questions that remain. How much did Donald Trump and his children know about the criminality of their partners? How explicit were they in agreeing to put a shiny gold brand on top of corrupt deals? The answers to these questions will play a role in determining whether they go to jail and, if so, for how long.

There is no longer one major investigation into Donald Trump, focussed solely on collusion with Russia. There are now at least two, including a thorough review of Cohen's correspondence. The information in his office and hotel room will likely make clear precisely how much the Trump family knew. What we already know is disturbing, and it is hard to imagine that the information prosecutors will soon learn will do anything but worsen the picture.

Of course Trump is raging and furious and terrified. Prosecutors are now looking at his core. Cohen was the key intermediary between the Trump family and its partners around the world; he was chief consigliere and dealmaker throughout its period of expansion into global partnerships with sketchy oligarchs. He wasn't a slick politico who showed up for a few months. He knows everything, he recorded much of it, and now prosecutors will know it, too. It seems inevitable that much will be made public. We don't know when. We don't know the precise path the next few months will take. There will be resistance and denial and counterattacks. But it seems likely that, when we look back on this week, we will see it as a turning point. We are now in the end stages of the Trump Presidency.